Think you can't compete with all the Sexy Olafs and Sexy Lobsters out there this Halloween now that you're a mother? Well, think again. Halloween isn't what it used to be when you were a kid, so get out there and sizzle at the neighborhood trick or treat with these HOT Halloween costumes for moms. Best of all? You're probably already dressed.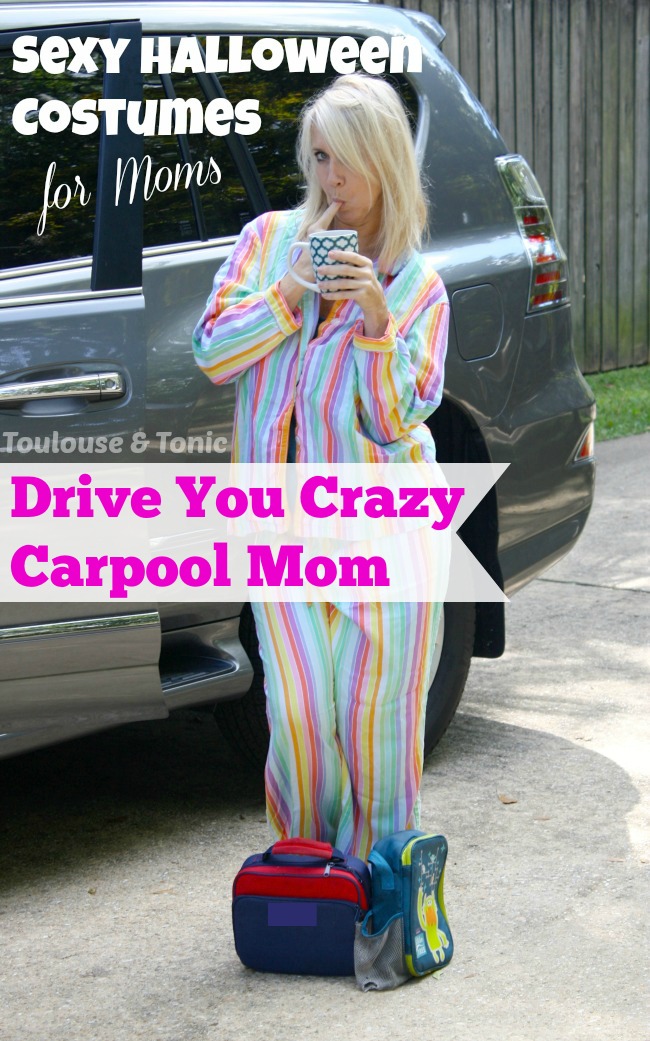 Drive You Crazy Carpool Mom, modeled by Toulouse & Tonic
Every dad in the neighborhood will be lining up behind you in our sexy "Drive You Crazy" Carpool Mom costume. Its racy features include the PJs you've been wearing for two days, rat's nest hair and a cup of cold coffee. Press that gas pedal with a pair of Isotoner slippers and for our sexiest version yet, leave the bra at home! Lunch boxes your own.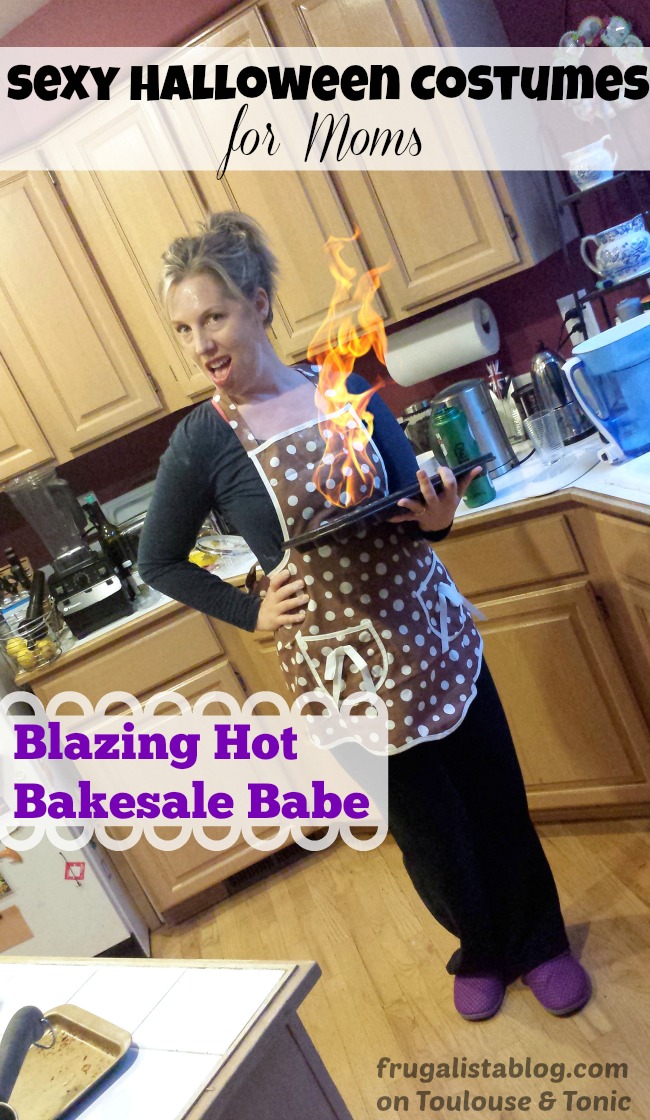 Blazing Hot Bakesale Babe, modeled by Frugalista Blog
You better have a fire extinguisher on hand when you're dressed as our Blazing Hot Bakesale Mom. You'll make their mouths water in our broiling tan and white polka dot apron with sugar-sweet bows on the pockets, a lickable batter-covered T-shirt -- and yoga pants that hide all your naughty proclivities! Add your own purple Uggs and muffin tin, then bend over that oven and make them drool for your goodies!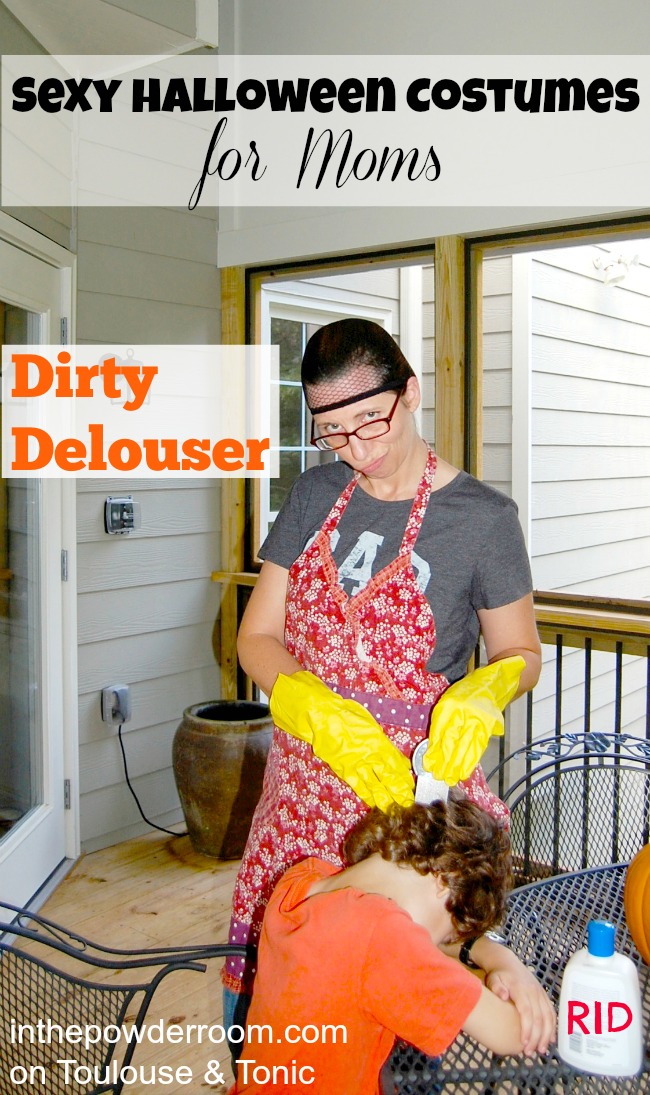 Dirty Delouser, modeled by In The Powder Room
Set your washing machine to sanitize with our Dirty Delouser costume! If none of the other moms want their kids to play with yours, you'll know the real reason. You're just too damn hot in our fishnet stocking-inspired hairnet, specially patterned "lice-hider" apron and red hot rubber gloves that'll protect your hands from all their dirty deeds. Nit comb and half empty bottle of RID your own from the last time.
Also available in Plus Size for our Curvy Delousers.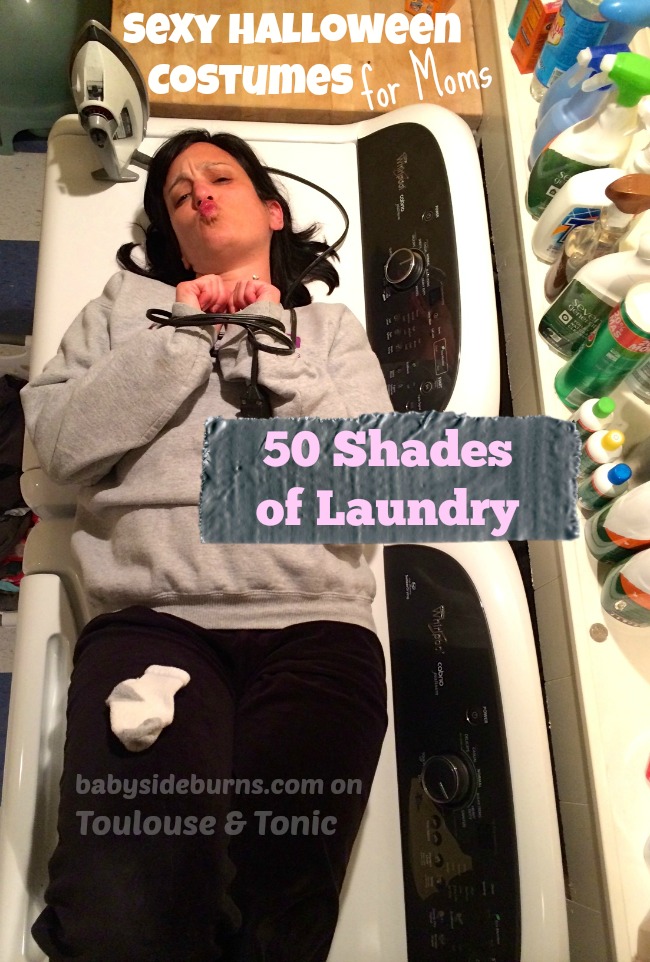 50 Shades of Laundry, modeled by Baby Sideburns
She can't answer the door right now, Mr. Postman. She's all tied up with the laundry! Fifty Shades of Grey will have nothing on you when you spend a sizzling Halloween in your laundry room in our "50 Shades of Laundry" costume. The dinginess of the sweatshirt and the holes in your college sweatpants make this outfit the ONLY things clean in your entire house -- including YOU! There's an inner goddess in there somewhere!
Be sure to complete the look with your own bored housewife bondage fantasies and our life-sized cut out of Christian Grey.
One size fits the lowest common denominator.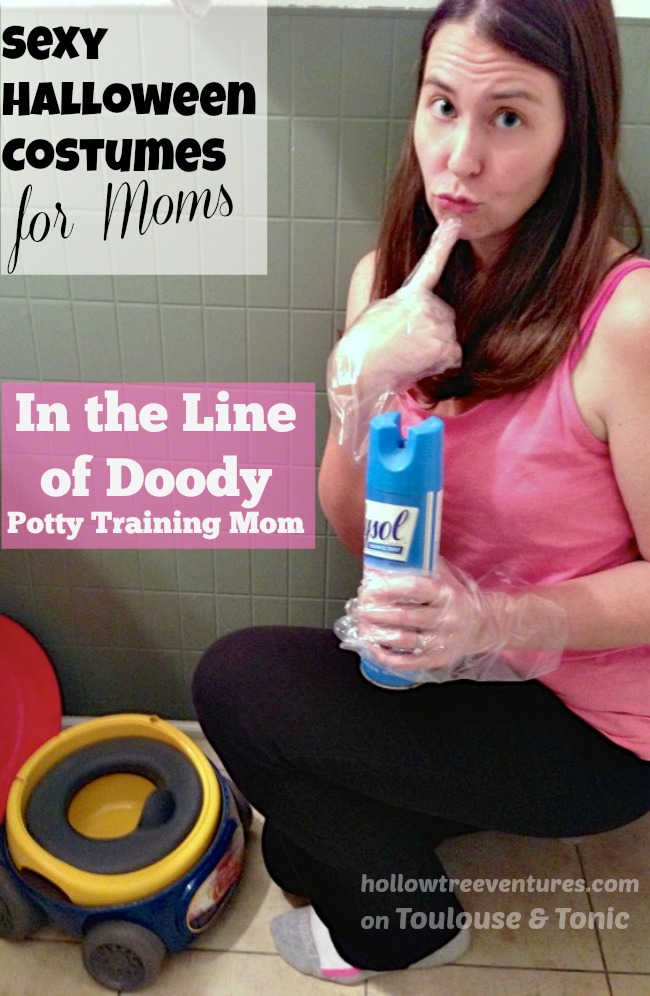 You'll be #1 (and #2!) when you out-pout your toddler this Halloween in our "In the Line of Doody" Potty Trainer costume! Slipping seductively into this costume is easy, but getting out of it can take forever. But no one (else) will mind as long as you keep that captivating come-hither look on your face and a can of Lysol in your hand!
Accessorize with the potty chair of your choice and a look of utter exasperation!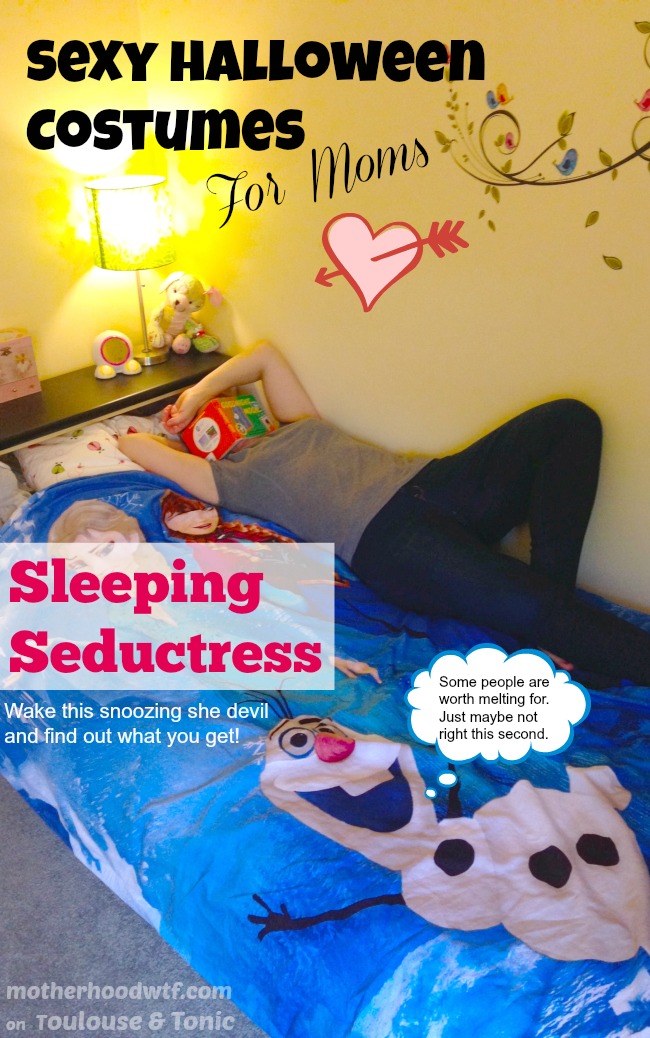 Sleeping Seductress, modeled by MotherhoodWTF
Tease your man with the idea of getting a little on Halloween and every other night when you stretch out in our Sleeping Seductress costume. Will it happen? Maybe, but probably not. Because you nodded off again under the sultry Goodnight Moon, you little minx.
Costume imported from your husband's closet.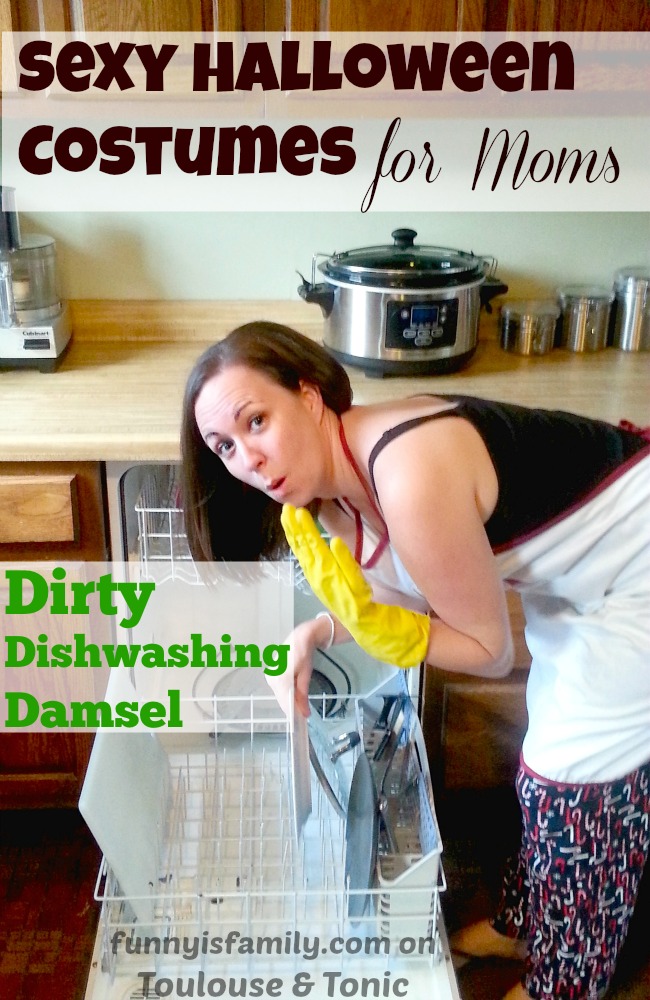 Dirty Dishwashing Damsel, modeled by Funny Is Family
What's sexier than a clean kitchen? Watching you load and unload in your Dirty Dishwashing Damsel Halloween costume! And best of all, you don't even need to trick or treat because your pants are already full of all the candy anyone could want. We provide the candy pants and the dingy apron -- single rubber glove your own.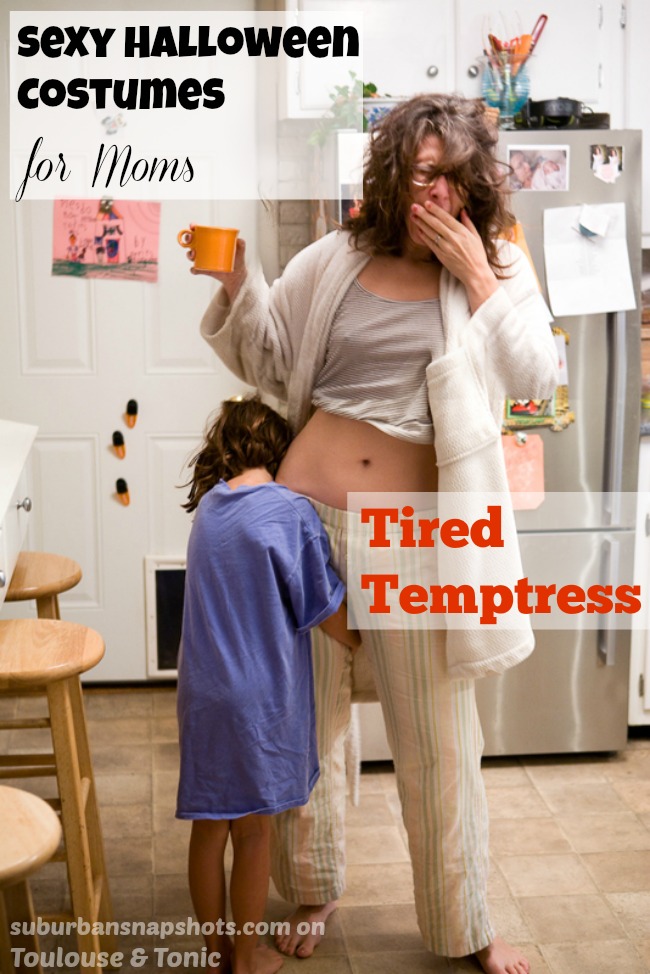 Tired Temptress, modeled by Suburban Snapshots
Don't touch that snooze button! You're sure to be too exhausted to do anything about it but you'll have your husband all worked up anyway when you usher in the morning in our tantalizing Tired Temptress costume this Halloween. Our fuzzy robe and your clinging child will provide all the stumbling blocks you need to keep that man wanting more. Or just some.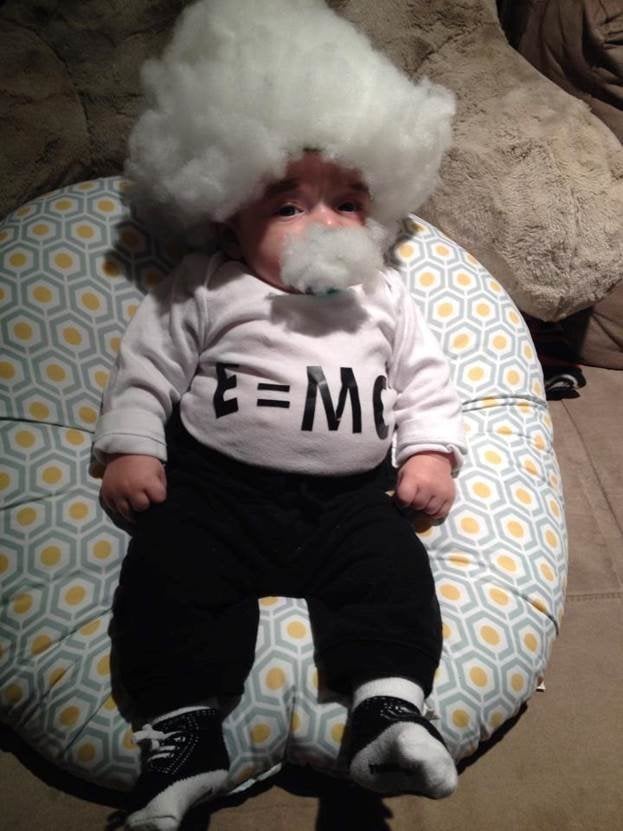 Bebês fantasiados para o Halloween :)