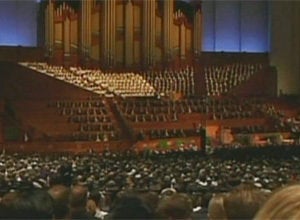 The Church of Jesus Christ of Latter-day Saints waged spiritual warfare with money and misinformation in an epic astroturf campaign against gay citizens, according to a new film by journalist and former Mormon missionary Reed Cowan. The film, "8: The Mormon Proposition," documents the church's historic involvement in the promotion and passage of California's Proposition 8 and the religion's ongoing campaign against same-sex marriage.
The film, narrated by Academy Award-winning screenwriter Dustin Lance Black ("Milk"), takes place in California and in Utah, where Cowan grew up. It uses personal narratives to illustrate how church leaders raised money -- by calculating how much church members should be able to give based on individual incomes and threatening to revoke the membership of those who didn't "donate." Watch the testimonies in this exclusive clip:

Between 2004 and 2006, 22 such measures were on ballots around the country, and donations to all of them combined totaled $31.4 million, according to the nonpartisan National Institute on Money in State Politics. Campaign filings show efforts for and against Prop. 8 raised $39.9 million and $43.3 million, respectively, with contributions coming from over 64,000 people in all 50 states and more than 20 foreign countries. In November 2008, Prop. 8 set new records nationally for the amount of funds raised for a social policy initiative, trumping every other race in the country in spending except the presidential contest, according to US News & World Report.
What is striking about the numbers is that although Mormons make up less than two percent of California's population, they made up more than 71 percent of campaign contributions, according to the film. Jeff Flint, a strategist with Protect Marriage, the group that spearheaded the Prop. 8 campaign, told the New York Times that 80 to 90 percent of the early volunteers who walked door-to-door in election precincts were Mormons.

The film was a sellout at the Sundance Film Festival in Cowan's home state of Utah -- an ironic choice for the film's debut, especially since Cowan quotes local officials like Utah State Senator Chris Buttars saying of gay people: "I believe they're the greatest threat to America going down..."
Cowan originally planned to make a documentary about gay teen homelessness and suicide, but said he soon realized that the prejudice that leads families to disown their gay kids is deep-seated in Mormon ideology. As someone who grew up both gay and Mormon, he draws from personal experience as well as journalistic research.
The film will interest those who've wondered why the fight against gay marriage in California began to flourish or why California became the first state to take same-sex marriage rights away by changing its constitution. The suggestion is, when it came to the passage of Prop. 8, that the Mormon Church was more than the tipping point -- it was the driving force. Utah resident Gayle Ruzicka, an influential anti-gay activist and veritable wordsmith, sums up the sentiment of the entire proposition in one line: "Gays are not a protected class and they shouldn't be."

Two years after the first gay marriages took place in California, "8: The Mormon Proposition" will open in theaters and Movies On Demand -- see exact dates and locations below. Watch the trailer here:
Opens June 18, 2010:
New York City - Chelsea Clearview, Village East Cinema
Los Angeles- Laemmle's Sunset Five
Chicago- Gene Siskel Film Center
Boston- The Coolidge Corner Theatre
Washington DC - AFI Silver Springs
Salt Lake City - Tower Theatre
Dallas - Angelika Dallas
Houston - Angelika Houston
Ft. Lauderdale - Gateway
Atlanta- Landmark Midtown Art Cinema
Palm Springs- Camelot Theatres
San Diego- Reading Theatre- Gaslamp 15
Scottsdale/Phoenix - Harkins Camelview 5
Spokane - Magic Lantern
Honolulu - Kahala 8 Theatre

Opens June 25, 2010:
San Francisco - Presidio Theatre, Sundance Kabuki Theatre
Berkeley - Rialto Elmwood Berkeley
Santa Rosa - Rialto Cinemas Lakeside

Opens July 2, 2010:
Denver Film Society at the Starz Film Center

REAL LIFE. REAL NEWS. REAL VOICES.
Help us tell more of the stories that matter from voices that too often remain unheard.