Dinner parties have a reputation for being boring and stuffy, but that doesn't have to be the case. Most of the time when parties are boring, it's because guests feel awkward and aren't comfortable with one another right away. By giving your parties a theme, you basically build an icebreaker into the evening. This makes it easier for your guests to relax and get to know one another.
Here are a few theme ideas you can use when you want to skip the bars and make your next at home get-together a success:
If you want to ramp up your dinner party events, host an over-the-top formal dinner party. The atmosphere doesn't have to be formal, just encourage everyone to dress in their very best or dress up like their favorite celebrity.
This is a great chance for people to wear the dresses or suits they only get to wear once or twice a year, and people will love getting the chance to put together their outfits. As far as food goes, you don't want anything too messy: People are wearing their best clothes, after all. Avoid anything too saucy, like pasta.
One way to have a great dinner party is to have something super fun to do when the party is over. Head to your local arts and crafts store and pick up the supplies needed to embrace your inner camper.
Once you're stocked up on construction paper, glue, glitter, embroidery thread, beads, and those weird plastic strings you used to make lanyards back in the day, you'll be good to go. Once dinner is over (and everyone has had a glass of wine or two) you'll have a blast trying to make friendship bracelets and key chains.
Is your social circle full of people who absolutely love to cook? Give them a chance to show off their stuff by hosting a competitive potluck party. The idea is simple: Everyone brings their favorite dish, everyone tries a (small sample) of everything, and then you vote on the best dish.
Since everyone will be bringing their A-game, you're likely to have excellent food. The best part, though, is that you'll have a lot of food while doing minimal cooking yourself.
Guests with a sweet tooth will love this party theme. Instead of having a dinner party, schedule it a little bit later and have a dessert party. You can use the opportunity to make (or buy) a wide variety of after-dinner treats that guests can enjoy.
Keep it simple with cookies and brownies, or go all-out and have carefully decorated cakes or pastries. This theme can also be combined with the competitive theme if you're inviting a lot of avid bakers.
For a simple twist on the dinner party, make traditional breakfast foods. Pancakes and bacon taste just as good at night, as do mimosas and bloody marys. Have your guests dress in pajamas, robes, and fuzzy slippers to give the night a totally early-morning feel.
Once everyone's done eating, you can keep up the atmosphere by turning on some classic Saturday-morning cartoons.
Embrace the spirit of bootlegging by throwing a speakeasy themed party. Give guests a password they have to say at the door to get in, and have everyone dress in their best 20's style outfits.
Serve prohibition-era drinks like mint juleps and whiskey sours, and play big band jazz all night long. Bonus points if you have friends who are willing to get all the way into the spirit and speak like old-timey gangsters.
Have everyone bring their favorite board or card game and have a night of finger foods and competition. It's particularly fun to have games that require creativity and interaction like charades or Pictionary.
Those sorts of games make for the best conversations and memories, since they don't require a lot of quiet strategizing. To really tie this night together, try to make some fun game-themed snacks, like Candyland-inspired desserts.
Tea parties are the perfect way to have a light dinner with lots of fun conversation. Be sure to get many different types of tea and stock up on sugar cubes and cream. Make little finger sandwiches and petite pastries for your guests to snack on as they chat. Remind your guests that hats are traditionally worn at tea parties, and consider handing out a prize for the most elaborate hat worn.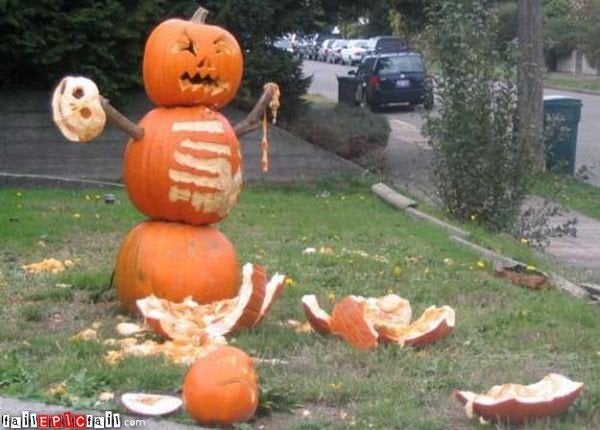 12 Great Pumpkin Carvings To Inspire You
Related