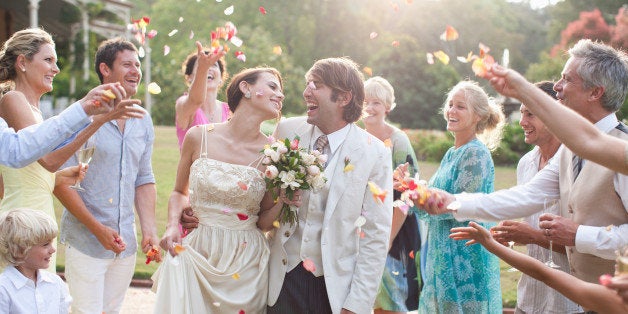 What do you want your guests to remember about your wedding?
If you've ever been to a wedding, chances are there were a few times that you had the best time and remembered how much fun you had, or left feeling like the guests were an after-thought and don't remember much except the bad music and cash bar. One of the top priorities for your wedding should be the comfort and enjoyment of your guests. Putting yourself in their shoes will help you to make the right choices when it comes to making decisions for your wedding, and will make your wedding memorable for all the right reasons.
It wouldn't be a wedding without the guests. A great party starts with good planning and making sure your guests are in the right frame of mind to have a great time. After all it's the guest's energy that really makes for a great party. You are hosting these guests -- and like any good host, it's your job to ensure your guests enjoy themselves. So how do you make sure that your guests stay happy? Here are eight things you should avoid to bring your wedding from super lame to the best night ever!
The dreaded cash bar -- nothing makes a guest frown more than having to dish out cash to enjoy a cocktail at your wedding. I've heard every excuse out there -- it's not in your budget, or you don't want drunk guests, or you don't want waste, etc. It's your wedding, do what you want. But I'm just telling you, if the main focus of your wedding is for guests to have a great time, then a cash bar is the last thing you want to have, no matter the reasons. I'm not saying you have to spend a ton of money -- have a limited bar with beer and wine. There is no rule that says you have to have a full open bar. Offering a few choices limits the costs while still being gracious hosts. And let's be honest, a drunk is a drunk. If someone wants to get drunk, paying for their own alcohol isn't going to stop them. So don't over think everything and plan for the wedding you can afford that treats every guest how they should be treated - like a guest.
No one likes waiting around not knowing where to go next. Disorganization and chaos aren't enjoyable, especially when people just want to have fun. Proper signage to guide people, good direction from the ceremony to the reception, plenty of space for people to get around, well thought out timing and easy flow from the dance floor to the bar will keep guest's minds on enjoying themselves instead of wondering where they are supposed to be going, feeling lost, or how to get from point A to point B.

Waiting
I once heard someone say it's tradition for the bride to be late to the ceremony. Says who? There is nothing more rude than making your guests wait for the ceremony to start. Do you like it when someone is late? No -- it says that they don't care if you are sitting around waiting for them. So why would you want to make your guests feel like that? You shouldn't make your guests wait for more than five minutes to start the ceremony. Having many people in a space, even when it's air conditioned can get very warm. Some of the guests are elderly and can't sit in the heat for long periods of time, and some guests may have small children that will get impatient. Regardless, you should not keep guests waiting, because waiting is NOT FUN!
You must make sure to have enough seats for every guest attending the ceremony. You might say 'Our ceremony is only going to be fifteen minutes -- it's not long for people to stand'. Well when you consider that some guests arrive half an hour before the ceremony, and that you could possibly be a tad late, or the weather may be warm, fifteen minutes is now an hour standing in the blazing sun. Not fun! Instead of focusing on your ceremony they will be thinking about how annoyed they are having to stand for so long, and no one wants that.
Some couples are traditional and don't want to see each other before the wedding ceremony, so they choose to do their wedding photos afterwards which means there is going to be a bit of a time gap between the ceremony and reception. Guests will have to fend for themselves and find something to do in that time, especially if they are from out of town. If you are getting married in the city, it's not so bad. Guests can visit a pub or lounge, but if your wedding is in a rural location, there will be nowhere for them to go. Keep your guests in mind and try to keep your photo session as short as possible. Do some photos with your bridesmaids before the ceremony, and same with your fiancé and his groomsmen -- this will eliminate some of the photos you have to do after the ceremony and will shorten the time between the ceremony and reception. To avoid it all together, have a 'first look' and do all your wedding photos before the ceremony so that you can go straight into the reception.
Nothing is worse than showing up to a wedding reception a bit late and there is no seating plan. Having to walk into a room of two hundred people and meander your way around to find some empty seats is so awkward. Or arriving solo and having to find a place to sit when you don't know anyone. Or being in a group of ten friends and the tables only have eight seats. Now there is one couple sitting at a table with your rowdy cousins when you could have easily split up the group so that everyone is sitting at a table with people they know. It only takes a bit of work to create your seating plan and your guests will really appreciate it.

Long Speeches
Save your guests the pain of having to sit through long speeches or slideshow presentations. Think about the last wedding you attended -- what do you remember from it? Not the speeches or slideshow right? Unless they were super long and annoying to sit through! Limit the speeches to no more than five -- the best man, maid of honor, both sets of parents and yourselves -- and be sure to tell people to keep them under three minutes each. Be strict with this! If someone else wants to make a speech, have them do their speech at the rehearsal dinner. Want to have a slideshow of photos? Do that at the rehearsal dinner too. The only people that care about the slideshow are the ones that are in it - usually your family and wedding party, so roughly ten percent of the wedding guests. So showing it at the rehearsal dinner to those that will enjoy it instead of making ninety percent of your guests sit through ten minutes of your baby pictures will keep guests spirits up for the party instead of putting them to sleep.
I know you want to personally thank every person that attends your wedding -- and that's very thoughtful. But who likes standing in line anywhere? Lineups are only one thing -- boring. There is no one that likes waiting in line. So save your guests that experience and get them inside and seated with a cocktail and visit with them later in the evening. One hour of mingling is all it takes to thank everyone personally, and then you can enjoy yourself dancing the night away with your guests!