Having a child has taught me all sorts of things: How to be patient, how to laugh at myself, and how to function on less sleep than I thought possible.
One of the most helpful things she's taught me, though, is how to eat.
Yeah, I knew how to put food in my mouth and chew and swallow before she came along 18 months ago, but now I feel like I really understand what it means to be a mindful and intuitive eater, just by observing her.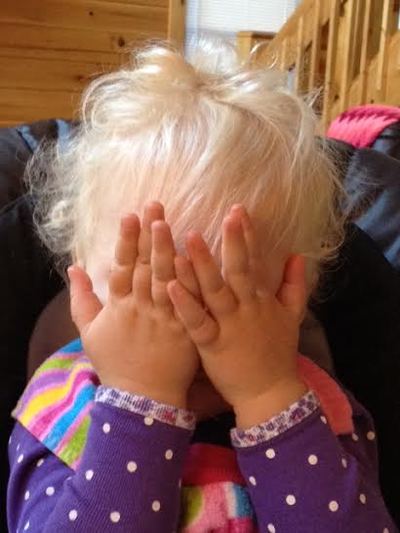 8 Things My Toddler Taught Me About Mindful Eating
1. You don't have to finish everything on your plate, even if you really like it. I'm sure if you have kids of your own, you've seen this yourself: Kids leave food on their plates all the time. Adults? Not nearly as much. We eat it all because we're not paying attention, feel like we "have" to finish it because we paid for it, or want to distract ourselves from a scary or frustrating situation.
As an example, my daughter likes peanut butter yogurt. A LOT. I'll mix up a batch, she'll eat it, want more, and I'll mix up another batch, and she'll eat... one bite. Because she's full and doesn't want anymore, even though it's something she really likes. She has faith there will be more later.
2. Even if it's a special treat, you still don't have to finish it all. My husband and I got ice cream at Cold Stone Creamery a few months ago, and it was the first time the babe realized she liked it. She kept excitedly taking bites, from both my and my husband's spoon. And then she just... stopped. She'd had enough.
Same thing with some chocolate cake at a birthday party over the summer: We gave her some bites, and she had a little, but quickly lost interest and stopped eating. The reason? Because, again, she has faith there will be more someday. She doesn't think, "I better eat all of this ice cream right now, because Mommy might put me on a diet tomorrow."
3. Some days you're really hungry. There are some days when I'm shocked by just how much she eats. She knows what her body needs, though, and acts accordingly. There's no guilt, no drama, just eating until she's full.
4. Some days you're really not that hungry. Then there are some days when it seems as though she eats practically nothing. I think this is huge: She self-regulates and really only eats when and what she wants. Again, there's no drama, just her listening to her body.
5. Some days you like vegetables more than others. Ha.
6. Eating slowly is the key to hearing what your body is trying to tell you. My daughter lingers over her food. She observes it. She rolls it around in her mouth. Above all, she takes her time. In her world, there's no reason to rush to finish, and she takes plenty of breaks between bites. This is the epitome of mindful eating, I think, and I wish I could get the hang of it!
7. It's totally okay to say no. I think more adults needs to get on board with this one. My toddler doesn't say the word "no," but she can certainly get across her point well enough, usually by spitting out food she doesn't like, putting up her hands to sign "all done," or turning her mouth away from the spoon. We could all learn a lesson from this: It's okay to say no to a piece of birthday cake at a work function, a free sample at the super market, or an extra helping offered at a dinner party.
8. Food is just food, nothing more. At this age, my daughter sees food as totally neutral. It's not good or bad, it's not fattening or slimming, it's not something to be feared. I know it's impossible for adults to go back to that place where food has no charge, but I do think we can take a page from the toddler handbook and start paying more attention to the wants and needs of our bodies, which change from day to day.