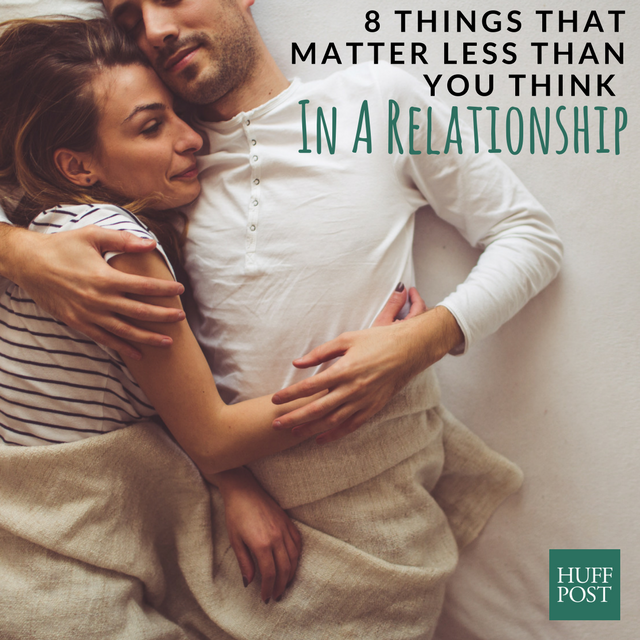 Choosing a romantic partner is one of the most important decisions you'll make in life. (Or not choosing one ― we see you, single-by-choice people!)
While it's important to be selective, experts agree that there are some qualities that are less crucial than most people think. Below, they share eight of them.
1. Your partner fits your "type."
At this point, you know your physical type: dark hair, tall, tattooed ― hey, you can't help what you like. Still, don't be so quick to swipe left on people who don't fit that profile, reminded Laurel Steinberg, a New York-based sexologist and adjunct professor of psychology at Columbia University. Looks change over time anyway.
"You really just need to consider your partner cute enough," she said. "Think about it this way: A person can have a very happy relationship with someone who is fine enough looking and kind and probably less so with a partner who is gorgeous and nasty. Beauty that matters can be found within."
2. You share the same interests and hobbies.
Dating someone who loves sci-fi movies and camping as much as you do is fun, but your interests don't have to align completely for the two of you to last, said Chelli Pumphrey, a couples counselor in Denver, Colorado.
"They aren't the glue that holds a relationship together over time," she said. "Shared values around money, commitment and children are more important than hobbies and sports. A common interest in hobbies are icing on the cake, but that genuine connection could be lurking below the surface."
3. You never argue.
"Happy couples prioritize de-escalation and repair in their relationship," he said. "Volatile couples fight more than argument-avoiding couples, but frequency isn't the issue. It's really about your ability to resolve conflict once it's started."
4. You have the same level of education.
You're severely limiting yourself ― not to mention being a bit of a snob ― if you're only dating people with similar educational backgrounds, said Antonio Borrello, a psychologist in Detroit, Michigan.
"Remember, some of the most intelligent and successful people in the world were 'college dropouts': Bill Gates, Steve Jobs, Mark Zuckerberg, just to name a few," the therapist said. "What matters more is your ability to engage in meaningful and stimulating conversations. You just need to be on the same page intellectually."
5. You can always depend on your partner for entertainment.
Sure, you and your partner should have fun together ― but they shouldn't be your sole source of excitement, said Becky Whetstone, a marriage and family therapist in Little Rock, Arkansas.
"Many clients complain about this and I tell them that their partner's job is not to be their entertainment," she said. "What you need is a partner who is game to do things when the urge to do something arises. If you're bored, what are you going to do about it? There's no point expecting your partner to provide excitement and entertainment all the time."
6. The sexual chemistry is off the charts.
Obviously, there should be a mutual attraction and chemistry between the two of you. But the reality is, sexual desire ebbs and flows through the years. You and your partner will be fine as long as you're both willing to be intentional about creating romance, said Nashville, Tennessee-based therapist Jeannie Ingram.
"Sexual chemistry is wonderful and blissful and we all want it in the relationship but that intensity will fade to some degree in time," she said. "What you really need is a partner who will work at it ― someone who 'gets' you outside the bedroom, too."
7. You're both financially secure and on the path to make even more.
Financial security and similar spending habits will reduce anxiety about paying the bills and generally make your household run smoother. Money matters, but accumulating wealth doesn't necessarily lead to a more fulfilling relationship, said Elisabeth J. LaMotte, a psychotherapist and founder of the DC Counseling and Psychotherapy Center
"I notice a surprisingly common phenomenon with couples who work well together to generate financial security, but lose parts of themselves and compromise their relational bond along the way," she said. "I hear things like, 'We just finished renovating our dream house and are finally are out of debt, but it feels like we have nothing to talk about.'"
8. Your friends and family think your S.O. is amazing.
You want your inner circle to support your relationship, but they don't have to be your partner's biggest fans, said Linda Lipshutz, a marriage and family therapist in Palm Beach Gardens, Florida.
"We should be mindful not to put too much weight on what 'the peanut gallery' thinks about our relationship," she said.
In other words, if you genuinely have fun with your partner, don't spend too much time wondering, "Do all my friends think he's kind of dull?"
"These internalized questions are often biased to reflect our own worst fears and vulnerabilities and asking them has the potential to cloud our judgment and pull us away from our partner," Lipshutz said. "Who knows? Your friends and family may look upon your S.O. much more favorably than you think!"