The small town of Springfield, Illinois is gearing up for a global event. April 15 marks the 150th anniversary of Abraham Lincoln's assassination, and local community leaders are busy preparing to reenact the historic procession in his adopted home state of Illinois. It was in the Illinois state capital, after a 1,654-mile journey, that America's 16th president was ultimately laid to rest.
"Abraham Lincoln is not a Springfield figure, not an Illinois figure, not even a national figure," says historian Ian Hunt, of the Abraham Lincoln Presidential Library Foundation. "He is one of those rare individuals who is truly a world figure."
In 1865, Springfield raised $20,000 for Lincoln's funeral expenses; the upcoming memorial reenactment is a similar grassroots effort. The oldest flag-making company in America has recreated the 36-star flag that draped Lincoln's coffin, while a group of Iraq and Afghanistan war veterans have built a hearse exactly like the one that carried Lincoln's remains in 1865.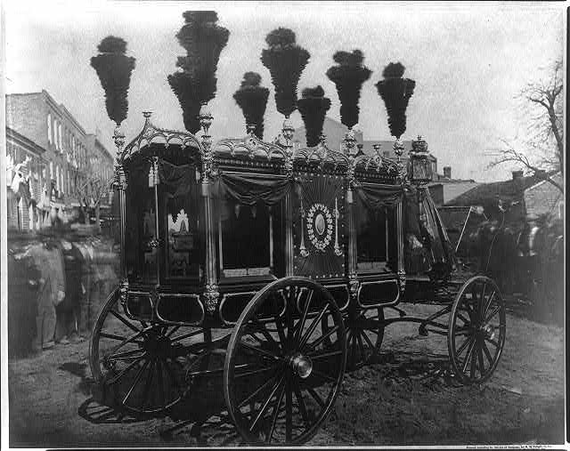 View of the Lincoln hearse [Photo courtesy: Library of Congress]

Here are eight amazing facts about the "Greatest Funeral in the History of the United States," as historians of the day called the national farewell.
1. Lincoln was shot on Good Friday. The timing evoked comparisons to Jesus, as someone who gave his life so others might be free, says James Cornelius, curator at the Abraham Lincoln Presidential Library and Museum, located just down the street from the Lincoln Home. Lincoln's larger-than-life persona has inspired more than 15,000 books in the 150 years since his assassination, such as the New York Times bestseller, Killing Lincoln.
2. Lincoln's funeral route retraced his original journey as president-elect in 1861. Public viewings were held in 13 cities, including Washington, D.C., (at the White House and U.S. Capitol). Lincoln's casket left D.C. on April 21, with public viewings soon to follow over the next 20 days in Maryland, as well as in Pennsylvania, New York, Ohio, Indiana and finally, in Springfield, Illinois. In all, the train carrying Lincoln's remains traveled through 180 cities and seven states before reaching Springfield, where as many as 150,000 people gathered for the funeral (Springfield's population at the time was just 15,000).
3. Roughly a third of the entire U.S. population -- out of a total of 31 million -- participated in some kind of memorial commemoration for Lincoln. "Lincoln's funeral was the largest public event [up to that point] in U.S. history -- probably, in world history, if you count the percentage of people who walked out of their doors, many miles, sometimes hundreds of miles -- to see the procession," says Cornelius, of the Lincoln Presidential Library. In Chicago alone, some 125,000 people -- 7,000 people an hour -- viewed Lincoln's remains.
4. Lincoln's remains were re-embalmed at every city stop. Following his assassination, Lincoln's casket remained unsealed for the next 19 days, requiring constant embalming to accommodate the series of public viewings. Embalming had risen in use during the Civil War, as deceased soldiers were prepared for shipment to distant relatives. The task of embalming Lincoln's remains fell to Dr. Charles Brown; three years before, the same doctor had embalmed the remains of Lincoln's young son, Willie.
5. Lincoln's funeral nationwide was segregated. There were a few exceptions -- but not without struggle. More than 5,000 African Americans had planned to march in New York City, along with 120,000 other marchers, but city leaders promptly issued a ban. A telegram from Edwin Stanton, the Secretary of War, overruled the ban. In the end, just a few hundred African Americans managed to join the tail end of the procession. Yet, triumphantly, as the New York Times reported, their presence "was the only portion of the procession which was received with any demonstration of applause."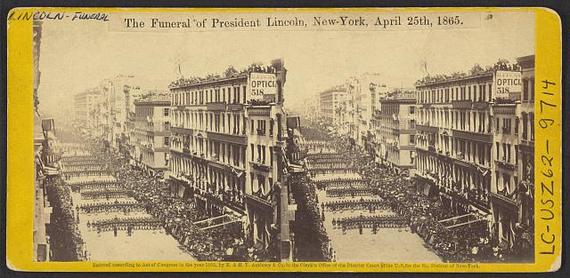 A view of the NYC funeral procession[Photo courtesy: Library of Congress]
6. In the end, two African American ministers led Lincoln's cortege to the burial site.
Lincoln's remains arrived in Springfield, Illinois, the morning of Wednesday, May 3, 1865. In a break from the segregated tone of the funeral procession elsewhere nationwide, Rev. Henry Brown, who had worked for the Lincolns as a handyman, and another local minister, Rev. William C. Trevan, led Lincoln's favorite horse, Old Bob, down the final stretch of the route, to Oak Ridge Cemetery, where Lincoln was laid to rest on May 4, 1865.
7. Lincoln's barber declined to join the funeral procession at the front.
William de Fleurville (also known as Florville), a Haitian American who had settled in Springfield, Illinois, and served as Lincoln's barber for 24 years, was invited to join Springfield's dignitaries at the front of the funeral procession. He chose instead to march at the back, where Springfield's African American delegation was relegated.

8. This year, Springfield, Illinois, will recreate Lincoln's funeral procession. Lincoln's adopted hometown of Springfield will recreate the funeral procession in early May. Joining the event will be 1,200 reenactors, many of them veterans. "It gives everyone who'll be there a chance to recognize our veterans," says Katie Spindell, chairperson of 2015 Lincoln Funeral Coalition, "and a chance to salute a former Commander-in-Chief named Abraham Lincoln."
Related