Having lived in Asia for over 15 years, I've been right through the Chinese zodiac and round again, and while Chinese New Year is always a special time, this particular cycle is the most special of all. Chinese New Year traditionally brings frenetic prayer and wishes for health, wealth, happiness and yet more wealth -- but January 23, 2012 has an added bonus. This year is the Year of the Dragon, one of the luckiest, most powerful signs in the zodiac.
When the dragon enters, couples go queueing to get married or start getting down to business in the bedroom to benefit from such an auspicious sign. But before you tie the knot or go procreating, here are eight (lucky number, natch) things you need to know and/or do to start the lunar new year off with a bang, no pun intended.
Buy New Shoes and Clothes
Here is your chance to turn a want into a need, as if you needed an excuse. Yes, you really do have to buy yourself a new pair of shoes and clothes to welcome in the new year, preferably with a splash of red. Now, didn't you have your eyes on a pair of Christian Louboutin heels?
Get a Haircut
New year, new you, so get yourself off to your favourite hairdresser to make sure you wake up with a good hair day. Just as importantly, no snipping off your locks for a month after, or you'll be cutting away your prosperity as well. You wouldn't want that.
Give Out Red Packets
Married people and bosses should stock up on crisp bank notes and stuff them into red "lai see" packets to give out to children, who should kowtow before you in appreciation of your generosity. Feel free to hand them out to your staff and associates too, but whatever you do, don't give any amount with a 4 in it, even if it's $4 million: That's just wishing them bad luck.
Let off Some Firecrackers
Scare away all the bad spirits and evildoers around you by letting off firecrackers, the louder the better. That's probably illegal where you are, so go watch a lion dance or fireworks display instead, at your local Chinatown. If you're in Hong Kong, Singapore, Vietnam, South Korea and other parts of Asia, there's bound to a big pyrotechnic show in town.
Clean the House
It's out with the old to make way for the new. That means giving your home a good whip 'round with a duster and sorting through your wardrobe and cupboards and tossing out the crud or donating things you don't need -- but are still in good order -- to charity. Be sure to sweep the floor of dirt, taking the bad luck out with it, but put your brooms out of sight on the day itself. No sweeping up messes either, or you may send your good luck out the door.
Decorate Your Home With Bright Colours
Anyone who's spent time in Chinese restaurants will know how fond they are of bright lights and gaudy colours. For the lunar new year, you need to get in on the action by turning up the wattage. In addition, red and gold displays will give your home that festive look -- and hopefully help bring in more good fortune. No need to go overboard, a simple bowl of oranges or mandarins will do nicely, thank you. While you're at it, check your home's feng shui is all aligned to divert money through your door.
Hang out With Family and Pay Your Respects
Just like Christmas, Chinese New Year is about spending it with family. Before doing so, many people will race off to a temple to make offerings to the gods and ancestors -- in return for striking it rich, of course. It's then off to see grannies, grandpas, uncles, aunts, cousins and so forth on the first two days of the new year. On the third day, refrain from going out and socialising, presumably because you'll be frazzled and grumpy having to be nice to so many relatives the first two days.
Eat Lots of Lucky Food
Chinese New Year is no time to be dieting, as it's traditional for households to prepare copious amounts of food, some of which was made to please the hungry beast "Nian," in order that it may fill up without having to resort to eating you. Beginning on New Year's Eve, the list of things you must gorge on includes fish, chicken, roast pork, moss, rice cake, dumplings, uncut noodles and a heap of other dishes -- many of which are an acquired taste -- that are supposed to make you very wealthy indeed, if you don't pass out from food coma first.
Here's to money, money, money and big bouncing babies! Happy Year of the Dragon!
Off to Asia soon? Check out LUXE City Guides, the pocket travel guides for the busy traveler.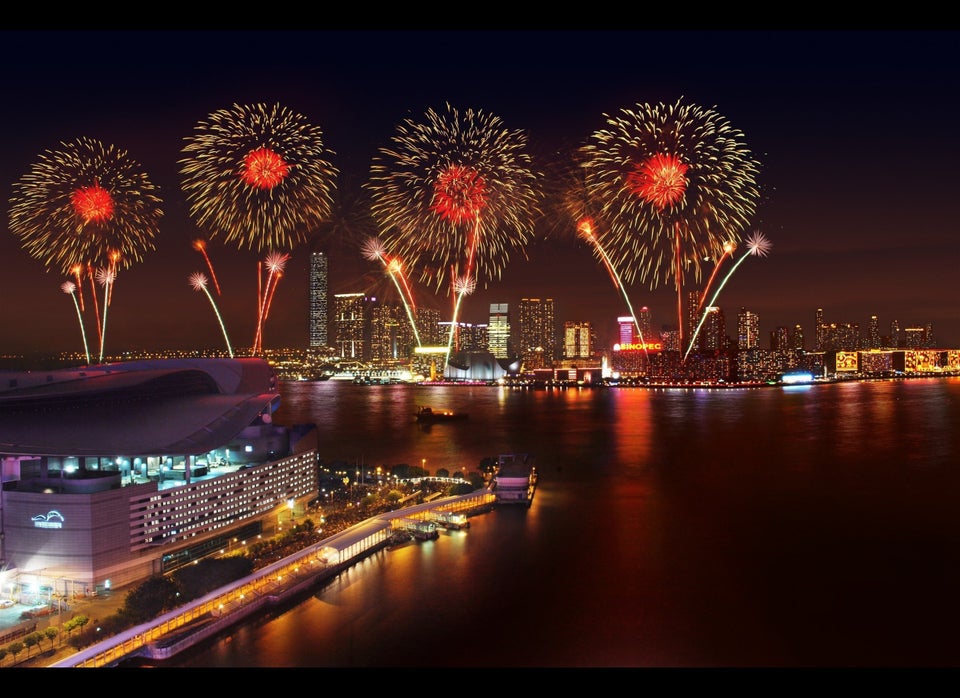 Chinese New Year Food and Celebrations