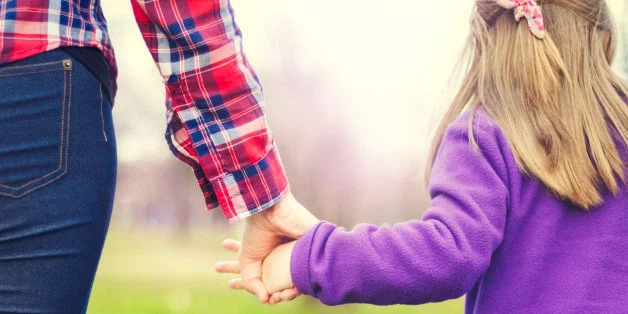 I get a lot of emails from frustrated men who are in relationships with single moms. They often become frustrated and take her lack of time personally. So, as a working single mom, I put together a list of eight things you need to know, which might help you understand the single mom, and help you decide if you want to stay in the relationship. By the way, these things apply to dating a single dad, too!
1. The kids will always come first -- no matter what. That means that if you have plans with the woman you are dating and her child decides he or she needs some mommy time and she cancels the date with you, you have to accept it, be OK with it, not resent her, AND even respect the fact that she is there for her child.

2. The relationship might go slower than you want. Jumping into a serious relationship is a lot easier for those who have never been married and/or who don't have kids. The key is being patient. Your only other option is to walk away. Or, you can just constantly be disappointed and frustrated.

3. If the divorce is recent or going on, she might be distant at times. No one understands the impact of going through a divorce except for those who have gone through it. It can be draining, frustrating, upsetting, and infuriating, and cause intense anxiety, stress, depression, rage, or sadness. And if someone is going through a divorce and they had a really bad divorce day -- meaning something in their case happened that hurt them in some way, they sometimes want to be left alone. They want to just sit in a room and cry or hug their kids all night while watching TV. It is an extremely emotional time and that person needs to heal. Have respect for that and do not take it personally.

4. She is busy. I know, I know... everyone is busy. But she is really busy. When someone is juggling a job, kids, and a legal battle, they don't have the time to be on the phone with a new love for hours, and making plans is difficult. Again, don't take it personally if they seem distant.

5. Her self-esteem isn't the greatest. Maybe her husband left her. Maybe she had to move back home with her parents. Maybe her ex-husband was abusive. There are so many factors that could cause a divorced person to have low self-esteem, and therefore be holding back a bit. If you realize that it's not YOU, it's her, it will help YOUR self-esteem, and you won't be thinking she isn't interested in you.

6. Be willing to play things by ear a lot. Dating a woman with kids requires a person to be flexible and not have to make plans 10 days in advance. Because, any single parent can tell you that schedules and kids' activities get switched around every hour. If you're a planner, that might be a problem.

7. Getting involved in her divorce is a huge mistake. If she vents about her ex or cries or tells you what a jerk he is, be there for her, but don't make the mistake of hating him too. In other words, this is her divorce, not yours, and her ex isn't there to defend himself so you don't have the whole story. Just try to be supportive of her feelings and again, be there for her in any way you can. Give advice, but be careful. You don't know the whole situation.
8. If you love her, you have to love her children, too. It's a package deal. You really have to want to be a dad to those kids or you shouldn't be with her.

In closing, dating a woman with kids isn't easy. That doesn't mean the relationship can't work. But knowing what to expect helps, as does taking your time, being patient, and understanding that you don't come first. That doesn't mean she isn't completely nuts about you, but she has to care for those kids with all she has. Some men/women can't handle that, which is understandable. Just be honest with yourself.
Jackie Pilossoph is the author of her blog, Divorced Girl Smiling, and the comedic divorce novels, Divorced Girl Smiling and Free Gift With Purchase. She also writes feature stories, along with the weekly dating and relationships column, Love Essentially for Chicago Tribune Media Group local publications. Pilossoph lives in Chicago. Oh, and she's divorced.