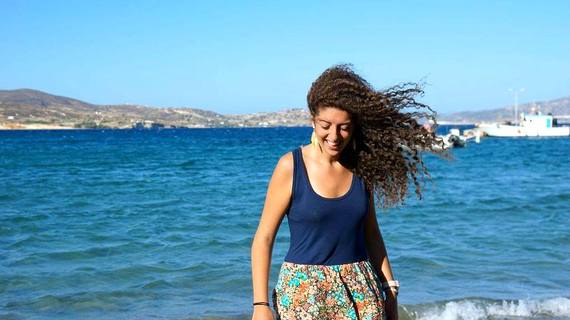 My school yearbook photos show the evolution of a girl learning to harness her crazy curls. After years of donning a pyramid of frizz, I learned some basic tips and turned that mess into something quite unique and beautiful. Curly-haired girls have to share the love -- and tips -- of dealing with our hair. Because, as you all know, our lives revolve around our hair. Here are some basic pointers for pitfalls that curly girls experience, in a world where most hair advice is for pin-straight and beachy wave-heads.
1) Put that brush down! Each time you run a brush through your hair, you destroy the curls. Instead of having natural, cascading locks, you will go through the day with a halo of frizz. Up to you. To detangle, lop on a ton of conditioner in the shower and run your fingers through your hair. Same idea as a brush, but it will preserve your curls' shape.
2) Throw out that crunchy, flaky gel! Limit the amount of alcohol your hair products contain. To have soft, moisturized curls, don't leave the shower without leave-in conditioner, and keep trying new products until you find the ones that work best for you. Everyone has their own product cocktail they swear by, but I've had a lot of luck with AG Recoil Curl Activator and Leave-in Conditioner, and Curlisto products.
3) Don't go to any old hairdresser. Believe it or not, there are people who make a living out of cutting curly hair. We're that special. It's worth going to see someone who's going to treat your hair with expertise and compassion.
4) Limit your shampoo! Shampoo dries out the hair. When you do use it, limit the shampoo to the scalp. Fine hair can be shampooed every other day; thick hair, once a week. But, if the daily shampoo habit is too hard to kick, just make sure you're not using one with sulfates.
5) Don't skimp on the conditioner. Conditioner is the most important starting point for having beautiful curls. Not only should you be conditioning every day, but the longer you leave it on, the better. A good way to maximize conditioning times is to leave on conditioner while you shave and rinse it out after.
6) Who needs a blow dryer, anyway? Curly hair should be air dried or dried using a very gentle diffuser. A harsh blow dryer will only turn your hair into a frizzball.
7) Don't get discouraged! There are lots of tutorials online that can open up creative pathways to new hairstyles and haircare tips. Join the community.
8) The biggest issue, and one that we've all struggled with, comes when you're not embracing your curls. They're beautiful and part of what makes you unique. Go out into the world with a smile, because your hair is beautiful and so are you!
Related