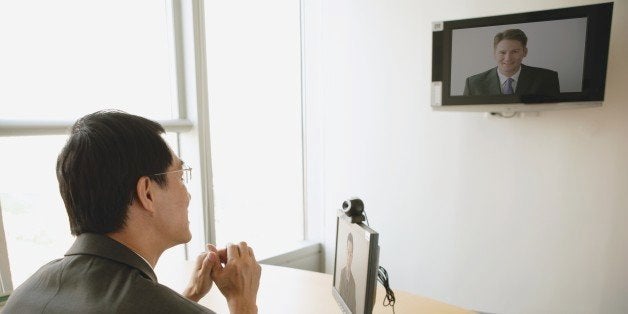 It's a Wednesday at 10:01 a.m. and oDesk's marketing team meeting is underway. One person is on from London, one from Boston and another from Santa Cruz. The rest are assembled at headquarters in Redwood City.
Many companies, like us, now have dispersed team members. We love the freedom to hire amazing people regardless of where they live. As a manager, however, how do you run meetings like a rockstar when your entire team is not around the same physical table together?
1. Embrace video.
You'll communicate better with your team when you can see them -- their expressions, their non-verbal cues and their reactions. Many great video conferencing technologies like Skype and Google Hangouts are free. Invest in the associated hardware -- including computers, webcams and large screens. It will pay back in spades.
2. Distribute materials ahead of time.
Avoid last-minute scrambles that cut into your meeting, and give remote participants ample time to access materials by distributing them in advance. And make sure documents are clearly numbered and labeled for easy reference as the meeting progresses.
3. Be considerate of time zones.
While it might be preferable for team members in San Francisco to assemble over lunch, always think about remote team members. A tool we use to help manage time differences is a Google Calendar add-on called "World Clock." It shows the proposed meeting time in each participant's time zone.
Of course, some time differences are too vast to accommodate; we've yet to identify a reasonable time to simultaneously connect our teams in Sydney, Seattle, London and Berlin. This is an inevitable part of running a global business, so schedule multiple calls when necessary, share recap notes, copy team members on emails and always take the time to answer questions.
4. Yield the floor to remote team members first.
Given the challenges of jumping into a lively conversation from a distance, we always invite our remote team members to speak first. We do this to show respect, as well as to be sure we don't miss out on their contributions.
Here are some additional tips for any meeting, virtual or not:
5. Start your meetings promptly, no excuses.
No matter how successful your company is, wasting money is never part of any business plan. Tally up what it costs to get people together for the length of your meeting, and you might be surprised. It is your job to be sure it produces a return.
I take the "start on the dot" rule seriously. It is not only smart business; it also shows respect for everyone, no matter what level they are at.
How do you ensure everyone shows up on time? Just communicate your "start-on-time rule" and start. If someone is five minutes late, that person has missed five minutes. Don't recap for latecomers. Next time, the offender will be on time for your meeting. I guarantee it.
6. Create an agenda. Make sure it's useful to everyone in the room.
Before every meeting, ask yourself: "What should we leave with that we didn't have before we started?" This question helps identify meeting priorities and sets forth concrete objectives. If there are people for whom the agenda is not relevant, either the agenda needs to be adjusted, or the irrelevant people should depart promptly, saving the company time and money.
7. Recognize that preparation is king.
Have you ever spent time in a meandering meeting, seemingly without an agenda, objective or sense that everyone's time is precious and needs to be optimized? The old adage "garbage in, garbage out" applies here.
Well-run, useful meetings rely on advance preparation, so people don't waste time on the basics and can instead focus on key insights or challenging problem areas.
At oDesk, we recently adopted a model Jeff Bezos introduced at Amazon that eliminates presentations and instead uses memos. In this model, one person thinks through an important, timely issue and writes a crisp memo describing the problem/opportunity/proposed plan of action and more, using no more than six typewritten pages. We read the memo first, ask clarifying questions, then address bigger impact questions, then round out the meeting with a meaningful discussion.
8. Don't let the discussion expand to fit the allotted time.
Meetings can be expensive, particularly those that involve many team members. As the meeting leader, ask yourself throughout: "Does everyone need to know what is being discussed right now?" If the answer is no, take the topic offline.
And, if you've scheduled an hour but have accomplished your goal in, say, 47 minutes, just end. Give everyone 13 minutes back! In a packed day, those unexpected extra minutes can be a cherished gift.