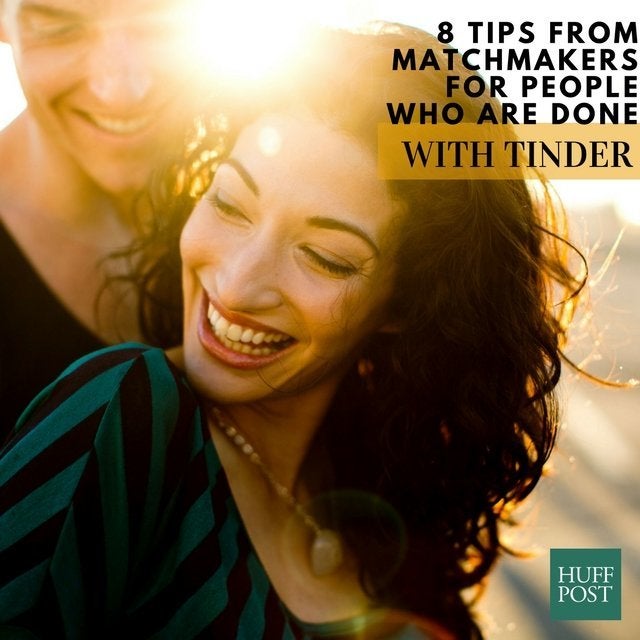 There's no question that Tinder and similar dating apps are addictive. In fact, a few years back, a spokesperson for Tinder told The Huffington Post that their average user spends a whopping 77 minutes a day on the app.
But all those hours spent swiping left or right doesn't necessarily guarantee a love connection. And sometimes, online dating can be downright exhausting.
So what do you do if you want to find love IRL? Below, matchmakers share their best advice for meeting someone offline.
1. Say "yes" to every invitation you get.
If you're truly invested in finding love offline, you're going to have to step outside your comfort zone, said Cristina Morara, co-founder of Stellar Hitch, a matchmaking service in Los Angeles. And yes, that means going out on Friday night and leaving your PJs and those last few episodes of "Narcos" behind.
"When you leave your comfort zone, that's where the magic happens," she said. "Life expands at the points where you give the most energy."
To maximize your dating potential even further, make a commitment to yourself that for three whole months you will say "yes" to most social invites you receive.
"Take that new boxing class, leave the office at a reasonable hour so you can meet your friends out, linger a little longer at the party," Morara said. "If you don't have much of a social life, make one."
2. Learn the art of small talk.
It's called "small talk" for a reason: Don't go from "Hi, nice to meet you!" to "What are your feelings on the Black Lives Matter movement?" in the same breath, says Brooke Wise, a matchmaker in New York City and South Florida. Instead, try and take things slow.
"Discussions about the weather, the vibe of the restaurant or coffee house will have to come before any deep discussions," she said. "Carrying a conversation is going to be a prerequisite to successful dating, especially if you're hoping to do it all offline."
3. Switch social circles.
No, we're not advocating leaving your long-time crew for new friends. You could, however, benefit from saying "Sure, I'm down" when your new buddy from kickboxing class asks you to hang out with her friends this weekend, said Amanda Rose, a matchmaker and dating coach based in Louisville, Kentucky.
"If you're always hanging out with the same social circle, you miss your chance of meeting new potential dates," she explained. "Also, a new friend might know someone that would be perfect for you."
4. Be the best version of yourself.
You know that corny inspirational quote that goes, "Never frown because you never know who might be falling in love with your smile?" Well, it is 100 percent corny... but it's also a little bit true, Wise said.
"This may seem simple and obvious but you should know that if you are not going to meet someone online, you are going to have to get close to someone, quite literally," she said. "This means looking your best and maybe buying that pricey cologne. You can no longer hide behind a computer screen in the comfort of your apartment."
5. Be approachable.
Most singles who want to meet someone forget to turn their "green light" on, to encourage people to approach them, said Andrea Morara, the other co-founder of Stellar Hitch.
"Since body language is our loudest voice, be aware of how you carry yourself in the world," he said. "Is your posture confident? Is your face serene? Do you make eye contact with others or are you buried in your phone? Is your energy friendly?"
If you're not keen on making intense, meaningful eye contact with that cute guy at the gym, start small, Morara said.
"Smile at strangers or people you know: Your grandmother or a friend. Once you get in the groove, it will be easier to do with everyone you come across, including an attractive woman or man who walks by," he said. "A simple 'hello' could lead to a thousand things."
6. Consider hiring a matchmaker.
If you dread having to weed through people who are categorically not for you, consider hiring a matchmaker, said Lisa Clampitt, the founder of Lisa Clampitt Matchmaking in New York City.
"Matchmakers help you make better, more authentic choices based on what you're looking for ― and they'll also do all the vetting of 'bad' dates so you don't have to," she said, "They have the same relationship goals as you: It's not just a hookup, it's about matching people for lasting compatibility."
7. Tell people you're single.
If you'd rather not shell out for a matchmaker, do the next best thing: Let people who you trust know that you're available.
"Let your friends and inner circle vet the people before you go on a date," Wise said. "There's no shame in asking for some help in the form of a blind date, especially if you no longer wish to use online dating."
8. Talk about yourself but don't monopolize the whole conversation.
It's sexy when someone is passionate about all facets of their life: Their career goals, a new cycling class they're taking, their brilliant idea for "Shark Tank." But showing a genuine interest in the other person is just as sexy, said Cristina Morara. When you meet someone new, give them a chance to get a word in edgewise.
"Being passionate and interested are sexy qualities when you're dating," she said. "Engage and be engaging. Kindness is a beautiful gift to receive while dating. It hints at compassion and thoughtfulness, two things that go a long way in relationships."
Related
Before You Go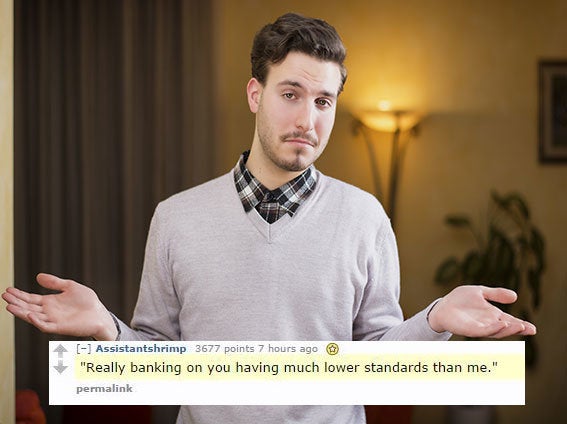 Brutally Honest Dating Profiles