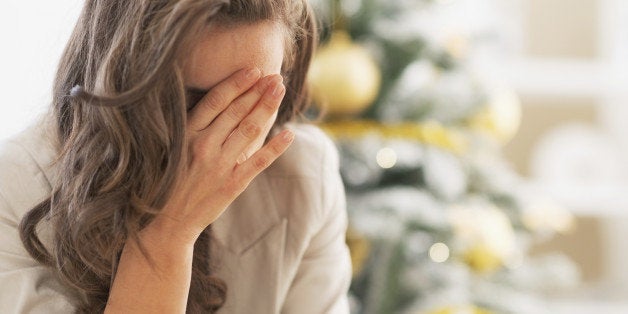 One of the most difficult times of the year for divorced and broken families is undoubtedly the Christmas season. Especially the first couple of years when it is a time for re-building and transitioning the new family unit. What makes this even harder is having to let go of old traditions. Also, Christmas memories from before the divorce are still raw. Due to these changes in family dynamics, the holidays become a challenge and a tug of war between households. Neither Mom nor Dad wants to be alone during this time and the children inevitably get caught in the middle.
Socially, the newly divorced can feel ostracized. They don't fit in with their married friends and feel like the fifth wheel. Maybe they have lost some friends over the divorce and feel alone. Any of this sound familiar?
The challenges are twofold -- one is about parenting and your children's needs and the other is about your own social needs. The first problem can be alleviated with some planning. If you and your ex can agree on a schedule for the kids over the holidays in advance, everyone will be much happier.
My ex and I would split up Christmas Eve and Christmas Day so that the children were with one parent on at least one of these key days. It worked quite well since we lived 20 minutes apart and we were sharing custody. This arrangement allowed everyone to share some time together and share traditions on the actual day of celebration. Now that the children are older and we live in different cities, I've had to re-think this Christmas scheduling. It's important to recognize what is working and what isn't in your Christmas traditions and make changes as you go.
The second challenge is to ensure you are fulfilled and socially happy over the holidays. If you feel you don't fit in with old friends and old traditions, begin some new ones. Also, don't be afraid to call up friends and make some plans. Take the initiative and you will be surprised how positively people respond. Don't forget it's the quality of the invitations rather than the quantity, so if you haven't got a packed social calendar this month it doesn't mean people don't love and care about you! Did you really want to go to that volunteer luncheon? Some Christmas parties are overrated anyway so we're not missing much.
8 Tips to Beat the Post Divorce Christmas Blues:
1. Plan ahead with your children and your ex and know where the kids will be and when.
2. Start a new tradition with your kids, something you didn't do as an intact family, something only you and the children will share. Ice skating, volunteering, a weekend retreat, a party...
3, Let extended family know when the children will be with you so they can plan to visit at this time as well.
4. Unless you're comfortable being alone, make sure you make plans for the evenings your kids are with your ex; with your own family, friends, running or book club buddies, or someone you've been meaning to call.
5. Do something that has personal meaning to you, whether it's volunteering for a local Christmas charity, or just staying home and watching all of your favorite Christmas movies.
6. Get out and enjoy the simple pleasures of the season; a walk in the snow, a sleigh ride, hot chocolate and bailey's, a wood burning fire, the smell of the evergreens, maybe a new pair of flannel PJ's, an outdoor ice skate.
7. Avoid emotional triggers; we all know what ours are (I better get some new tree ornaments!) Try not to pore through old photos or children's Christmas ornaments from years ago. It's hard enough without going down memory lane.
8. View Christmas as just another day on the calendar and this will keep things in perspective no matter what transpires.
Try some of these simple suggestions and you'll have less blue in your Christmas and whole lot more Merry.
You can get through the season with a smile by taking some initiative, changing up old traditions, avoiding triggers and organizing the parenting schedule. Turn your Christmas from blue to red and make it a little merrier.
Popular in the Community