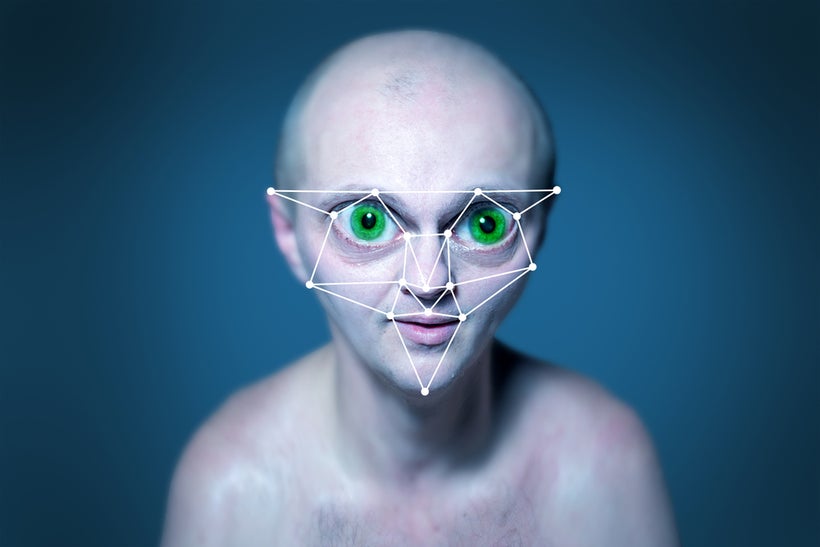 While the creep factor might be what initially attracts news watchers to this topic, facial recognition technology can actually be used in a variety of intriguing ways.
Check out just a few of the innovative startups using facial recognition software to build viable business ventures:
1. SightCrest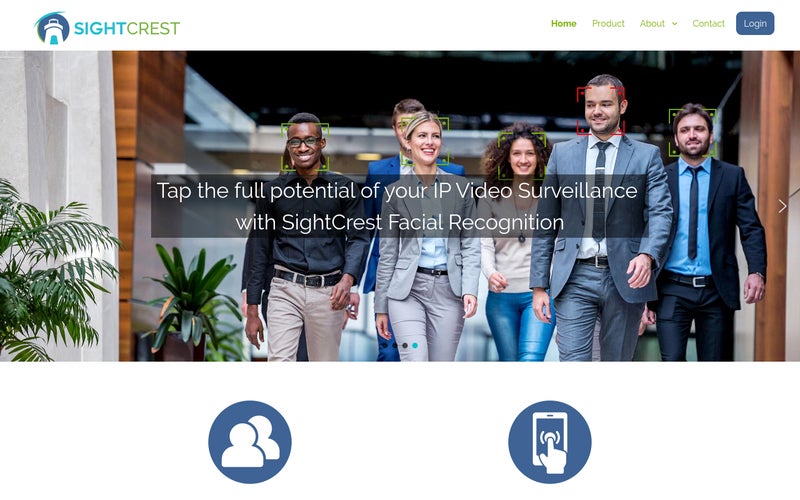 SightCrest offers facial recognition technology for security interfaces.
Their cloud-based technology can be used for identity verification, productivity monitoring, or privacy protection.
SightCrest integrates with security cameras, allowing businesses to monitor who is entering their premises, who is performing their assigned duties, or who isn't using company property as required.
From schools to fitness clubs, there are a myriad of ways this powerful technology can be utilized. SightCrest even offers real-time security alerts to business owners.
2. Veronica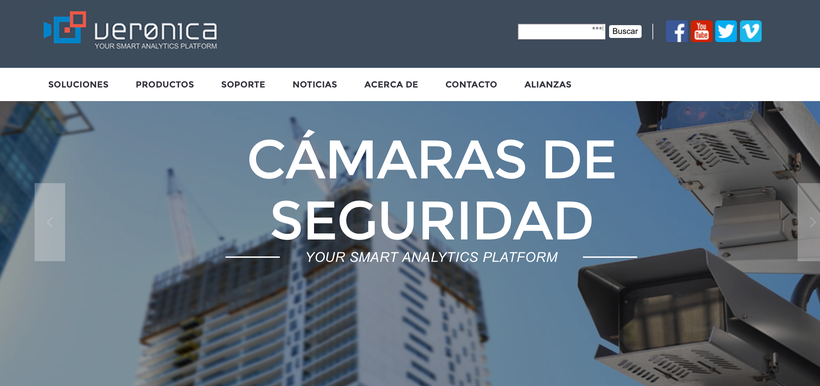 Incubated by Startup Chile, the Veronica team is working on a mobile application that uses image recognition technology in its security software.
Using cloud technology, Veronica can scan security camera footage and feed pertinent data to law enforcement or authorized company representatives.
3. Hyperlayer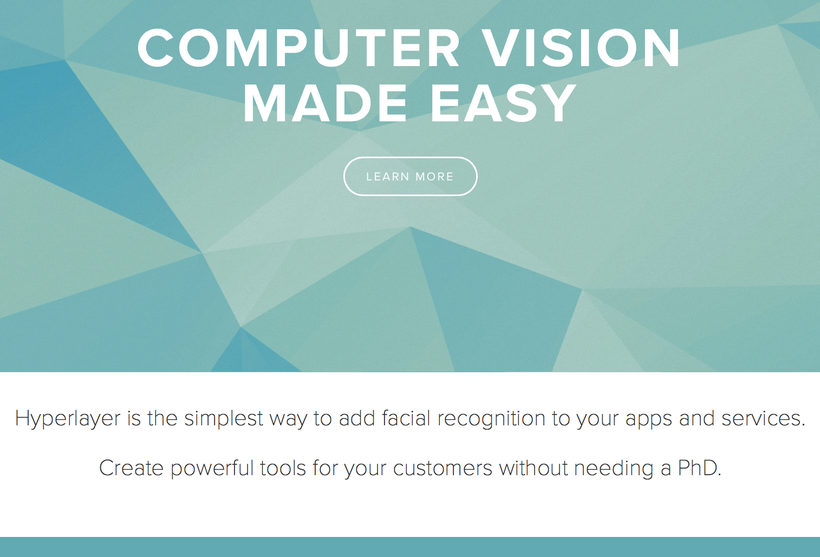 Hyperlayer is working on a software tool that combines facial imaging, geo-data, and live video streaming.
Hyperlayer is an open source project that allows developers to build products based upon Hyperlayer's image recognition software.
Use cases will be dependant upon the innovative thinking of web designers and software engineers.
4. Meerkat

Meerkat offers an API users can integrate into their software builds and also offers an on-site version with a web interface.
Customers can either pay per device implementation or can choose a subscription model where they pay per API call.
If you are considering integrating facial recognition technology into software you're developing, Meerkat is definitely worth investigating.
5. Facetec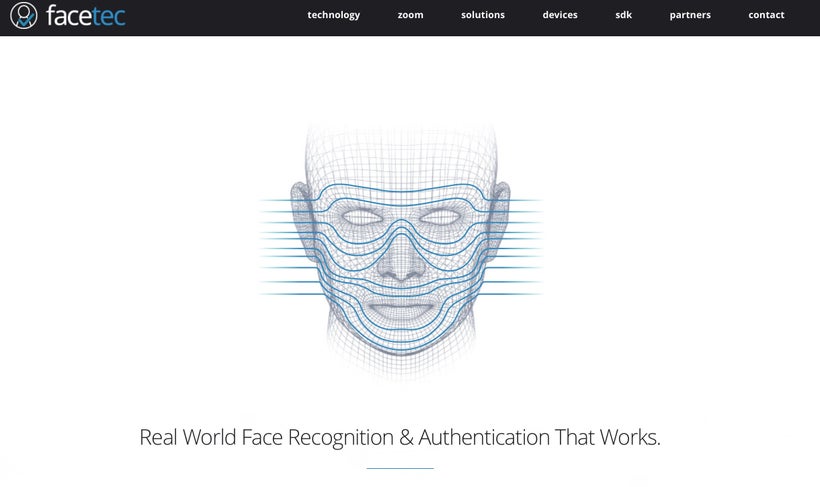 Facetec offers facial recognition as a service for cameras.
Businessescan integrate te Facetec SDK into their software code, allowing their cameras to authenticate, identify, and analyze facial images.
Facetec offers machine learning algorithms for biometric analysis, allowing users to integrate facial recognition capabilities into everything from wearables to Internet of Things devices.
6. Cladoop

Cladoop's powerful facial recognition interface tracks everything from facial expressions and eye blink movements to lip and head motion.
Cladoop's technology can be used by those in healthcare to measure emotional and behavioral reactions.
Users can utilize Cladoop's technology to analyze everything from hyperactivity in children to impulsivity and attention spans in adults.
7. Kairos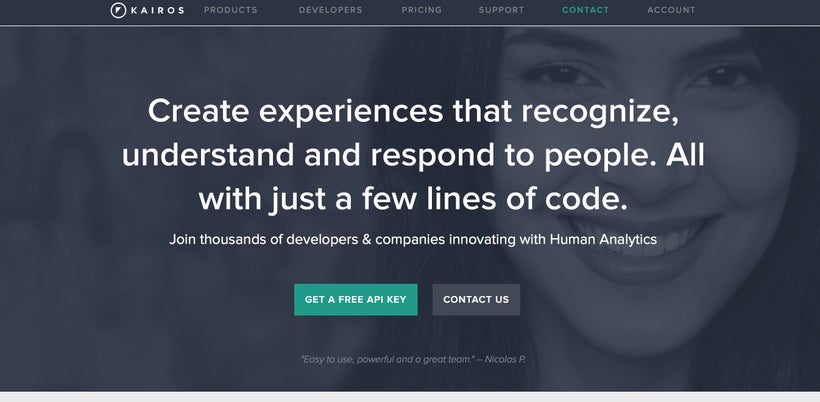 Kairos is working on technology that will allow users to pay for products and services with their face.
Instead of scanning a magnetic strip on a credit card or punching in pin codes on a debit card, Kairos users will be able to pay with nothing more than a facial image.
8. Pixuate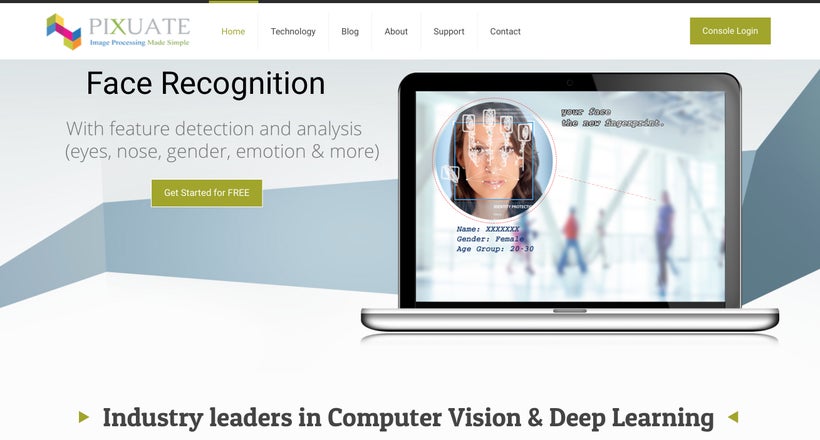 Pixuate offers an image storage solution that offers facial image recognition as one of its benefits.
Pixuate's software can detect images with matching attributes like facial structure or gender.
Pixuate is available for both large and small businesses.
Facial Imaging Technology Continues to Develop
While agencies like the National Security Agency might use it for hunting terrorists, entrepreneurs within the artificial intelligence and cloud technology community are actually using facial imaging in numerous innovative ways.
With so much potential for intriguing use cases, it is no wonder that there is growing interest in facial imaging technology.
Which of these facial recognition startups is your favourite?
Calling all HuffPost superfans!
Sign up for membership to become a founding member and help shape HuffPost's next chapter
This post was published on the now-closed HuffPost Contributor platform. Contributors control their own work and posted freely to our site. If you need to flag this entry as abusive,
send us an email
.