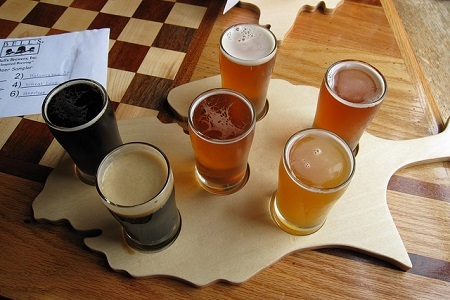 Any bona fide beer geek already knows they can find a great brew in Denver, Portland, Oregon, and Dublin. But if you've already tapped the keg on these well-known beer cities, perhaps you and your taste buds are ready to explore a new frontier (with someone else behind the wheel, of course). "You can get beer just about everywhere," said Chris O'Brien, creator of the Beer Activist blog. "People are fermenting grains all over the world." But not every metropolis is a veritable beer city, overflowing with homegrown breweries, gastro pubs and beer festivals. For this reason, U.S. News selected a few spots where you may not have considered tipping back a pint. That said, we know this can be a contentious topic among beer aficionados, so keep in mind that this roundup is presented to you in no particular order.
St. Petersburg, Florida, doesn't often register on the average beer drinker's radar. Whether that's because of St. Pete's reputation as "God's waiting room" (read: a favorite among white-haired retirees) or because the frothy beach waves overshadow the frothy beer heads is unclear. But recently, 14 independent breweries and brewpubs have opened their doors to resident and visiting beer aficionados. Gulp it all down along the St. Pete/Clearwater Beer Trail, which runs from Tarpon Springs (about 30 miles north of St. Petersburg) to Treasure Island (about 8 miles due east of St. Petersburg). Among the breweries along the trail are: Saint Somewhere Brewing, a small warehouse that specializes in Belgian-style farmhouse ales; Lagerhaus, a neighborhood brewpub with a fifth generation Austrian brewer at the helm; and Cycle Brewing, a laid-back cantina that's developing a type of beer dubbed "Florida Weiss."
Cape Town, South Africa, is well-known for its fermented grapes, but its fermented grains may soon be stealing the spotlight. Though beer-making isn't new to South Africa -- South African Breweries is one of the world's largest brewers by volume -- craft breweries have mushroomed, giving Cape Town's reputation as wine country a run for its money. To learn about South Africa's brewing techniques and to sample a wide collection of the Mother City's best craft beer, O'Brien recommends you head out on the Cape Town Beer Route. You'll start this half-day guided tour at the home of a traditional brewer who still prepares her beer by hand (women were South Africa's original brew masters). From here, you'll move on to the Newlands Brewery -- South Africa's oldest commercial brewery -- where you'll sip some of Cape Town's best mass-produced ales and lagers. Next, you'll make your way to Banana Jam Cafe where 16 of the country's tastiest craft beers are on tap, with lagers and pale ales from local brewers like Jack Black and Devils Peak. Tours take place Mondays, Wednesdays and Thursdays from 2 to 6:30 p.m. and cost 695 ZAR (about $66 USD) per person.
Often lumped together with Albuquerque's craft beer scene, Santa Fe is actually home to New Mexico's oldest microbrewery, the Santa Fe Brewing Company. Stop by the brewery for a tour or tasting and sample the award-winning Chicken Killer Barley Wine, which is best known for its intense flavors (this beer is brewed with twice as many ingredients as the company's other varieties) and high alcohol content (10 percent). Meanwhile, the smaller -- but no less impressive -- Blue Corn Brewery offers a selection of six house beers and a rotating selection of four specialty beers. Sample the End of the Trail Brown Ale and the Gold Medal Oatmeal Stout, both silver medal winners at the 2013 Great American Beer Festival. Plan your visit in May and you can combine your love of lager with a two-wheeled tour of Santa Fe's desert landscape during the annual Bike & Brew Festival.
Thanks to the Pint Bill -- which was signed into law in June 2013 and allows South Carolina breweries to serve each customer up to 48 ounces of beer in a 24-hour period -- the Palmetto State has seen a recent boom in craft brewing. Though Charleston has already established itself as a city with some respectable hops, Myrtle Beach is building its own reputation as a beer destination with an outpouring of new breweries. New South Brewing got its start supplying local eateries with draft beer, but the microbrewery has since expanded to canning its own collection of tipples. You can find New South Brewing products in regional grocery stores, or you can sample the offerings at the brewery while on a tour -- the Pint Bill allows for heavier pours. New South's White Ale is the most popular; so don't leave without trying this American take on classic Belgian wheat ale. Care to try your hand at home brewing? Myrtle Beach has you covered there, too. Homebrewer's Pantry (situated about 14 miles northwest of Myrtle Beach in Conway) offers classes, demonstrations, tastings and competitions for the budding beer-maker. If you prefer to leave the work to the experts, plan your visit around one of several ale-oriented festivals, such as the Beer, Bluegrass & BBQ festival or the Brew at the Zoo at Brookgreen Gardens.
Much like Cape Town, Santiago is better known for its vino. But O'Brien attests that Chile is just as much a beer-lover's destination as it is a city for winos. For a crash course in Chilean craft beer, start your journey at Cervecería Nacional, a bar in Barrio Yungay that offers nearly 70 local brews. You should also plan to venture out of the city to visit the microbreweries cropping up in the outskirts. Szot Microbrewery, located about 23 miles southwest of Santiago in the small town of Talagante, is run by an American expat and his Chilean wife. As owner Kevin Szot explains on the brewery's website, the craft beer movement in Chile didn't start bubbling until about 2006 due the monopoly held by the Compania Cervecerias Unidas, the premiere beer-producing outfit in Chile. The landscape is still saturated with CCU's mass-produced Cristal (the region's most popular beer), but keep your eye on Santiago -- more boutique breweries edge in on the market every day.
You've likely heard of labels like "Beer City, USA" and the "Napa Valley of Beer," but what about "Beer Corner, USA"? It's with that tag that Omaha, Nebraska, has managed to carve out a space for itself among the landscape of American cities that are busy brewing hops. Draft Magazine recommends a visit to Crescent Moon Ale House and Krug Park for the best selection of Nebraska-bred brews from local producers like Zipline, Lucky Bucket Brewing and Spilker Ales. Time your visit to Omaha in early June and you'll get to sample an even wider selection of Nebraska ales, lagers and IPAs at the Omaha Beer Fest. Expect to see smaller Nebraska-based breweries here, like Blue Blood Brewing Company and Ploughshare Brewing Company, among many others.
In 2013, Kalamazoo, Michigan, added six new breweries to its growing roster of local beer purveyors. But the tradition of fermenting grains is far-reaching: The state's first commercial brewery opened in Kalamazoo in 1837. (For a more thorough history of Kalamazoo's sudsy saga, check out this record put together by the Kalamazoo Public Library.) If you're in K-zoo for the beer, your first stop should be Bell's Brewery, Michigan's oldest microbrewery. After taking the free, half-hour long tour, sample some Bell's Amber Ale or Bell's Kalamazoo Stout on tap at the Eccentric Café, located right next door. For a more diverse sampling of Kalamazoo's brew scene, opt for a West Michigan Beer Tour. The three- to four-hour walking tour provides the opportunity to sample beer at several downtown breweries and meet local beer producers. Tours in Kalamazoo, which cost $19 per person, start June 7, and take place every Saturday through summer. If you're visiting in the winter, plan your trip around January's Kalamazoo Beer Week. During this week-long beer bacchanalia, you can sample Kalamazoo's local brews with special tastings, dinners and events, like pub crawls and beer obstacle courses.
Related