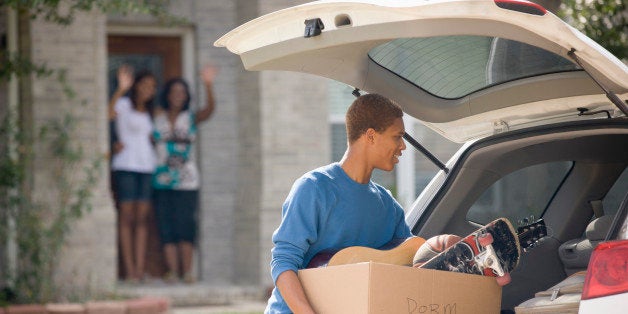 The "Freshman 15" is a term used to define the amount of weight that a student will gain as they enter college.
When a student leaves his or her home and embarks on their college career they are faced with many changes and choices. They are no longer under their parents' roof and guided by the rules of their home. They feel a freedom that evokes an expression of who they are as an individual, or the student will redefine and reinvent him- or herself to fit in comfortably in a new environment.
As a parent, it is our hope that we have instilled values and ideals into our college age child that will easily help them make the right choices and gravitate towards new friends with the same values. I can remember sending my children off the college knowing that I could no longer be their guide. While this is a new and exciting time for the student, it can also be a hard time for both the parent and student.
The Freshman 15 weight gain can be an unwanted part of this change. The student will no longer eat meals in the home kitchen. Meals will now be mass-produced cafeteria food that will most likely include large quantities of sodium, fat, and carbohydrates. There are late night get-togethers, study groups that include eating, and small refrigerators in dorm rooms filled with sugary or salty snacks.
Students may also be sampling different foods and tastes for the first time, and they may indulge in over eating and excess alcohol in an effort to fit in and make new friends.
Advice for students entering freshman year:
Never skip breakfast. You will gain energy and stamina from a good breakfast before classes, rather than sleeping in and rushing out on an empty stomach.
Each day think food groups, not food items. Look at your tray and make sure you have selections from all food groups, and not an overload of only one. Use the Five-Finger Food Guide for guidance to ensure your meal is well-rounded.
If you know you eat many cookies or chips at one time, you may want to eat that type of food in the dining hall, where they are limited. Keep healthy food in your room that will satisfy your hunger.
Don't think you have to eat every time your friends eat in an effort to fit in. Find other ways to fit in with other interests.
Include exercise in your day and week. Join intramural teams, walk or run with friends. Go to the gym. Keeping active will help with stress, eating, sleeping, and studying.
Alcohol is empty calories, and will reduce your resistance to temptation, causing unwanted or unplanned eating.
Study time is not eating time. Take a break from studying to eat. I have clients who find they cannot read without eating. This pattern started in school while studying, and lasted for decades. It's easier to not start a bad habit than it is to stop one.
Entering college is a change of lifestyle. This is a great time for you to practice personal responsibility for your healthy eating. You are on your own and responsible for your actions and decisions. You will have help and guidance along the way. Know when to ask, and who to ask, for advice. Keep in mind that you are building your resume. Your grades, work ethic, and peers matter. Who you spend your time with will be a reflection on you. Choose wisely.
Your time of study and self-preservation will pay off with incredible results as you enter a competitive job market. As you search for a position in your chosen profession, your health, or perceived health, will be considered. The way you eat, exercise, and care for yourself during your college years will be noticed by future employers. Be the best you can be in every way.