Six thousand miles from France... You can feast on just-baked baguettes and croissants for breakfast; celebrate Bastille Day and parler en Francais with the locals. Sunflower colored churches, painted friezes and sculptured pillars of Hindu temples -- a pleasing mélange is the word that sums up this balmy town. Pondicherry (today renamed Puducherry) is a small French town on the Coramandel coast of India, just two hours from Chennai. "Give time a break" says the Pondicherry Tourism slogan. It seems appropriate, for a break in this seaside town does take you into the slow lane. Here are eight incredible ways to discover the town.
1. Enjoy the Tamil Quarter
The Tamil quarter, or the Ville Noir, is the 'living quarter' where you can experience the unique Franco-Tamil ambience. Walk through Perumal Koil Street and Vysial Street, lined with old Tamil mansions with long verandahs and platforms called thinnais. Stay at Maison Perumal, an old Tamil home now converted into an atmospheric boutique hotel by CGH Earth. Antique furniture, contemporary fabric, local art and inviting red oxide floors with a big central courtyard, make this a great pit stop. Feast on their single set menu of grilled sea food, soups, appams and fresh vegetables, which is simple and organic.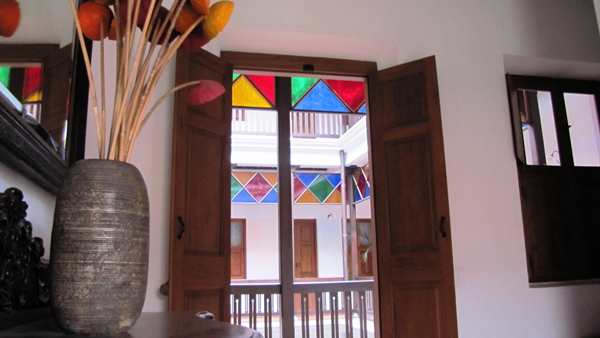 Book a heritage walk in the French Quarter or Ville Blanc with INTACH, the NGO which does a lot of restoration work in the town. Walk through streets with names like Rue Romain Rolland, Suffren and Dumas. Private homes with white shutters and bright yellow facades bedecked with red bougainvillea, and bicycles parked outside, create a very Mediterranean feel. There are many exquisite heritage buildings that have been artfully converted into boutique hotels. Have lunch at Palais de Mahe, a new property built in the classical French style belonging to the CGH Earth group, known for its eco- friendly initiatives. There is an open courtyard, many nooks and corners where one can read a book or laze around over a glass of beer as well as a small swimming pool.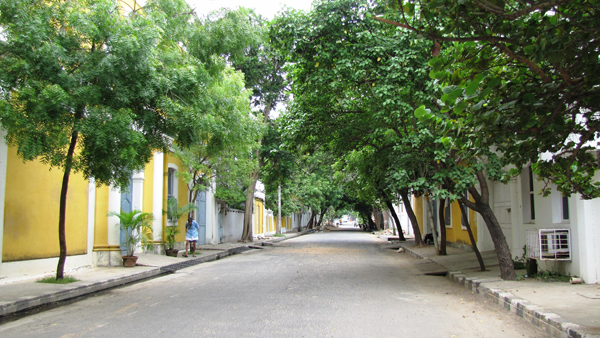 If you are a sun and sand junkie, then head to any of the four popular beaches around Pondicherry: the Promenade, Serenity Beach, Auroville Beach and Paradise Beach. Walk on the main historical promenade along Goubert Avenue, lined by charming colonial buildings, with locals eating ice creams and balloon sellers in a mesmerizing melee. This stretch has the Mahatma Gandhi statue alongside a statue of Marquis Dupleix and the War Memorial to honor the fallen French soldiers of World War I as well as a whitewashed 19th century lighthouse.
Visit the Botanical Park, a sylvan retreat in the heart of the town, sprawling over 22-acres. It was the zoo in the Life of Pi and is home to 1,500 rare and exotic varieties of plants, with pathways and fountains as well as a children's train and an aquarium. Most of the town's handsome buildings surround the quiet greenery of another green lung -- the Bharathi Park. These include the Ayi Mandapam -- a gleaming white structure built during the Second French Empire -- and the Raj Nivas -- the handsome residence of French governors.
Pondicherry today is a spiritual pilgrimage to many, with a secular offering of churches, temples and mosques. Visit the Ashram Centre at Rue de la Marine, which has the tomb of the philosopher Sri Aurobindo and his living quarters amidst a pretty little garden. Visit Auroville, 10 kms away from the city -- founded as an international community in 1968. Catch a glimpse of the spiritual center, a golden meditation dome called Matri Mandir. Follow it up with a visit to the Notre Dame des Anges Church, which started its life as a small chapel in 1686 and is modeled on the lines of the basilica in Lourdes. Enjoy its pleasing architecture with a central dome and Doric columns as well as multicolored windows. End your day with a visit to the Hindu temple of Manakula Vinayagar, which has 40 different forms of Lord Ganesha and a temple elephant that blesses devotees.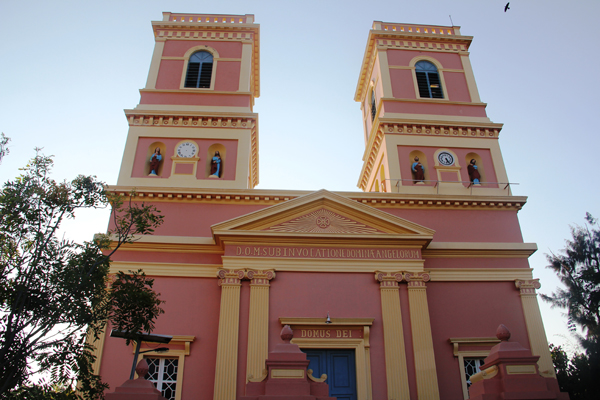 Visit the Pondicherry Museum, housed in a century old building, and catch a peek at shards of old Roman pottery and burial urns recovered from the Arikamadu Roman settlement, just south of Pondicherry. Soak in the majesty of the French period with paintings, porcelain as well as carriages and rare furniture from the 18th century, belonging to princes, governors and generals, including an ornate four-poster bed that belonged to Governor Dupleix.
Pondicherry has today emerged as a chic shopping haven. You can shop on crowded Mission Street and visit the funky boutique Casablanca, filled with bric-a-brac, pottery, jewelry and exquisite linens. Continue your retail therapy with Kalki, filled with candles and incense and Hidesign (a Pondicherry based maker of leather goods now available internationally). Pick up delectable pastries and handmade chocolates from the chocolaterie called Chocola. La Maison Rose is a stately pastel pink villa with a sun filled salon that houses fashion and interiors boutiques. Try Amethyst for chic jewelry and clothes and have a coffee in its delightful courtyard restaurant.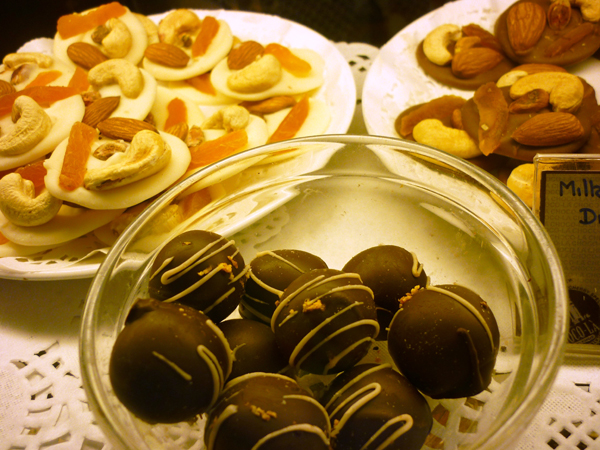 Pondicherry has an eclectic range of restaurants, ranging from Satsanga, offering Mediterranean fare to Le Dupleix, the former residence of the French governor-general, Joseph Francois Dupleix, which is now a 14-room, hotel nestled in a leafy courtyard, with a restaurant offering fusion 'Pondicherry cuisine." Head to Hotel De L'Orient on Rue Roman Rolland for some Creole cuisine that infuses local Tamil spices with French ingredients. Don't forget to visit Baker's Street, a bakery run by a Frenchman which sells the most delicious cheese baguettes, quiches and freshly baked bread, as well as éclairs and fruit tarts.
Related