If you're like me, you're already mourning the end of Downton Abbey. It seems like just yesterday Lady Sybil shocked us with pants. And now, after Sunday, six seasons, over... All over.
No more delightfully cutting zings from Grandma Violet. No more Bates to love or Thomas to hate or little Daisy to root for. (Go, little Daisy, go! Reach for the stars!)
So what's a Downton fan to do? Enter the 21st century? Ha. (Lady Mary eyebrow raise.) I don't think so.
Here are eight ways to fill the PBS period-drama shaped hole in your heart.
1. Read anything by Edith Wharton. If you only know her as the author of Ethan Frome, well, you don't know Edith. Read Summer, The House of Mirth, Glimpses of the Moon, The Custom of the Country, or her 1920 Pulitzer Prize winner The Age of Innocence, and you'll quickly realize how much Downton felt like a part of Wharton's world. In fact, taking a look at the rest of her body of work, you'd be hard-pressed to recognize Wharton as the creator of that sad, stoic yankee, Ethan Frome. Most all her other novels are utterly Downton-esque -- everyone is either old money or "nouveau riche"; there are social ladders to climb, balls to attend, schemes, romances, and seasons spent in New York or Newport. The best part? Many are free on iBooks. (And then read Ethan Frome. Because it's fantastic.)
2. Get your Grantham on with a visit to Newport, R.I., the stylish port town where the Astors, Vanderbilts -- and Cora Crawley's mother, Martha Levinson -- summered in their, ahem, "cottages."
Historic waterfront Newport is a prime New England summer destination spot, but it's also, perhaps unexpectedly, a fantastic weekend getaway in the late winter and early spring.
You can tour some stunning mansions -- I'm talking estates to rival Downton itself.
Then spin your parasol and twirl your walking cane along the Cliff Walk, a 3.5 mile winding oceanside trail, lined with stately mansions. Warning: You will be want to Instagram everything you see. #WalkLikeaCrowley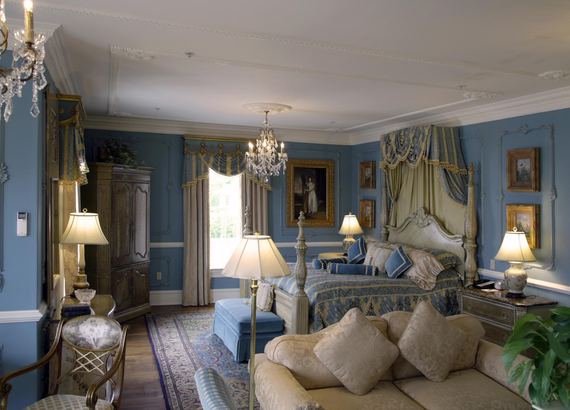 (Couresty photo, credit the Chanler at Cliff Walk.)
You can book a room at The Chanler at Cliff Walk, a circa-1873 mansion originally built as a summer home for New York congressman/ lawyer John Winthrop Chanler and his wife, Margaret Astor Ward, great-granddaughter of millionaire John Jacob Astor. Today, it's a luxury, European-style boutique hotel.
The Vanderbilt Grace, built in 1909 for Alfred Gwynne Vanderbilt, is now a boutique hotel near the waterfront, housing stunning suites, a billiard room, spa, lobby with majestic fireplace, stately white-columned salt water pool, and two restaurants. Muse, its high-end restaurant, is exactly the type of place Lady Mary would dine.
3. Read The Great Gatsby, by F. Scott Fitzgerald. It takes place in New York, yes, but, hey, that's where Cousin Rose moved. And because Jazz Age.
4. Watch the Jack Clayton-directed 1974 adaptation of The Great Gatsby, with Robert Redford as ol' sport, Mia Farrow as Daisy and a terrific screenplay by Francis Ford Coppola. Downton vibes everywhere.
5. Super hardcore fans might want to make a pilgrimage across the pond to visit Highclere Castle -- aka the real Downton Abbey -- outside London. It opens for tours in the spring. Dream Journal Idea: It's also available for weddings.
6. Highclere also has a virtual exploration app for iTunes and Google Play, narrated by, wait for it, Carson.
7. Read Jane Austen. Yes, her novels take place some 100 years before Downton, so they're more of a prequel to the show, but they've got that same old-world charm and romance. I've read Pride and Prejudice, Sense and Sensibility, Mansfield Park, and Emma more times than I can count. Except for the 1996 adaptation of Emma with Gwenyth Paltrow -- not sure why exactly I love that one, but I do -- I don't particularly care for any of the movies. Nothing compares to Austen's language and her original storytelling. You will be utterly transported.
8. Of course, you can always re-watch all six seasons on Amazon or DVD, while drinking tea and crossing your fingers for one of those classic British TV series' here's-one-more-for-you Christmas special.
Popular in the Community