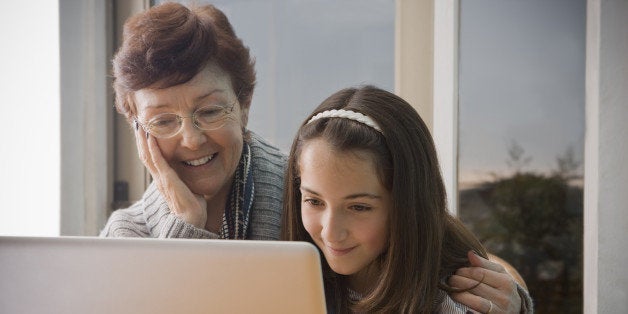 School-age children provide parents all sorts of delights, from school programs to projects and parent-teacher conferences. Those delights can be anything but, though, for parents with overfilled plates.
Mom and Dad may be in luck, though, with partners on hand to cover school obligations. I'm talking about Grandma and Grandpa. Grandparents are often ready, willing and happy to attend school activities, but may fear overstepping their boundaries when it comes to helping out with educational matters.
Grandparents make super stand-ins when parents can't be there, so consider enlisting their help in the following ways for those jam-packed school days. You will benefit from delegating, your child and his or her grandparents will benefit from the pairing.
School supplies
Provide grandparents a list of school supplies at the start of the school year or new semester and ask if they'd like to provide any goodies from the list. Character pencils and lunchtime water bottles from Grandma are daily reminders to a child of a grandparent's love and adoration, so chances are she'll happily oblige.
Lunch (box) duty
Ask Grandma and Grandpa to take your child shopping for a coveted backpack or lunch box or bag. Your child will come away with exactly what he wants, his grandparents will have a new appreciation for their grandchild's tastes and preferences.
Proper introductions
Introduce Grandma and Grandpa to your child's teacher and school office staff. Ensuring the teacher and staff know the grandparent and vice versa makes it easy peasy for everyone -- most of all, your child -- when a last-minute stand-in is required.
Share schedules
Give grandparents copies of the school and class calendars so they can mark important dates and events. Some events are ideal for extended family, such as the back-to-school open house, fall programs, field days and sporting events. Yet others may conflict with your work schedule or events with your other children. Note on the calendars those you need help covering and let grandparents choose which they can attend.
Email updates
Sign grandparents up for email newsletters and blog updates from your child's teacher. Most schools have websites with reams of information for parents -- and grandparents. Plus, teachers' blogs inform classroom helpers of upcoming coverage needs, so Grandma may even volunteer in your place in advance, no begging from you required.
Camera duty
Parents are often the No. 1 choice when it comes to volunteering in the classroom but documenting the events and activities can be a challenge for a mom knee-deep in duties. Ask Grandpa or Grandma to come along and serve as class photographer of the fun.
Pass on the projects
School projects boggling your brain or pushing your patience? Ask Grandpa or Grandma to work on a science fair project, an extensive book report, a PowerPoint presentation. Grandpa may have a larger reserve of patience; Grandma may have some techy tips to share.
Craft time
School days are rife with gift-giving occasions, be it holiday or end-of school tchotchkes for teachers. Most time-consuming of all: the valentine exchange between students. Grandparents and grandchildren are an ideal match for making gifts, cards, valentines and more together. Offer to provide the supplies for a crafty session for the younger and older generations.
Kids can never have too many adults supporting their educational efforts, and grandparents can never have too many opportunities to spend quality time with their grandchildren. Pairing the two provides respite and relief for harried parents - who can never have too much assistance in rewarding albeit time-consuming job of raising little ones.