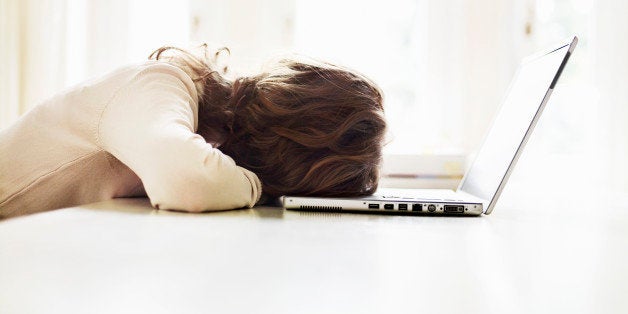 It was just two years ago, sitting at the BBC's news desk in London, when I knew I couldn't carry on. I couldn't function. I couldn't deal with anyone or anything else. I was so tired - that's the only way I can describe it - tired, lost, heartbroken by life. I hated everything about myself and felt I deserved that hate and the loneliness I saw myself enduring. I gave in to a horrible darkness.
It wasn't work, it wasn't my personal life, it wasn't my finances and it wasn't the job. It was all those things. I had lost all my resilience to life's challenges; but to recognize that in a busy, stressful working environment was very hard.
I know now this was depression. I'd had it before in my twenties but hadn't acknowledged it. Back then I just didn't want to be "that" kind of person. Journalists are brave, cynical and tireless. They report on other people's misery. Their own sadness or weakness has no place in the newsroom.
We spend most of our waking hours at work - now I have found a chance to make any workplace better for the millions of people like me. As a Visiting Fellow at the University of Michigan Depression Center, I have spent time learning about the current research of some of this country's leading mental health experts and scientists.
Along with a team of MBA students from the Ross Business School, I have also studied mental health programs in New York and London -- from huge corporations to public services and charities. We saw that there were eight key areas which hindered or accelerated a successful workplace mental health initiative.
1. Get the Data!
You're never going to know if you're making an impact unless you get the right data. Proper absence and sickness records, annual surveys and resilience questionnaires. You've got to get the best information you can on the state of your staff.
2. Senior Support
For any initiative to work it has to have the support of the very top of your business. No-one will feel safe to speak about their mental health if they don't believe their bosses will back them. This is one area where executive visibility can make a real difference.
3. Storytellers and Champions
Once the boss is backing the plan, people can come forward to tell their stories. That's what happened with me - the support of my managers meant I could speak out. And you will find plenty of people wanting to champion mental health - tap into their skills.
4. Know the Culture
Every workplace is different. You have to know what makes your office tick, what your colleagues respond to, what's the personality of your organization? Only then will you know how far you can go with the rest of the plan.
5. Promote Your Resources
No-one is going to ring your company helpline unless they know it exists and they trust it. It's not just about communication - you need to market hard and make sure you reach everyone.
6. Blend of Work and Life
Your culture at work will let you know how much you can enter the personal domain of your staff. Some love to bring their whole selves to the office, others would rather keep their home life separate. For some, checking on their health will be warmly received, others may prefer to meditate in their own time. You must allow for all.
7. Holistic Wellness
Your mental health can often be linked to your physical health, your relationships, your finances, your diet even. A program that ties all these together through sleep workshops, money surgeries and fitness targets will keep the subject alive for longer.
8. Physical Space
The open plan office may be great for communication and collaboration - but we all need somewhere to talk, somewhere to cry. Private spaces are often at a premium but you need to provide the right room to reach out.
So there you have it. Not exactly organizational rocket science -- but eight key things you need to get right if you want to build a mentally healthy environment and beat the stigma of depression at work. I was lucky -- my BBC bosses handled my illness brilliantly. I don't want my experience to be the exception.
We're focusing on mental illness and the workplace in honor of Mental Health Month. If you have a story or blog you'd like to share about wellbeing at work, please email strongertogether@huffingtonpost.com.