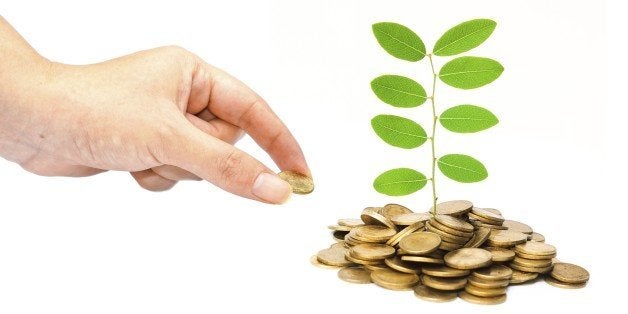 You ever get to feeling that you've got your finances totally figured out? Bills paid, shopping done, and money in the bank? That is, until you look at your savings account. I know it can be hard to save up when spending is so tempting, but saving is definitely a must. A healthy savings account is great for when life throws you a curveball -- and even better for when life flips your finances on their head.
But it can be difficult to get motivated to save, or find the extra money to save, when you've got other expenses. Here are just a handful of my favorite ways (some obvious, some not so obvious) to quickly build up your savings account.
Cable costs are ridiculously expensive these days and, despite massive competition from on-demand streaming, don't seem to be getting any lower. Cutting your cable and opting for a subscription service is a great way to save money each month. Then take those savings and automatically direct them into your savings account for a $50-$70 monthly savings boost.
EXCLUSIVELY SAVE YOUR SIDE HUSTLE MONEY
Ya'll know I have always been a huge fan of having a side hustle, and using side income to increase your savings is a quick and easy way to pump up the balance. I love this method because it feels like you're making progress quickly and gets you in the habit of setting money aside from each paycheck. My blog makes money each month and I put those dollars toward my savings and debt.
KEEP YOUR SAVINGS SOMEPLACE SEPARATE
I've learned the hard way that having all your money in one place can lead to dangerous habits. Your savings account should not be a backup to your checking account, and moving money too frequently can lead to fees and low balances. I've found that online banks typically offer higher interest rates, and having my savings somewhere where I can't move the money over instantly in just a few swipes helps me avoid dipping into it.
Ooh, this is a fun one. I LOVE money challenges. They're a great way to change your lifestyle for a short time which leads to increased savings and (hopefully) better habits. When trying to aggressively save, doing a no-spend challenge can help you meet your savings goals faster.
SET UP AUTOMATIC TRANSFERS
Another no-hassle way to save is by setting up an automatic transfer to your savings account. By automating your transfer, you're making sure that you don't forget or pay your savings last -- and as a bonus -- automating your savings means you never "see" that money and subsequently makes it sting a little less.
You're more likely to save if you have a goal you're trying to reach, and giving each account a cute name or reminder of your savings goal will keep you focused each time you go to check your balances. Prioritize emergency funds and large goals, then do smaller increments for your "fun" savings like travel or for the holidays.
It's always tempting to say "Well, I'll just save what I have leftover for the month," -- this is a recipe for disaster! Part of having a great budget is knowing what you typically will be spending, so why not save first? You'll remove the temptation to overspend and reach your goals faster!
DO A BIG PURGE AND SELL WHAT YOU FIND
When I was doing my $8k in 90 days challenge, I did everything I could to hit my debt payoff goals each month, and one month I was able to sell a bunch of stuff for a cool $300 to assist in my efforts. Sure, it took a lot of time to load everything into Paypal, but it was worth it. I still have a bunch of stuff from my big summer purge I'm meaning to sell and all this winter indoor-time is the perfect season to make some extra cash by selling your stuff.
Got any great tips for saving that I didn't mention? Let me know in the comments which strategies work for you!
Popular in the Community