If you're getting close to retirement age, it's perfectly normal to be excited. One day, you'll hand in your resignation at work and begin counting down the hours (instead of the weeks or years) until you're living life on your own terms. You've worked your entire life for this moment, so it's only natural to look forward to this change with gratitude and enthusiasm.
But, if you're like most Americans, there may be an issue. You may dream of restful mornings reading the newspaper and late night card sessions with friends, but that doesn't mean your bank account agrees.
A recent study from the Economic Policy Institute (EPI) showed that, as of last year, the average household nearing retirement (ages 56–61) had only $163,577 in retirement funds stashed away, while the median was only $17,000. This is a far cry from what most people will need to truly retire, at least if they hope to quit working completely.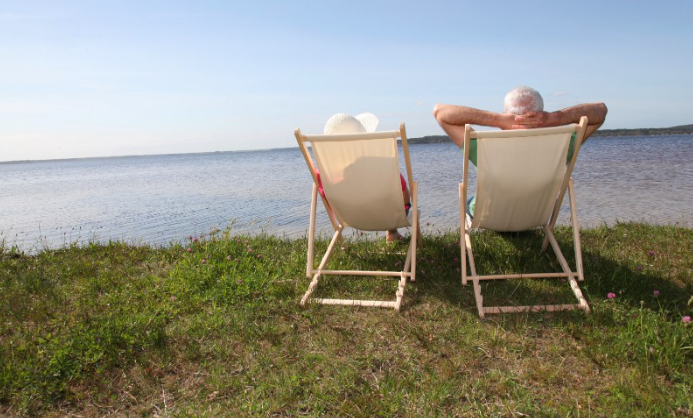 8 Ways to Boost Your Income in Retirement
If you're nearing retirement and finding the math doesn't work out, it may be possible to find a semi-retirement solution that lets you leave your traditional job while earning money on the side. If you're already retired, on the other hand, there are plenty of ways to boost your cash flow so you're not struggling every month.
According to some of the top financial advisors I know, some of the best ways to create multiple income streams in retirement require nothing more than some skill and outside-of-the-box thinking.
Need more money in retirement? Here are some options to consider:
#1: Rent out your home — or a room — on AirBNB.
If you want to earn money in a non-traditional way and you live in an area with appeal for tourists, you could earn some side cash by renting out a room — or your entire property — on AirBNB.com. The best part about this strategy is that you get to set your rates and make all the rules. The downside is, you'll occasionally deal with an upset renter or an issue that needs fixed during a stay.
New York-based financial advisor Joseph Carbone of the Social Security Teacher Blog says some of his retired clients have had especially good luck renting out their primary residence in certain locations.
"Many of them rent out their home for the whole summer," says Carbone. "They use the rent they receive to pay their mortgage for the whole summer if they have one, or use the income to help supplement their retirement."
While their house is being rented, they can slow travel through cheaper parts of the country, visit kids and grandchildren, and use their profits to pay for their summer travel expenses. Doing so helps them create cash flow without having a traditional job, which allows them to keep their retirement accounts intact longer.
#2: Drive for Uber.
During retirement, you've got greater flexibility to enjoy your time, run errands, and take in more of your surroundings. How about making your own hours to earn some extra cash as you go along?
The average hourly earnings for an Uber driver is $19.04. That's nearly 40 percent more than the $11.68 per hour median pay for taxi drivers and chauffeurs, according to the Bureau of Labor Statistics.
"If you're up for giving someone a ride to the mall, a park, or the airport, it's a great way to earn as you go and maybe add an adventure along the way."
#3: Participate in focus groups and surveys.
If you're looking for ways to make easy money from your own home, it's hard to beat focus groups and surveys. Dozens of websites will pay you to provide feedback on various consumer products and services, although the details on each can vary quite a bit.
"Sites like MySurvey.com and OpinionOutpost.com offer a good way to earn extra cash just by filling out surveys," says Sacramento financial planner Grant Bledsoe. "And if you can find one, participating in a live focus group can earn you a few hundred dollars just for a few hours of your time."
This may not lead to a huge income, but any extra money you can earn in retirement will certainly help. Best of all, these opportunities are easy to take advantage of at home, and in your spare time.
#4: Become an independent consultant.
If you loved your former career and have an established area of expertise, it's possible to use that experience to build a part-time consulting gig. The best part about consulting is that you can usually work on your own time, do your work in whatever way suits your talents and skills, and charge as much money as the market will bear.
Depending on your former career and expertise, your knowledge may be in huge demand — even if you don't realize it. The key is, you may never know until you break out on your own and try.
Also, "don't be afraid to charge a premium price for you experience and expertise," says Arizona financial planner Charles C. Scott. "Since you're not on anyone's payroll, companies don't have to include all the employee benefits, so you could still look like a bargain to them."
#5: Become a handyman (or handywoman).
If you worked in a blue-collar position before retirement, you may have honed some trade skills throughout the years. That could include a wide range of repairs around the home, odd jobs that can fill up your day, or any type of home maintenance work.
"Market your areas of expertise by word of mouth and let people know that you're good at tasks such as painting, hanging shelves, installing drywall, etc." says Cedar Rapids, Iowa financial planner Anthony Reynolds. "Additionally, you can search your local area for "odd jobs" and get an indication of what tasks people are willing to pay for."
#6: Become an online freelancer or virtual assistant.
"Many retirees still have valid skills they can utilize to work as an online freelancer to generate an active income stream," says California financial advisor Michael Frick of Promenade Advisors LLC.
The big difference in today's world, however, is that there are a lot more opportunities to market yourself online. Websites like Upwork.com, Freelancer.com, and Fiverr.com allow in-demand freelancers with skills such as accounting, marketing, customer service, or copywriting to connect with potential clients around the globe.
"Freelancers can set their own rates for work, and they can decide whether they wish to select a particular project," says Frick.
With the rise of professional bloggers, working as a virtual assistant has also become a popular option, notes Colorado financial advisor Matthew Jackson of Solid Wealth Advisors, LLC.
For the most part, these jobs require basic knowledge of web-based tools like email and Wordpress, along with ability and desire to learn new skills quickly. Most virtual assistants make at least $15 per hour working from home, but many charge a lot more.
#7: Teach a class.
Teaching a skill or hobby can be both fulfilling and profitable, and the opportunities may be more varied than you think.
No matter what, don't discount your "skill" as something no one wants to learn. Many talents that you learned are now lost arts — things like canning, quilting, or carpentry, for example. If you're able to parlay old skills into a new course or class — either online or in-person — you could earn some serious side income.
#8: Pick up items at a discount, then resell them for profit online.
If you're particularly knowledgeable about a specific type of used product — for example, antiques — you could make money buying at a discount and reselling with online websites like eBay.com.
There may be a learning curve to get started, but you could eventually hone your money-making skills with enough time and patience. And when it comes to finding discounted items to resell, it helps to know where to look.
"Shoes, vinyl records, stuffed animals, Carhartt overalls and novelty pint glasses are all items that I've seen picked up for next to nothing at garage sales, and sold at a profit on eBay," says Minnesota financial advisor Jamie Pomeroy of Financial Gusto. "After a while, you'll get a better feel for the hot selling items on eBay, and will be able to spot those at garage sales a mile away."
c
While many retirees and future retirees are set for life, others need to earn some money to supplement their retirement funds, pensions, and social security payments. Fortunately, it's now easier than ever to earn some extra cash without having to get a traditional part-time job or work for someone else.
It's also more common than ever, says Texas financial planner Shane Sullivan of TheDedicatedInvetsor.com. According to Sullivan, one of his "retired clients" works at a golf course, another works part-time at her church, and another works as a fishing guide in his community. And, guess what? They're all happier than ever.
The key to making work in retirement fulfilling, according to Sullivan, is for retirees to "find something they love." And that might be the most important lesson of all — if you must work during retirement, you should strive to find something that's fulfilling and fun.
Calling all HuffPost superfans!
Sign up for membership to become a founding member and help shape HuffPost's next chapter