Sometimes it can seem as if designers want you to replace everything you have and start fresh with each design season. In reality, a lot of good home basics just need a little building up to go from acceptable to exceptional. Here are some ways to give your rooms an impressive update by working with what you already have.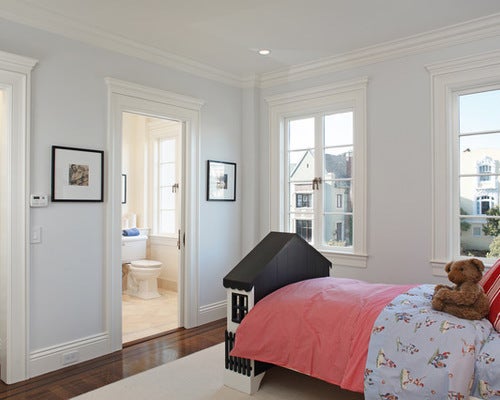 1. Uninspiring moldings.
The rich detail that decorative molding adds to a home is getting ever more popular, but it can certainly be pricey, especially if you tear out existing trim and start fresh. If you have decent but drab molding in place, beef it up with additional strips. Add to the crown, baseboard or even door and window trim, then paint it the same color.
You can easily fake the look of deep baseboard or crown moldings by adding a strip of thin molding 1 to 2 inches away from the existing molding, then painting the exposed wall in the middle and the trim on both sides all the same color to create the look of one wide solid piece.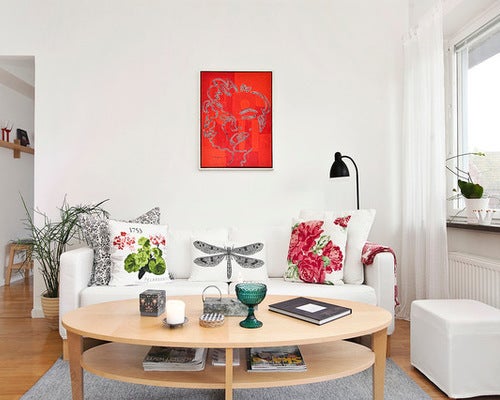 2. Slim modern sofas.
Modern "apartment" or starter sofas often have a low back, and if you have one, you may tire of not being able to really sink in it. Rather than tossing it, try tossing on oversize cushions. With a few layers in eye-catching colors and prints, you can build the back of your sofa into a plush place to unwind. At the same time, you'll create a more personal look.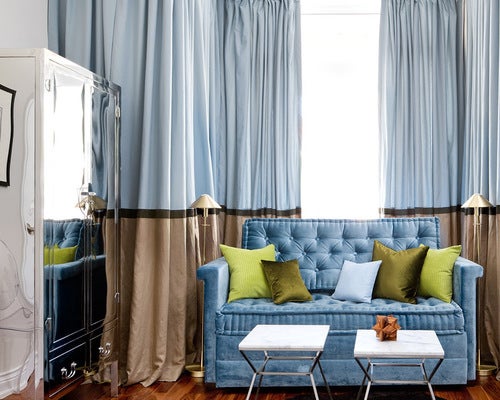 3. Short curtains.
Curtains from a package can be great for the budget, but they won't necessarily be quite the right length to get that floor-to-ceiling, wall-to-wall designer effect. However, with a little sewing skill (or a relatively easy job for a professional seamstress), two curtain panels can be combined into one perfect-length set, with a custom color-block effect that nobody else will have.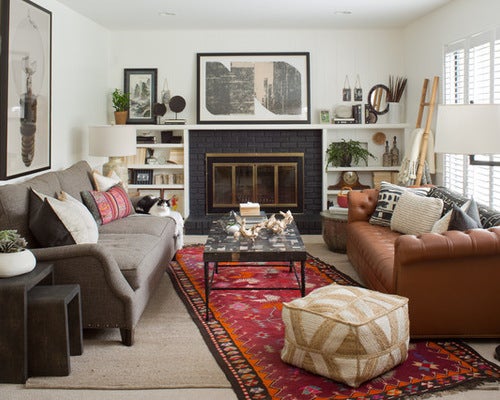 4. Skinny or outdated lampshades.
Perfectly good lamp bases often get passed down as heirlooms (or simply hand-me-downs), but the shades end up being dusty and dated. Modernize a look with chunky cylindrical shades to give a table or floor lamp more oomph.
Bonus idea: I love how the above skinny rug goes from potentially undersized to a cool statement by laying it at an odd angle and allowing it to contact each piece of seating.hou
You can also update a lampshade by adding a little trim of fabric or by painting a stripe on the top and bottom in gold, silver or a bright accent color. Just make sure no new material is at risk of touching the bulb, or attach it only to the outside. A careful application of spray adhesive to the new material is usually enough to hold it fast.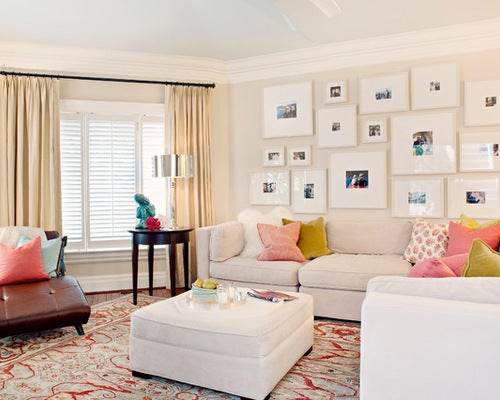 5. Teeny photos.
Small photos (especially keepsake photos from years gone by) may not be able to fill much more than a few pages in a scrapbook, but slip them into oversize frames with deep matting, and suddenly you have a full gallery collection with each image presented as a work of art.
Buy inexpensive frames and carefully cut acid-free art paper (with a sharp box cutter) to create custom matting for each image.
You can get creative and use darker papers to achieve different effects. The best part? The photos themselves don't have to match in size or orientation because the oversize frames can go in any direction you wish. Or choose them all in one shape for clean consistency.
6. Plain bed frame.
An attachable headboard lends a sophisticated air to a boring bed frame, and it offers a comfortable place to sit upright while reading in bed or watching TV.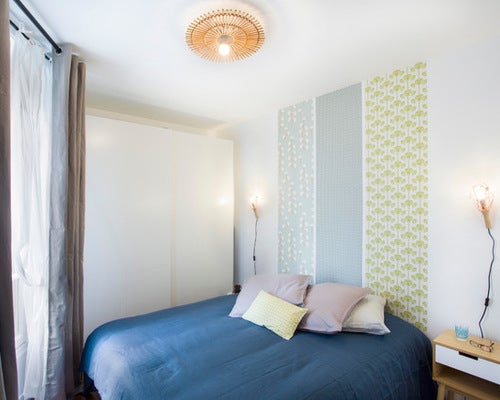 Instead of a physical headboard, you can also create a whimsical DIY look by adding wallpaper behind the bed, or by painting a headboard-size rectangle (say about 3 to 4 feet above the bed frame) in an eye-catching color.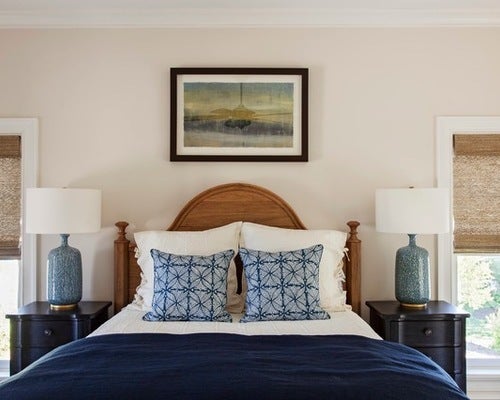 7. Limp linens.
Another accent that I find beds often lack is truly plush pillows. A set of Euro-size pillows (typically 26 by 26 inches) will build up the head of the bed. This is especially important once you've added your sleek new bed frame!
These can be a great place to add color or interesting texture (such as a Mongolian lambswool or velvet) to offset classic white bedding.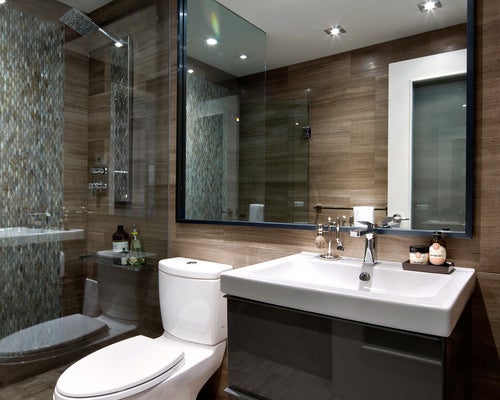 8. Unfinished mirrors.
Depending on your bathroom, a plain mirror slab can look sleek and minimal or simply underdressed. The latter often occurs when the mirror does not end at a wall or another natural stopping point. In this case, add strips of framing or molding (optionally painted in a rich hue) to give the mirror a more finished look. As a DIY, the materials can easily cost under $200 and give your bathroom a sense of high-end polish.