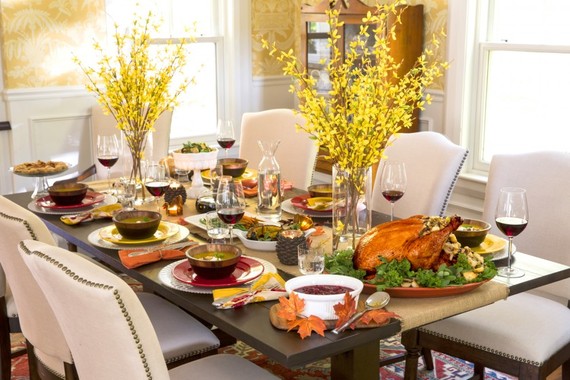 Thanksgiving is more than just a national holiday in the United States. Just thinking about the November holiday makes us think about turkey and stuffing, watching football and sitting around a beautifully decorated table with family and friends. Thanksgiving has become the official beginning of the holiday season; Christmas decorations go up, Black Friday signals the start of the shopping madness, and holiday parties begin. Thanksgiving is a reminder that a brand new year is just weeks away.
But what if you don't feel so thankful at Thanksgiving time. What if you don't have family members or friends to enjoy the day with. Perhaps you don't have someone to prepare a delicious feast, or the family you wished you had. Despite all the hype, the holiday season just isn't joyful for everyone, in fact, more cases of depression are identified during this time of year than any other. Painful feelings of loneliness can be triggered as we watch images of happy families wrapped up in front of a cozy fireplace on TV or social media. Some of us may be missing those who are not able to be with us. Regardless of your situation, here are eight ways that you can be thankful no matter what your circumstance.
1. Create a new tradition: Thanksgiving does not have to be spent eating pumpkin pie with family. After my mother passed away, I missed the traditions I had grown up with, her delicious cooking and the security that the holiday would be spent the same way it had been for decades. Unfortunately, I had to think about how to create a new tradition for my own family. If you have colleagues or neighbors who are spending the day alone, why not invite them to spend it with you? It's a nice idea to plan a get-together to enjoy a meal and create new friendships.
3. Reconnect: Take a few minutes to call a friend or family member who has been on your mind or has fallen out of touch. It's easy to put things off that are uncomfortable, but the holidays are a great time of year to reach out. If calling feels too hard, send an email or even better- put a card in the mail the old fashioned way.
4. Travel: Consider taking a few days away to enjoy a place you love- whether it is the beach, a town close by or the big city. Even though it can be a busy travel time, it can also be exciting to travel on your own, and will definitely keep your mind occupied.
5. Catch up: Take some time to catch up on household projects, chores or special activities that have fallen to the bottom of your to-do list. Unless you work in health care or as a public servant, most of us have a few days off to enjoy some down time.
6. Become a football fan: No matter where you live, there is likely a team and a bowl game to watch. Pick up some snacks and enjoy cheering for your favorite team.
7. Spend time outside: the fall air is crisp in many parts of the country and the leaves are turning color. In many states, there may be snow on the ground, and no leaves at all- but there is no denying the beauty of our beautiful country. Take a walk, breathe in the fresh air and know that today is a gift, no matter where you are or who you are with. If you don't like walking alone, consider walking your pet (or adopting one!). Spending time outdoors can brighten your mood.
8. Plan ahead for next year: We never know what the new year will bring, but take a few minutes while you are inspired and plan ahead for something that you love to do. Create a budget if necessary, consider traveling to visit an old friend or extended family. Planning in advance is always a good choice.
No matter what you decide to do on Thanksgiving, I hope you can find something or someone to be grateful for. Regardless of your circumstance today, know that the possibility for a brighter tomorrow always exists. Who knows what next year may bring or where you might spend thanksgiving in 2016.
Popular in the Community