PENNSYLVANIA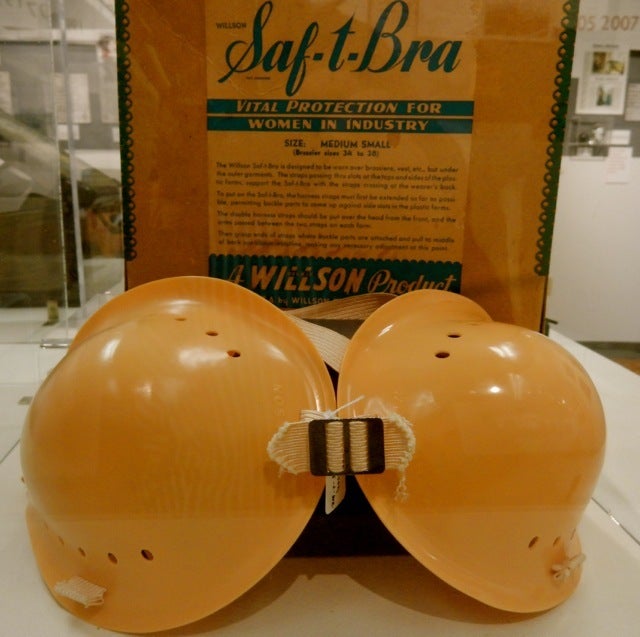 1. Rosie the Riveter no doubt wore a 1940's Willson Saf-T-Bra, built from what appear to be two small hard hats coupled together. You can see this bizarre contraption at Goggle Works (not to be confused with Google) in Reading PA, a protective goggle manufacturing plant repurposed as a vibrant Arts Center, complete with working artists in their studios and classrooms for those who wish to perfect glassblowing, wood-working or even digital arts. But Reading, a RR Stop on the Monopoly Board, has other strange and wonderful sites, including a gleaming Asian pagoda that serves as a beacon to visitors.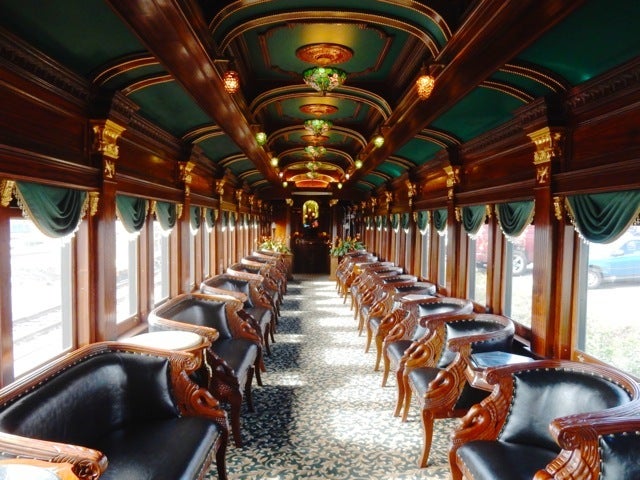 2. Little Boyertown PA might not be able to handle all the worldwide train fans who are sure to swarm here once word spreads. Thousands already have. The tourist train, Colebrookdale Railroad Secret Valley Line, inaugurated in 2014, was spearheaded by Lawyer and Historic Preservationist, Nathaniel Guest, and was dedicated as one of the country's "Preserve America Stewards" by first lady Michelle Obama less than a year after it was unveiled. Pullman cars from the 1800's have been meticulously and lushly restored, down to plush leather seating, Maxfield Parish stained glass windows, Tiffany-style lights, drapes, mosaic tile floors, and other Victorian adornments. Oak columns in the upscale Bar Car came from a theater in Rochester, with other train car appointments either replicated or sourced to represent the period. The 1 ¾ hour, eight mile Colebrookdale Railroad ride from Boyertown to Pottstown, with its deep cuts and tight curves, crossing tall timber trestles and rushing creeks, is one of the most stunning you'll ever experience. Boyertown has other delights for the visitor, which you can read about here.
DELAWARE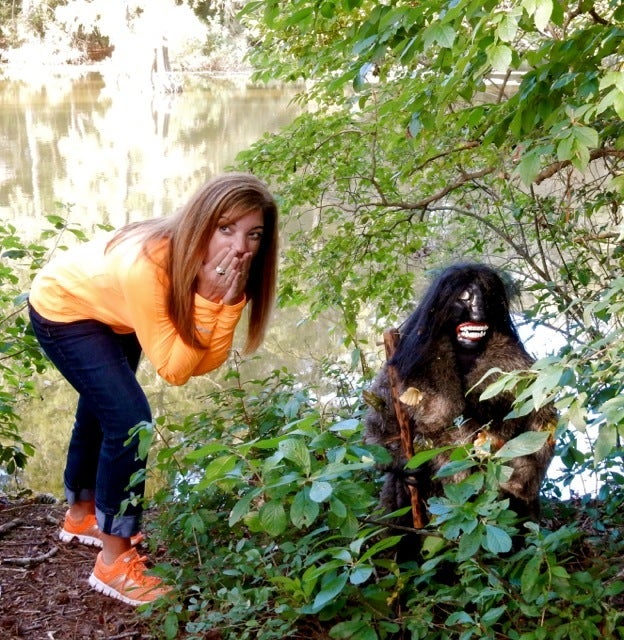 3. Western Delaware is known for the northernmost strand of baldcypress trees in the USA (which you can see on a mystical moonlit pontoon boat cruise at Trap Pond State Park) and for its "bury the hatchet" approach to contentious elections on "Return Day." But the "Swamp Monster Goes To Brown University" legend is probably the weirdest story to come out of that region. Every dark forest, lake, and swamp seems to have its own iconic hobgoblin and this boggy area of Delaware is no different - though here, the mystery has been revealed. Back in 1963, 24-year-old Fred Stevens donned his Aunt Dorothy's fur coat, a scary mask and frayed pants for a local Halloween Parade. Ever the prankster, Stevens took his character a step further, traipsing around local Burnt Swamp with a camera-carrying friend in tow. One of the photos made the local news, and soon kids were being warned by parents not to go into the swamp alone lest the Swamp Monster get them. Stevens kept his secret for 25 years, and once exposed, he became a local newspaper sensation. In 2010, Stevens was invited to his "50th Reunion" at Brown University in Rhode Island. He was, according to the elite Ivy League college, Ted Turner's roommate. The problem was, Stevens never attended that school. To let Brown U. know that he was not a graduate, Stevens sent in a picture of himself as the Swamp Monster, along with some newspaper clippings. Brown responded by including the photo and bio in its one of its publications. Ever since then, Stevens has been receiving Brown's monthly magazine, even though the college "regrets not being able to find his diploma". A full rundown of great things to do in Western DE can be found here.
Maryland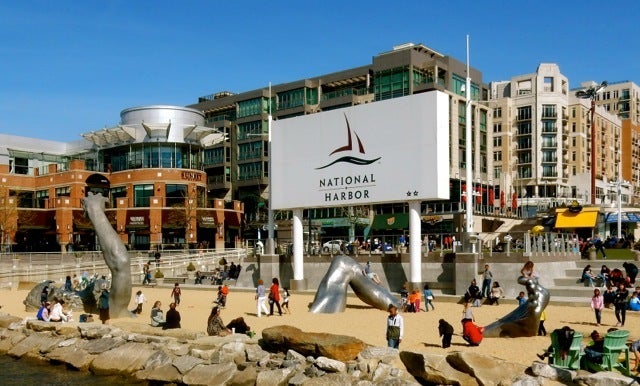 4. Before 2008, the "town" of National Harbor MD did not exist. In effect, the Gaylord Hotel group pioneered the development of what was once an 1800's plantation on 300 desolate acres just ten miles from downtown Washington DC. Taking a leap of faith, Gaylord built the 1,996-room National Resort and Convention Center in 2008 – the first of now six hotels located in this made-up burg. National Harbor MD, a Pleasure Island-like planned community, is one that Walt Disney might have envisioned. Consisting of several square blocks filled with shops, restaurants, nightclubs, apartments, condos and hotels, National Harbor is bolstered by recreational opportunities like SUP's, kayaking, canoeing and paddle-boat rentals, walking paths, and its very own signature Ferris Wheel. Find out what else to do in National Harbor in this Getaway Mavens guide.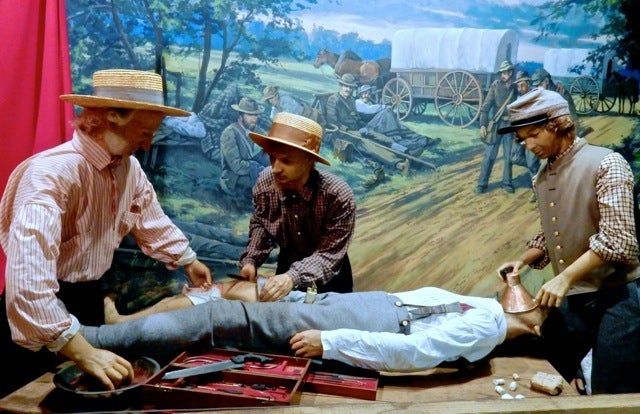 5. Think Civil War field medics didn't use anesthesia? Think again. The National Museum of Civil War Medicine in Frederick MD will disabuse you of that notion, among others. You won't see the blood and gore associated with most exhibits on Civil war surgery, or depictions of soldiers writhing in pain while having legs sawn off. What this museum does best is dispel myths about mid-1800s medicine and its application on the battlefield. Though doctors back then didn't understand the source of disease or infection, medical schools trained would-be surgeons on cadavers, so those in the profession had extensive knowledge of the human anatomy. Medics carried medical field kits with morphine for immediate pain relief and anesthetized surgical patients, transported to field hospitals via horse-drawn ambulances, with chloroform or ether. Frederick has one of the most stunning downtown canal parks in the country, a growing foodie scene and an extremely proud community. See why here.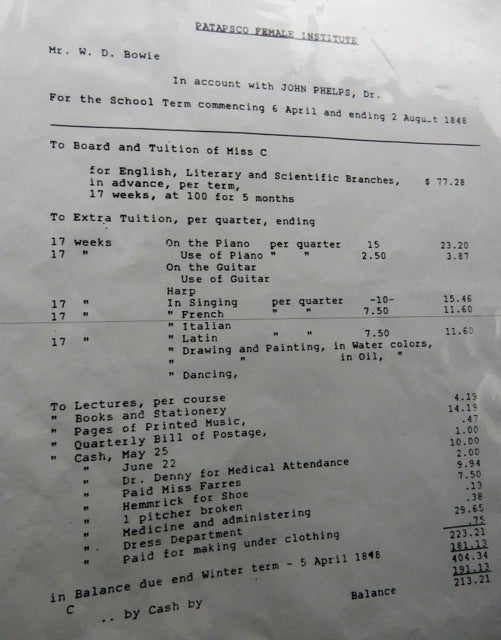 6. Now just stabilized ruins, the progressive 1837 Patapsco Female Institute was a finishing school for girls ages 12-18 that sat majestically atop a hill overlooking the mill town of Ellicott City MD. Though the school's demise and physical deterioration could be documented over time, much of the building's use and history remains a mystery, which in itself is mysterious. This much is known. The Female Institute expanded greatly in size and reputation between 1841-1855 when the twice-married (once widowed) Elmira Hart Lincoln Phelps was Headmaster. Lincoln-Phelps believed that women should be schooled both in the finer "women's" arts and in the tougher sciences, with a focus on Botany. The student body drew mostly from the Southern States, as there was a convenient railway station – the first of the Baltimore & Ohio Railroad – at the base of the hill. During the Civil War, Southern parents feared for their daughters' safety, and enrollment declined. The school shuttered in 1891, and the building was briefly turned into a summer hotel until being purchased as a private mansion in 1905. Since then, the structure was a hospital (during WWI) and a condemned nursing home, until finally it was abandoned and left to decay. There are some documents, archeological finds, and at least one student journal discovered recently, that provide glimpses into the ruin's first iteration as a Girls School. But for the most part, tour guides and historians can only surmise about the day-to-day life at Patapsco Female Institute. (Here's a call to those with ancestors who attended this school; look for notes and letters that they were required to send home that you might find stashed among old papers. These would be extraordinarily important to Ellicott City historians, so check your attics!). Though Ellicott City sustained a devastating flood in the summer of 2016, it, as well as the greater Howard County MD is worth a stay. Not only is it home to one of starchitect, Frank Gehry's, first designs (now a Whole Foods and Day Water Spa), but the indie shopping is crazy good. Discover more here.
VIRGINIA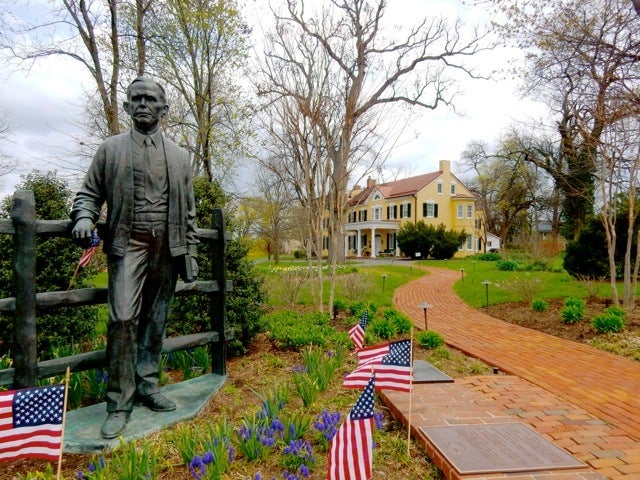 7. The avowedly non-partisan General George Marshall maintained a second home hideaway in Leesburg VA – now open for tours. Marshall served as Chief of Staff during WWII, Secretary of State and Secretary of Defense under President Truman, and is best recognized for the Plan that bears his name (and for which he was awarded the Nobel Peace Prize in 1953) – The Marshall Plan – also known as the European Recovery Program. This yellow farm home in the country was Marshall's "getaway place," and so a tour here provides a glimpse of a highly regarded military man at ease. Ninety percent of the house and its furnishings are original, including a 40's style red-and-white-checkered kitchen straight out of I Love Lucy, a comfortable living room and modest bedrooms. Despite its modesty, however, the home is stocked with priceless mementos: a replica of a painting from Winston Churchill hangs above the mantelpiece, a photo of Black Jack Pershing, who served as Best Man at Marshall's second wedding, sits on a small parlor table, and a picture painted by Madame Chaing Kai-shek, good friend and frequent overnight guest, is prominently displayed in the living room. Once, when asked if he was a Democrat or Republican, Marshall answered, "I'm an Episcopalian." Loudon County VA is now a wine and spirits region – so discover other things to do here.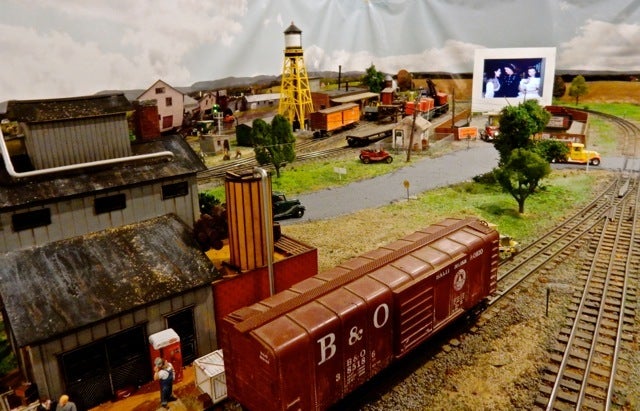 8. John Schreiner's Golden Age of Rail Model Train Set resides in a restored railroad car in the rear of the unsung Strasburg Museum and celebrates a single date: September 21, 1939. Constructed in great detail, this multi-media diorama incorporates the Arthur Godfrey radio broadcast from that day, Gone with the Wind playing at a tiny drive-in-theater, a passenger train with interior lights, four smokestacks pumping out steam, night scenes with neon lights and stars in the sky, a brightening sunrise, and so much more. Shenandoah County VA features many lesser known sites including a remote "Century Farm" that is also a popular "Farm Brewery," and the Battle of New Market - the first time in history that 257 cadets from Virginia Military Institute (ages 15-21), were called up as Confederate reinforcements in the face of the encroaching Union Army. They marched 85 miles in five days, and fought on an open field so muddy from rain, it sucked the shoes right off their feet (subsequently called "The Field of Lost Shoes"). Find out more about these attractions and other things to do in this Virginia region on this Getaway Mavens post.
Related
Popular in the Community