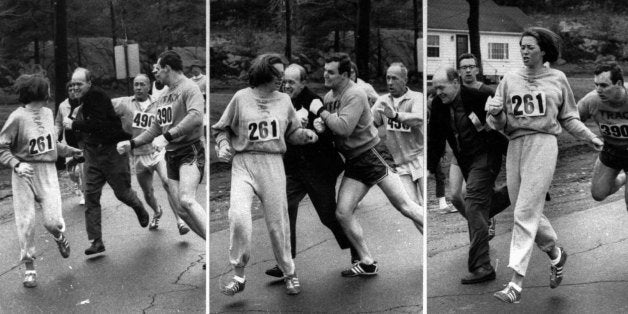 On April 19, 1967, Kathrine Switzer, 20, a journalism major at Syracuse University, entered the Boston Marathon as "K.V. Switzer," wearing a bulky sweatsuit. At the time, the Amateur Athletics Union (AAU) did not admit women into marathons. Switzer became the first female to officially enter and run. The photo of a race official forcibly attempting to stop her and grabbing for her race numbers was the photo shot heard round the world. Life magazine listed the photo as one of the "100 Photographs That Changed The World."
Switzer was determined to cross the finish line, despite blistered and bloodied feet. She had to wear men's athletic shoes she had ordered from Europe. Quite a feat! Athletic shoes for females were not yet manufactured because there was not a large enough market.
The AAU did not formally accept females in long-distance running until the fall of 1971. Women officially started to compete in the Boston Marathon in 1972. That was the same year Congress passed Title IX, Ms. Magazine was launched and Helen Reddy's "I Am Woman" topped the charts. Billie Jean King was named the first Sports Illustrated Sports Woman of the Year in 1972.
Nina Kuscsik's 1972 victory made her the first official Boston Marathon female champion in its 74-year history. That year eight females started the race and all eight finished. Kuscsik, 33, was the mother of three children under age six. Since the first eight women were officially entered and finished the Boston Marathon and groundbreaking Title IX legislation was passed, women's participation in long-distance events has grown and boomed.
Switzer went on to win the 1974 New York City Marathon, finishing 59th overall. In 1975, in the fourth Boston Marathon to officially recognize female competitors, Switzer finished second place.
It was a long-distance race for women to compete in local, national and world-wide marathons, leading up to the Olympic Marathon. In 1896, marathons became an Olympic sport, a year before the first Boston Marathon. Opponents to admitting women stated the race was too physically strenuous. The American College of Sports Medicine (ACSM) issued a statement in 1980 that "there exists no conclusive scientific or medical evidence that long-distance running is contraindicated for the healthy trained female athlete. The ACSM recommends that females be allowed to compete at the national and international level in the same distances in which their male counterparts compete."
In February of 1981, the Executive Board of the International Olympic Committee (IOC) gave its approval for a women's marathon to be included in the l984 Summer Games in Los Angeles. The following September the IOC elected its first female members in its 84-year history and voted on the Board's recommendations that females had finally won the right to compete in an Olympic Marathon.
A two-time Boston Marathon winner (1979 and 1983), the following summer Joan Benoit Samuelson won the first Olympic Marathon for women, leading 50 women from 28 countries; 44 finished. Switzer, women's running pioneer and long-time champion for the Olympic marathon, served as a commentator for ABC Sports. Samuelson became the first person to win both the Boston and Olympic Marathons. She won the 1985 Chicago Marathon and the Sullivan Award as the outstanding U.S. amateur athlete that year. Samuelson continued to set age-group records, including at 57, in the 2014 Boston Marathon.
The 2015 Boston Marathon entrant field consists of 46 percent females -- 13,682 females, along with 16,452 men. The women's winner now takes in $150,000., the same prize money as the men's. According to Running USA, 43 percent of finishers nationwide today are female -- almost 240,000 female finishers, compared to less than 20 percent of finishers during the 1970s.
Sole Searching: The Right to Shoes
The rise of female runners, marathoners and active athletes overall, has created an increasing mass market. Reebok introduced its first shoe designed especially for females in 1982. Nike named its first signature shoe model for a female, the Air Swoopes, for Sheryl Swoopes, in 1996. For too long, female athletes had to wear "shrink and pink" replicas of men's shoes in smaller sizes.
The Sports & Fitness Industry Association (SFIA) reports that women's athletic shoes represent 22 percent of the market, making the women's sports footwear retail market about 4.8 billion in the U.S. Runners World launched Zelle, a website for female runners to share personal stories, in October.
Switzer was named one of five running visionaries of the 20th century by Runners World. In 2011, she was inducted into the National Women's Hall of Fame, for her ongoing effort in creating positive social change around the world. A vocal champion for female runners and athletes, her lobbying and legwork, along with Kuscsik, led to the inaugural women's Olympic Marathon. Her 261 Fearless Movement, named for her original Boston Marathon bib number, in empowering women around the world through running. Switzer plans to run Boston again in 2017, the 50th anniversary of her initial run. You go girl!
Here's an interesting footnote. Appropriately, for a woman always on the run, Switzer met her husband, Roger Robinson, a former world-class runner, when they were both speaking at a running seminar in Australia. They moved to New Zealand and got married in 1987.
Read more about female runners and role models making historic milestones at
here.
Support HuffPost
The Stakes Have Never Been Higher
Related
Popular in the Community