When Aisha Greene's daughter asked her parents to send her and all her friends to see "Hamilton" (the Broadway musical that won 11 Tony Awards and still has fans scrambling for tickets), Aisha knew it'd be impossible. When her daughter asked for a "Hamilton"-themed birthday party, Aisha decided she had to make it happen.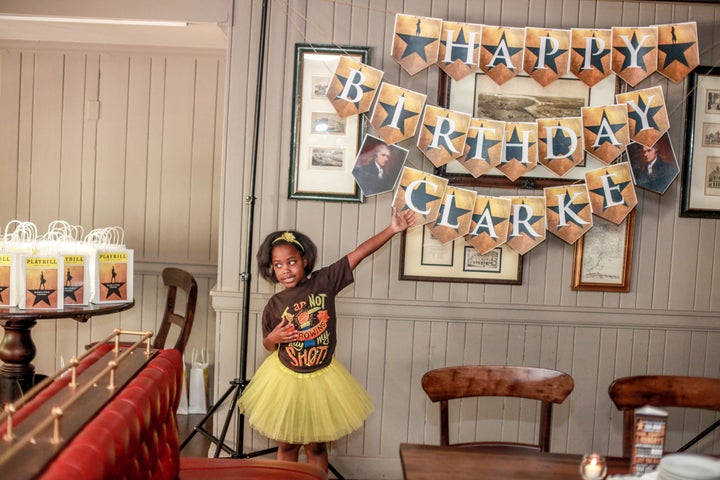 Aisha's daughter, Clarke, had her birthday at New York's Fraunces Tavern, a museum and restaurant, on Saturday. The creative mom took about a month to gather party favors and decorations to reflect her daughter's love for the musical. At the museum, the kids did a "Hamilton" scavenger hunt and afterward dressed in colonial costumes and touched replicas of historical artifacts. At the restaurant, they did crafts, took photos and sang "Hamilton" karaoke.
The party, which about 27 kids and 25 adults attended, featured black, white and gold balloons (to match the musical's color scheme), a cake inspired by the show's playbill, trifolds that featured lyrics and photos from the musical and "Hamilton" goody bags that included paper dolls of the characters and mini U.S. Constitutions. Kids also took home a pad and an American flag pen, so they could write like they were "running out of time," just like Alexander Hamilton did in the show.
"My part is always simple: make sure Clarke has super images to look back on!" he told HuffPost. "The Greene family is proud to have really good documentation of the kids' childhood."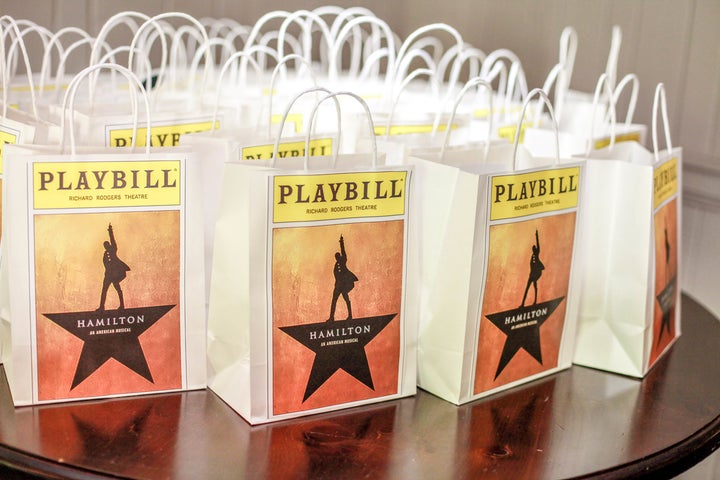 Aisha told HuffPost that her daughter thought "it was the best party ever."
"I think I've bought myself time before she requests to see the play again," she joked.
She said the other kids, even those who weren't familiar with the musical, also had a blast singing along and engaging with the scavenger hunt.
Aisha, who lives in Brooklyn, said there are many reasons why her family adores "Hamilton." The music is "accessible and infectious." Clarke also appreciates the connections between the musical and her family.
"She's invested in the story of an immigrant from the Caribbean," Aisha said. "Her dad and grandmother are both from the Caribbean so immediately she found a connection to the storyline. Finally, she's a New Yorker and it is a story about 'the greatest city in the world!'"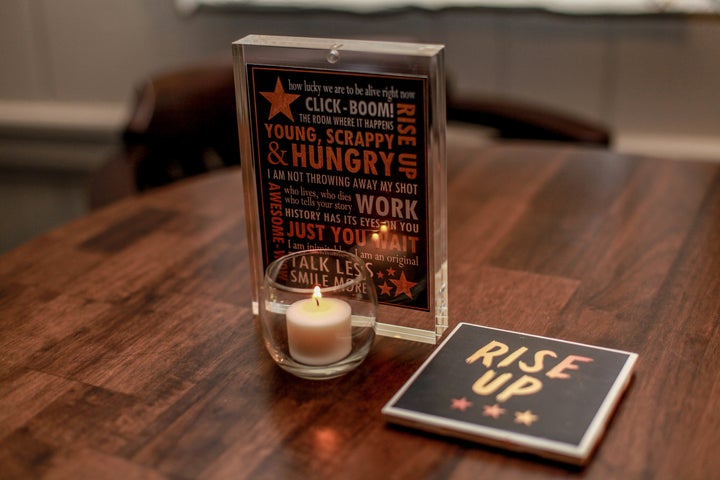 When asked what Clarke would say is her favorite song from the musical, Aisha passed the question along to her daughter, who (unsurprisingly) replied, "One favorite?" If she had to choose, the 8-year-old said she'd pick "My Shot" or "You'll Be Back" because "King George is hilarious."
Though the planning and setup for Clarke's birthday was more time-consuming than a party with a more common theme, Aisha said the experience was worth it.
"Would it have been easier to do a 'My Little Pony' or princess party? Of course," Aisha told HuffPost. "But this challenge? Totally worth it because my daughter is 'Satisfied.'"
See more photos from Clarke's birthday party below.
Related