After visiting a new local park, 8-year-old Naomi Gwynne had an important request for the "park builders." She wanted them to include a swing for her brother with disabilities and other kids like him.
Naomi's mother, Miriam Gwynne, told The Huffington Post that she recently took Naomi and her twin brother, Isaac, to a new park near their home in Scotland. Naomi and Isaac both have autism. Isaac is nonverbal and has neurofibromatosis type 1 and learning difficulties. He is also vision-impaired.
During their visit to the park, Naomi noticed there were no swings designed with kids like her brother in mind, so she wrote a letter addressed to the "park builders."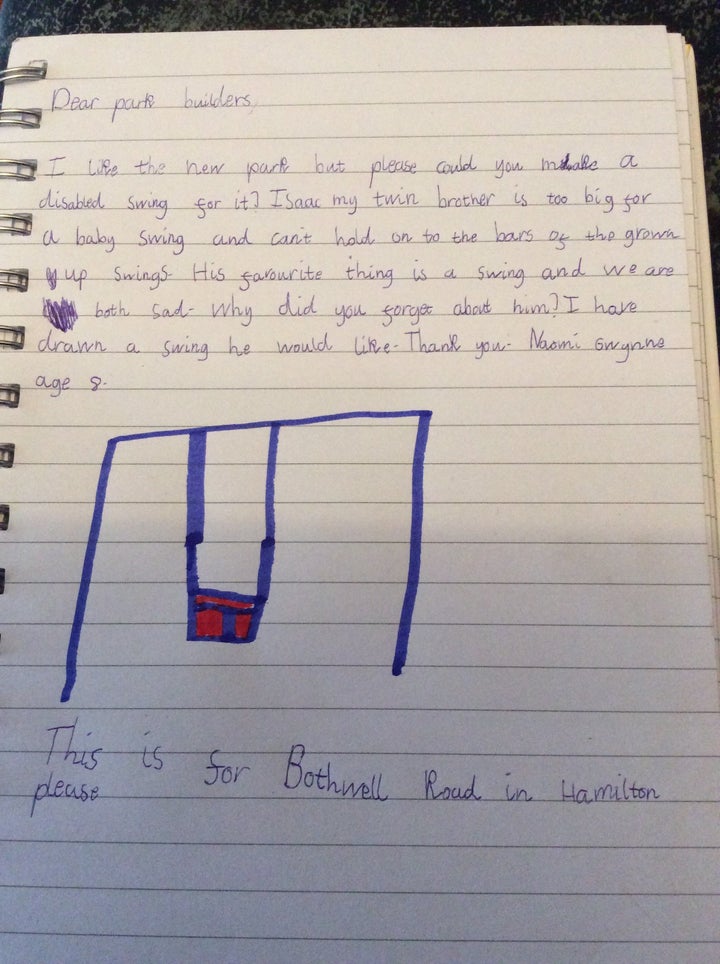 "I had no idea she was going to write a letter, but she did ask me to spell a few 'tricky' words like 'disabled,'" Miriam told HuffPost.
In her letter, Naomi wrote that Isaac is "too big for a baby swing and can't hold on to the bars of the grown-up swings." She also drew a picture of a swing for kids with disabilities, which her mom said she has seen at various parks in Scotland. The 8-year-old wrote how she and her brother felt about the park not having the swing.
"His favourite thing is a swing and we are both sad ― why did you forget about him?" she wrote.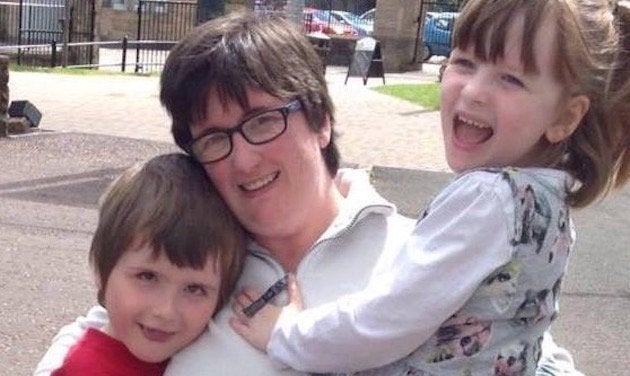 On Sunday, Miriam tweeted a photo of the letter and asked people to spread the word to see if something could be done. She told HuffPost that on Monday she heard back from the South Lanarkshire Council on Twitter and learned that the council would look into whether "the existing swing frame can incorporate a disabled seat for Isaac."
According to the BBC, Alistair McKinnon, the council's head of service for facilities, waste and grounds services, also said Naomi's "heartfelt letter" prompted the group to find a more suitable seat:
All new play areas are designed to incorporate an element of inclusive play. The overall aim is to allow children of all abilities to play together and present a range of experiences and challenges.

There are six of the 15 items in the newly refurbished play area at Bothwell Road which are classified as inclusive by the manufacturer.

However, following the heartfelt letter from Naomi and a review of provision in surrounding play parks, we have been able to source a seat which we think may be suitable for Isaac and are looking to have it installed as soon as possible.
Miriam told HuffPost that she was "so emotional and happy" when she first saw her daughter's letter. She said she and many people at her school are proud of Naomi for speaking up about the importance of inclusion.
Related