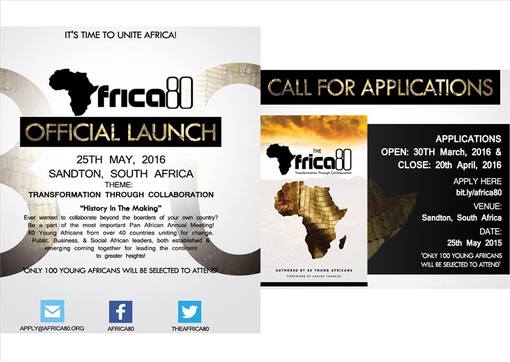 A year ago during the 25th Annual World Economic Forum on Africa Summit in Cape Town South Africa, 80 young Africans were exclusively selected to have a seat at the big table alongside Africa's Presidents and top business leaders. During this prestigious gathering, these 80 young Africans from the Global Shapers Community came together to co-author a book which symbolizes the transformative ability that collaboration amongst Africans can be achieved. I wrote something about our collective experience last year in, #Africa80--Meet the Shaping Army.
We are excited to inform you of the launching of our book, which was once an idea and has since manifested into the tangible, we believe that this is history in making. This project is the very first of its kind on the African continent, never before has there been a book co-authored by 80 young African leaders working and serving in different spheres from over 30 countries, not for profit but for the building of our continent. We believe that this book will not only command attention across the continent but most importantly, provoke the spirit of unity & of working together for the benefit of Africa's current & future inhabitants.
During this gathering, we will not only be launching the book, but also the Africa80 foundation which will be spoken about in detail on the day. We are set on creating a networking platform for our attendees to identify partners for future collaboration beyond the launch event.
We, as the team leaders of this project invite you to partner with us for this historic event.
Furthermore, we kindly request that you confirm (dis)interest on or before the 14th April 2016.
Looking forward to hearing from you.
Africa 80's Foreword is written by Ugandan born, Ashish Thakkar, also known as 'Africa's youngest billionaire'
Details of Event
Date of Launch: 25th May, 2016
Theme: Transformation through Collaboration
Keynote Speaker: To be announced
Place: Sandton, Johannesburg, South Africa (Precise venue will be announced closer to the launch)
Time: 17:30 for 18:00CAT - 22:00CAT
Contact
Zimbabwe | M: +263 734289650 | T: +263 4 734877 | E-mail: nyikalvin@africa80.org
South Africa | T: +27 71 506 6553 |E-mail:pearl@africa80.org
Calling all HuffPost superfans!
Sign up for membership to become a founding member and help shape HuffPost's next chapter