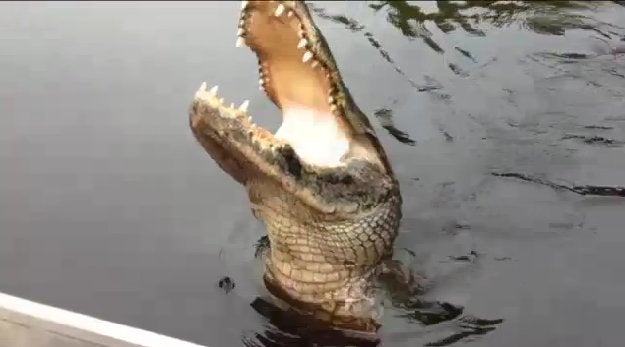 It's a good day when the U.S. Secretary of Agriculture, the Chair of the President's Council on Environmental Quality, an Assistant Secretary of the Army and a top official from the Department of the Interior convene on a Nature Conservancy Preserve. It's an even better day when they are there to announce an $80 million investment in conservation efforts that will benefit both nature and people.
On Friday I was proud to welcome Secretary Vilsack and other government leaders to The Nature Conservancy's Disney Wilderness Preserve, a 12,000-acre protected area near the headwaters of the Florida Everglades. A demonstration site for large-scale wetlands restoration, it was a fitting venue for the Secretary's announcement of new funding to protect and restore wetland habitat on working ranches in the Everglades.
The announcement is another important milestone in a collaborative, region-wide effort to protect the many values of one of America's most important natural areas. In 2010 and 2011, the USDA committed $189 million for the purchase of conservation easements more than 50,000 acres of ranchlands in central Florida -- protecting land from development while keeping it in private ownership. And earlier this year, the U.S. Department of the Interior established the new Everglades Headwaters National Wildlife Refuge and Conservation Area that will be a unique combination of public land, private land protected by conservation easements and cooperative management by the state and federal governments.
These projects, along with Friday's announcement, are encouraging in two important ways. First, they bring together diverse groups -- federal and state government agencies, ranchers, businesspeople, conservationists and sportsmen and women. And second, these groups all recognize the multiple benefits of conserving our country's lands and waters.
In a time of tough budget scrutiny, the widespread support for conservation in the Everglades may seem surprising. Yet, despite partisan politics that seem to dominate today's media, an overwhelming majority of Americans from all political perspectives value the protection of our natural resources, and are willing to invest in those resources for future generations. In a recent bipartisan poll done for the Conservancy, a striking 83 percent of respondents said they would be willing to pay additional taxes to protect American land, water and wildlife. Three-quarters said that even with federal budget problems, funding for conservation should not be cut.
These poll results confirm what we are seeing in Florida: that Americans across the political spectrum value the many ways nature benefits them and their communities. The Northern Everglades, for example, play a critical role in flood control and water supply for central and south Florida. Healthy wetlands act like a giant sponge, storing water in times of drought, holding it in times of flood, and filtering out nutrients that would otherwise be harmful to downstream areas. And what's more, restoring wetlands is more cost-effective than man-made infrastructure like ditches, dikes and filtering plants designed to provide these same services.
Restoration of the Everglades also helps preserve the state's ranching economy. Because cattle ranches contain much of Florida's remaining natural habitat, keeping cattle ranchers ranching is critical to both the health of Florida's lands and waters and the strength of its economy. Today, an unprecedented number of Florida's ranchers are interested in protecting their lands through conservation easements. The USDA's additional investment will provide needed funds to sustain ranching into the future, as well as restore wetlands on ranches in a way that is good for ranching, people and the environment.
These restoration efforts also support Florida's robust outdoor recreation heritage. The new Everglades Headwaters National Wildlife Refuge and Conservation Area includes a core area open for public recreation. And the easements placed on ranches create a connected network of protected habitat for both game and non-game species.
In the highly partisan atmosphere of a presidential election year, it's encouraging to see examples of one thing that Americans can agree on: the importance of preserving our nation's natural heritage. Collaborative, landscape-scale conservation efforts like those in the Everglades are a smart investment in the American economy, culture and way of life.
Calling all HuffPost superfans!
Sign up for membership to become a founding member and help shape HuffPost's next chapter