Bearing uncanny similarities to the star of a popular Japanese monster movie, an 800-pound alligator dubbed "Godzilla" emerged from the water before terrorizing people at a Houston-area shopping center on Sunday morning.
Shopping center patrons discovered the beast wandering outside the center in the city of Sugar Land. He likely wandered to the plaza from a nearby creek, apparently attracted by the pre-Black Friday sales and ample parking.
State-licensed "nuisance alligator trapper" Christy Kroboth received a call about a 7-foot alligator at about 6:20 a.m. on Sunday morning, FOX News reports.
However, when she got there, she was surprised to find the caller had grossly underestimated the gator's size, which was actually about 12.5 feet -- a number that doesn't even include the foot or so of missing tail that was likely bitten off by another gator.
She subdued, muzzled and restrained Godzilla, which her team estimated to be about 800 pounds, before carting him away to live out his final days at a reserve.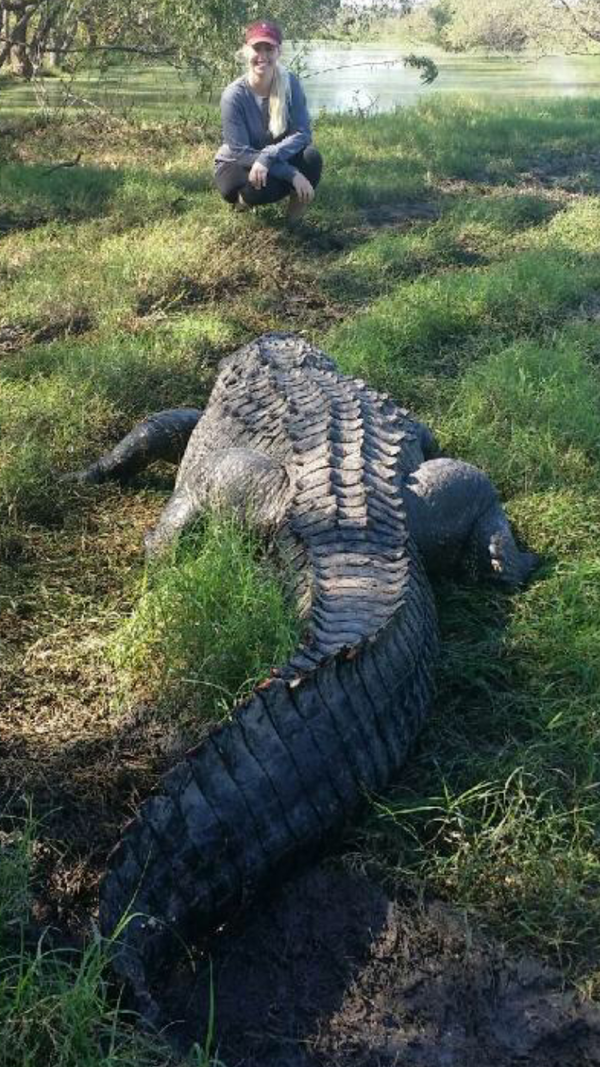 Godzilla provided a new challenge for Kroboth's team, as she had to borrow a forklift from Home Depot to move him.
"This is the first time a forklift had to be used to assist in the safe removal of the alligator. Most times we are able to use a team of people to help pick the animal up to load him," she told The Huffington Post via email.
"Unfortunately Godzilla weighed way too much for us to safely pick him up," she said.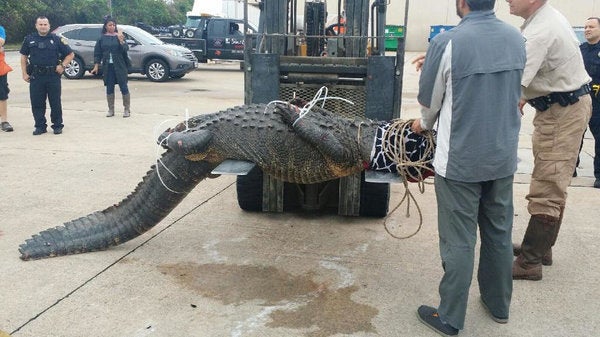 Kroboth says Godzilla is blind in one eye and has only partial sight in the other. He's going to the reserve for his safety.
Though she's caught 100 alligators, some by herself and some with a partner, Godzilla is her biggest catch to date.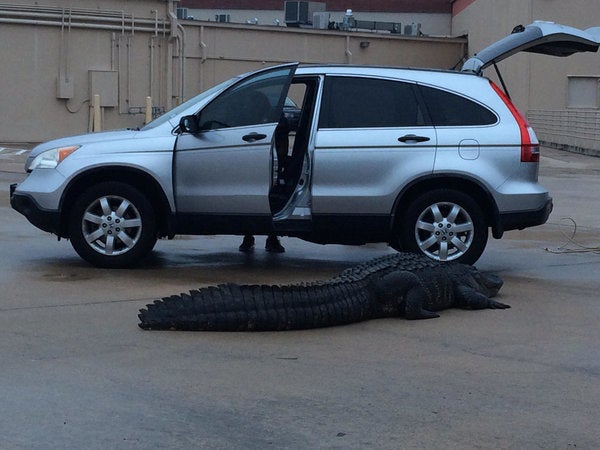 Kroboth, who is affiliated with Gator Cause, a nonprofit educating people on the importance of alligators in local ecosystems, warns that anyone who encounters a gator aim to stay clear.
"If he is causing a problem and showing up on your driveway or in the middle of a street then call you local wildlife department for help. If you are unable to call for help right away, then back away slowly and leave the animal alone," she said.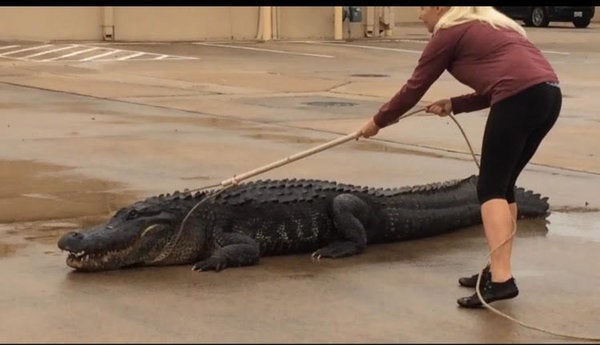 The Associated Press contributed to this story. 
Calling all HuffPost superfans!
Sign up for membership to become a founding member and help shape HuffPost's next chapter