The event gathered over 8,000 participants and 140 sponsoring companies to raise a whopping $1.9 million, closing in on its $2 million goal that it hopes to meet by December 31st. The Heart Walk included tent stations for CPR lessons, blood pressure tests, and even a "doggy depot" for the District's many dog-owners. The program included a keynote speech from Acting U.S. Surgeon General (RADM) Boris D. Lushniak followed by Zumba class led on stage to get the crowd warmed up for the 3-mile walk.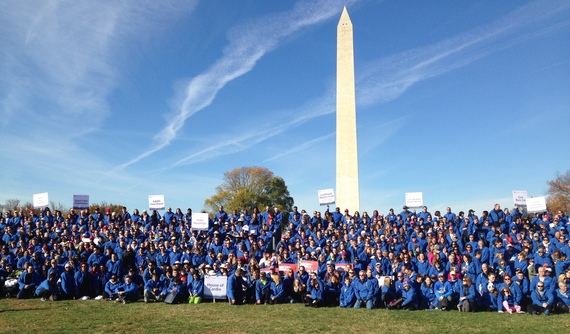 As a fellow heart patient, I make it a point to participate in volunteer opportunities with the American Heart Association every year. At the age of 21, I was diagnosed with a benign neurocardiogenic disorder called vasovagal syncope. This disorder causes my blood pressure to drop and heart rate to rapidly increase from stress or physical exertion, it ultimately results fainting spells. The treatment for vasovagal syncope is limited and mostly rooted in avoiding triggers such as standing too long, becoming anxious, and limiting physical activity. Thankfully, I have only experienced one dangerous episode in which I went from speaking with a classmate to terrifyingly awakening in a humid sweat on the floor while riding the streetcar in New Orleans from my school, Tulane University to see my cardiologist.
This year I joined over 320 volunteers at the DC Heart Walk whose lives have been touched by heart disease or stokes in one way or another. Each had an inspiring story.
Tammi, a D.C. resident whose family is undergoing genetic testing for long QT syndrome has recently had a defibrillator implanted into her chest as a preventative measure after her diagnosis. Tamarra was moved by volunteering with the organization for the first time at the DC Heart Walk. "It's really cool to see people who are very passionate about this event. People who have made a commitment - big or small. It's good to see that there are people who are trying to carry the mission out to the public," she said.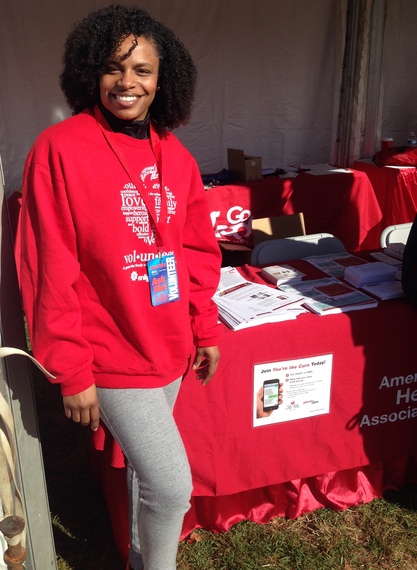 Ted Pelonis, Director of Individual Giving for the Greater Washington office said his passion for the organization was ignited by the unfortunate strokes his grandparents experienced. His commitment to fundraising for the American Heart Association is further fueled by the supporters and survivors he connects with through its programs.
The American Heart Association works in conjunction with the Centers for Disease Control and the National Institutes for Health to develop up-to-date statistics and information on cardiovascular disorders.
Heart disease is the leading cause of death in men and women.
Heart disease makes up for more deaths than all cancers combined.
An estimated 1 in 4 people die of heart disease in the U.S., about 600,000 people each year.
1 in 3 women die of heart disease every year.
Of African American women ages 20 and older, 46.9% have cardiovascular disease.
Cardiovascular diseases kill nearly 50,000 African-American women annually.
Of African-American women ages 20 and older, 49% have heart diseases.
Every year the American Heart Association hosts hundreds of events across the nation fundraising money for cardiovascular research to find treatment for survivors and develop new early detection methods.
At the mission tent of the DC Heart Walk, participants were able to sign up for advocacy and legislative policy alerts. They were also encouraged to register for information about managing their sodium intake. The organization practices an outreach model of "meeting people where they are" by encouraging them to bring heart healthy consciousness and practices into their current lifestyles. This encouragement can be seen in the cookbooks distributed to participants filled with heart healthy recipes for their favorite cuisines.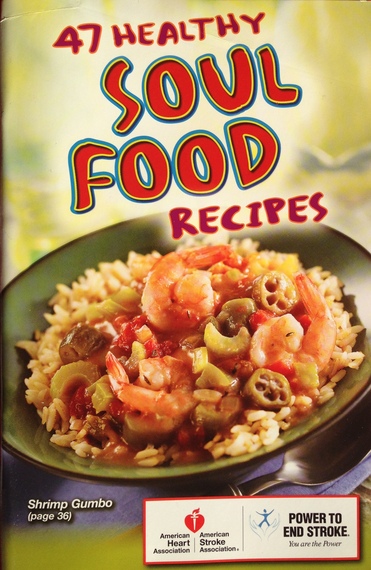 The Greater Washington office of the American Heart Association hopes to continue its great success in fundraising while bringing awareness to its mission in The District area with its Go Red for Women campaign during the Heart Month of February. It will also be hosting its 67th Annual An Affair of the Heart, a luncheon and fashion show at the Marriott Wardman Park Hotel on February 9th.
Janessa E. Robinson is an American Heart Association volunteer and a member of Delta Sigma Theta Sorority, Inc. which partners with the organization for its Go Red For Women campaign.

REAL LIFE. REAL NEWS. REAL VOICES.
Help us tell more of the stories that matter from voices that too often remain unheard.