On February 14, the Paris Saint-German football club played against Caen at Parc des Princes. For most players this game was just another day on the job. For Zlatan Ibrahimović this was his most important game to date; for me, it was the realization of a dream.
Underneath his shirt, Zlatan had tattooed fifty names -- names of people he'd never met, but who were very special to him.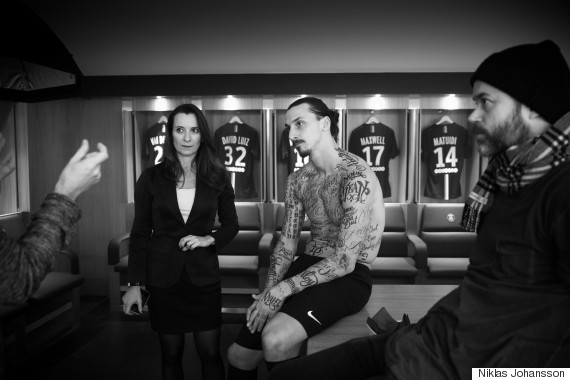 Names of some of the 805 million people suffering from hunger today.
Zlatan scored 72 seconds into the game, and what happened next is now well known: in defiance of the rules -- and also in defiance of our plan to wait until half time -- he took off his shirt, revealing fifty new tattoos covering his upper body. I was at the stadium watching the match, and jumped for joy -- at precisely that moment, I knew Zlatan had helped those 805 million people come to the attention of media around the world!
One year ago -- when I first met with Zlatan -- he was impressed by the work that the World Food Programme does: feeding 80 million people in roughly 75 countries. Nonetheless, his attention was absorbed with different number: 805 million people.
"We need your help to make sure the world know about this."
Football and sport at large are the real Esperanto -- a universal language. I witnessed that when I served in Kosovo after the 1999 conflict and in Iraq in 2003. When I visited an orphanage in Baghdad, the children and I could not communicate, as we did not speak the same language. But, as soon as they understood I was Italian, they started to say: "Trezeguet, Buffon, Del Piero" -- names of the Juventus football club players -- and the ice was immediately broken.
In the years since Zlatan's arrival in Paris, in 2012, he has become the most famous athlete. A new verb was even inserted into the French vocabulary: "zlataner," meaning "to eliminate" -- and that is exactly what we need to do with hunger. Thanks to his personal history and his strong motivation, Zlatan perfectly embodies the resilience needed to fight such a global cause.
The creative agency Forsman & Bodenfors joined us to turn this dream into reality, and brought along a number of creative partners: New Land Production, the public relations and social media specialists at Matter, the seeding specialists of Be On / AOL, and many more. All along, we've tried to bring more and different voices on board while still working together as one big team, and I am overwhelmed by the engagement from each and everyone who has donated their time to this project.
On Sunday, February 15, during a press conference in Paris, Zlatan and I revealed the secret behind the names he is tattooed with. Carmen, Mariko, Antoine, Siatta, Sawsan, Rahma, Yaae, Chheuy, and Lida -- these are just a few of the millions of people that WFP feeds all over the world; the silent champions that no one cheers for.
Hunger is one of the greatest problems facing humanity today, but it can be solved. There is enough food in the world to sustain everybody on the planet, with no need for any scientific revolution. However, the increasing scale and growing complexity of crises has resulted in rising demand for WFP's assistance. The humanitarian crises in Iraq, Syria, South Sudan, and Central African Republic, as well as the Ebola Virus outbreak, illustrate the unprecedented challenges facing the organization. The World Food Programme relies entirely on voluntary contributions for its operations and -- despite the unprecedented amount of funding raised in 2014 -- we need even more to stop the flow of human suffering in 2015.
Today, our video has reached more than 13 million viewers on Facebook and YouTube and we have been featured in some 3,000 new articles around the world. Football player David Beckham, tennis player Novak Djokovic, singer Enrique Iglesias, and many other celebrities have given their support to our campaign. Even the Barcelona football club has decided to share it on their Facebook.
We need more supporters to make sure the world knows.