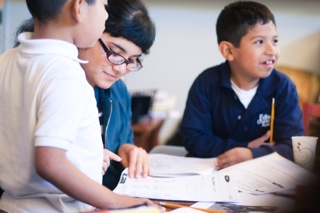 The Valencia Bay-farer is 826 Valencia's only in-house newspaper written for students by students (ages 8 to 14). Our intrepid reporters learn lessons about the various aspects of journalism, from crafting ledes to interviewing to citing sources and at the end of each five-week workshop, we release a new issue full of articles about the kinds of things you'd love to read if you were a kid. We hope you enjoy these articles. To learn more about 826 Valencia, visit our website.
The Pinnacles Homemade Tour Guide
By Noah Kilpack, Age 10
There is a fabulous place called Pinnacles National Park. Because I went there and saw it firsthand, this article will have more detail. On some of these trails, there are flowers, frogs, and some crazy smooth rocks.
The Pinnacles are located about 30 minutes from Hollister, California near the San Andreas Fault. The Pinnacles were made a national park on January 10, 2013 and are now a tourist hotspot. Also, it is now the closest national park to San Francisco. I went over spring break and hiked the Bear Gulch trail that leads to one of the caves. In that cave, you go up stairs and through some small spaces, but in the end it opens up into the reservoir. Amazingly, there is another cave that you can go to and it is a little shorter. After the cave, you open up into this area that has a picnic table and there is another trail that leads up into the Old Pinnacles trail. The Pinnacles were made by a volcano that erupted and formed crazy shapes of tall sculptures. The Old Pinnacles are the mountains that were made when the volcano erupted and made the national park.
I asked Austin, a co-teacher of the Valencia Bay-Farer, if he knew anything about the bats migrating there. He said, "They close parts of the cave with big metal grates so that the bats can breed undisturbed." I thought the reservoir was great so I asked him what he thought of that, and his reply was, "I went at the end of August and it was murky brown, smelly, and the water level was really low, but the view was great from there. However, I think it is more important to see both of the caves before you go to the reservoir."
When you go to the Bear Gulch caves, it is the most breathtaking thing you will ever see. Austin thought that, "The most interesting thing about the caves is that they were made by boulders falling on top of each other and sealing off the light."
I asked my mom, who went with me to the Pinnacles, "What was your experience at the cave?" Her reply was, "We liked it the second time because you know where things are and your way around. Also, bring a headlamp because it can get very dark."
I asked my mom if she would recommend it to other people. She said, "We will go there again with my kids and their friends, and I have been recommending it a lot to people. Some flaws were that it was crowded when you were trying to get a parking spot. Once you got onto the trails it was great."
I also asked Austin the same question and his answer was, "Yes, I would recommend it to others in a heartbeat, but I would tell them to not go in the summer when it is unbearably hot and there is hardly any water." (It can get up to 107 degrees Fahrenheit, according to Austin.)
I thought that it was a great campsite and would definitely do it again. It was the most amazing experience I have had camping. At night you can see the stars, and I think that is important because you can't see that in the city. It just shows how much we see in such a small hike.
Japan in San Francisco
By Anna Candee, Age 11
Looking for a place to go? Do you like cute pillows and Stuffies? Want to go somewhere fun? If you answered "yes!" to one of these questions, then you should read this.
Japanese culture has become very popular in San Francisco. In north San Francisco there is a Japantown. You can find it between Fillmore St. and Laguna St. Japantown was designed by Japanese architect Yoshiro Taniguch. East mall and west mall are the main attractions in Japantown. If you have not been there get into your car and go! It is the happiest place on earth (Sorry Disney, but I speak the truth.). It is a huge mall divided into two buildings. Everything there is created with authentic Japanese culture.
"I love the stores. They're so cute and they have a ton of stuff I like," says Noa, age eleven. A lot of the stores are based on Japanese animation, there is a store called Sanrio and everything in there is Hello Kitty themed. You can get pillows, stickers and Stuffies with your favorite characters from Hello Kitty on it. You can find Sanrio in west mall. Also in west mall is my favorite shop: Amikos Boutique. It is one of only places where you can get KidRobot merchandise.
Kidrobot is a store in San Francisco on Haight Street with Stuffies and figurines imported from Japan, Hong Kong, and Europe. Kidrobot is famous for its awesome creation: the labbit! (A rabbit Stuffy with a mustache.) My favorite thing from Kidrobot is the Yummy. A Yummy is a pillow that looks like food. Yummies are created by Heidi Kenny. My favorite Yummy is the blueberry pie. They also have cupcakes, ice cream sandwiches, eggs, lemons, limes, doughnuts, pizza, toast with jelly, Jell-O, cookies, and slices of pastry. Yummies come in huge and regular sizes, key chain, and figurines.       
Japanese culture has also brought many sushi and ramen restaurants to San Francisco. My favorite Japanese restaurant is Sushi Boat. It has a huge table in the middle and when you come in you can sit anywhere around it. The table is shaped like a boat and there is a tiny stream of water built into the table. They float little wooden boats in the stream and the boats slowly move around the table. Every boat has a dish of food on a color plate. When you finish, you hand all the plates to the waitress and they charge you based on the color of the plate. It's super fun because you see something you like and you have to try to grab it before it floats farther down the stream.
Japantown and Kidrobot are some of the most fun places to go in San Francisco. I think you will love it there.
REAL LIFE. REAL NEWS. REAL VOICES.
Help us tell more of the stories that matter from voices that too often remain unheard.