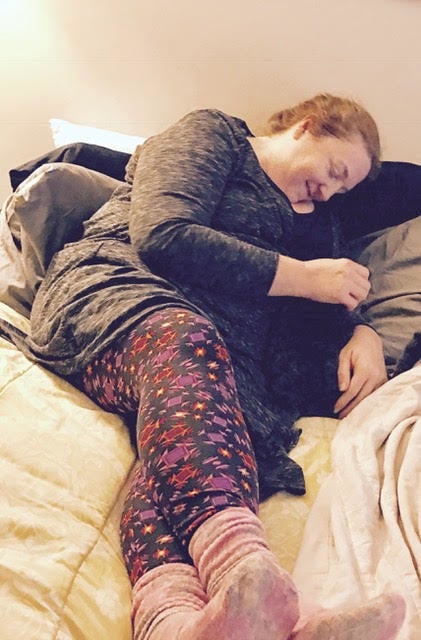 *It sort of blows my mind I haven't been out to eat at a restaurant in two months.
*But I've learned all the places near me that deliver. (Why isn't there an Indian or Thai place?)
*I have always kept my nails painted yet somehow I keep forgetting, even though I have all this time on my hands.
*Being an introvert has probably helped me survive the isolation, although sometimes I just need to see adult faces.
*I have learned that my legs don't have to be shaved EVERYDAY after all!
*I have the talent of going to only 2 non-medical places this week, and unexpectedly seeing 2 different British ex-boyfriends. (While looking like crap, ugh—hey, my vanity is still intact somewhere!)
*I have only worn makeup once in two months, but used to be someone who wouldn't leave the house without mascara and lip-gloss, because I'm a good southern girl, you know.
*I've learned some people will truly disappoint you.
*And some will validate the amazing person you knew they were.
*And some, often times those you know least, will surprise you in the most wonderful ways.
*I know that LulaRoe Leggings have magical powers and make my legs hurt less.
*And LulaRoe's fun prints make me smile and happy, too.
*I know sometimes you must eat in order to take your medicine, even though you don't feel at all like eating.
*I know I save money by not doing my own grocery shopping, unfortunately the delivery fees eat up the difference.
*I know I've never been the greatest of housekeepers but it's really hard to not feel guilty while you lie in bed when other people clean your place for you.
*I know some medications have side effects that are good. Some are not so good.
*MRI's suck. I'm just sayin'.
*Only being able to Read in spurts gets annoying.
*I know some doctors are lazy.
*But some doctors will walk you to your car.
*Elections while you are sick are probably not very healing.
*I've never been a believer in a TV in the bedroom but might have to break my RULE…Netflix on a laptop all the time is getting old.
*If you're a sick person who needs helping hands, the only way to help people know what you need is to be vulnerable. It's really hard though.
*Binge watching a TV show from years ago like Gilmore Girls teaches you new things...you're in a different place in life now.
*No matter how old you are or how long your mama has been gone, you still want her when you're sick.
*Skin Hunger (it's a real term) is hard on singles, especially sick ones.
*You ponder the oddest questions when you have a lot of time to think. Like why neighbors in apartments aren't friendly like on TV and why Nabisco doesn't come out with Gluten Free Oreos.
*You also think about people you haven't heard from in a while because you've been too busy and now you're not.
*You think about reconnecting with them, but then feel strange about it when you don't have good news to report.
*I used to like to watch and read intellectual things but my capacity to do so has changed, hopefully my IQ wont be affected.
*Because I now have the attention span of a toddler…oh look, a cookie!
*Several things about being sick are as irritating as dripping faucets.
*And lack of simple word recall.
*And this sound in my head that is like putting your ear to a conch shell.
*and not being able to sleep because of pain, even when you're totally exhausted.
*It's times like these I wish I knew my neighbors, especially that cute cop upstairs.
*Uber and Lyft, or as I like to call it, Mom-taxi, is a god-send for shuffling teenagers.
*But you wish one of your kids was close to being able to drive so they could run errands for you.
*You have to grieve the old one and try to figure out what a new norm might look like even though you have no way to know.
*You are glad you chose to live near a shopping center because your teenager doesn't mind going for a few things and slipping a treat for themselves in the bag.
*Cats are a blessing…they come and visit you, love on you and then they leave you alone.
*One errand/medical appointment a day is sometimes too much.
*Because it almost always makes you feel like puking before you're done.
*The Internet is a beautiful thing, allowing friends from miles away to care for you through messages, delivery meals and online gifts/donations.
*But I'll always miss the days people stopped by at houses "just because", it's a sacrifice I think we traded for smart phones and internet.
*There is such a thing as being too tired to lay on the couch. I can't explain this phenomenon but it happens.
*I hurt in new places both physically and emotionally.
*There's a constant question of ice pack or heating pad?
*And, and make it easier or keep it long so it can go in a ponytail everyday?
*Sometimes the medically fragile kid you've always taken care of, has to take care of you.
*You envy your cat's commitment to sleep, wondering how they can lay in crazy positions without being in pain?
*No matter how many pillows you have to work with, you will never feel as comfy as that cat looks.
*You realize you will probably never be caught up on email ever again.
*People will remind you of past kindnesses you did for them that you'd long forgotten, even after they remind you, well, because brain fog=the struggle is real!
*It is much harder to be the patient than the caregiver.
*You learn some Christmas traditions are worth making happen, but most are okay to let go.
*Dr Google is like that boorish uncle who knows too much about everything.
*Having friends who will come visit you in your room, while you stay in bed, are the best!
*Daylight savings time only causes more sleep disruptions.
*You lay in your room wishing you could redecorate but you won't because, well, energy and lost wages.
*No one will understand invisible illness unless you educate them, but some days you don't feel like educating.
*You know only some people who say "I'll keep you in my prayers" really mean it and that's okay.
*Taking up the whole bed trying to get comfortable all night in pain makes you grateful you don't have to share it, BUT you imagine it would be nice to be spooned or kissed on the forehead everyone so often.
*Being self-employed, even when it's your only option, doesn't seem like such a great idea right now.
*Silence is deafening! (Especially when you have that weird buzzing sound in your head.)
*But texts are always a welcome noise, even if there's a delay in responding.
*Not knowing your family medical history and having no one to ask is frustrating.
*Things that have always terrified you, like the smell of anesthesia, become welcomed if surgery will get you out of some misery.
*I don't know that I will ever get used to the shock that a tiny little bug forever altered my life.
*You hear you'll eventually have your own definition of good days and bad days. They may not be the same type of good day as before but some will be better than today and some will not.
*You can't fully remember what used to occupy your time before you got sick. Maybe that's a good thing.
*There will ALWAYS be people that have it so much worse than you!
*You're glad so few get this disease, but you kind of wish there were enough to make it research and cure worthy.
*You pray you'll somehow still be able to be the mother your kids need.
*You are really grateful no one has suggested giving up coffee. You might not get out of bed if they did.
*You know that very few people will actually read all of this.
*Articles that used to take you just an hour or two to write, now take days. With this title that wasn't good because it meant coming up with more things. (Oh, and forgive any missed editing…I'm tired!)
Deb Besinger is still who her bio says she is, but is now dealing with contracting Rocky Mountain Spotted Fever after a tick bite brought her life to a screeching hault!
Calling all HuffPost superfans!
Sign up for membership to become a founding member and help shape HuffPost's next chapter
This post was published on the now-closed HuffPost Contributor platform. Contributors control their own work and posted freely to our site. If you need to flag this entry as abusive,
send us an email
.