I've been to a lot of festivals this year. I've interviewed a lot of artists, I've downloaded a lot of sets, I've planned out my get-a-reaction-from-the-crowd outfits and I've mapped out my recovery. So post Ultra Music Festival, Coachella, Governor's Ball, Snowball, Mad Decent, Escape to New York and a stint in Myknonos, I was expecting a whole lot of the same. Except for the usual can't eat, can't sleep, can't stop tapping my feet cycle, this year's Electric Zoo proved me, and many other festival fanatics, delightfully wrong.
The three-day dance party on Randall's Island had no shortage of new: New acts, new tracks and new grass (really!) filled the 24-acre island for 12 hours a day over Labor Day weekend. The festival grounds had an upgrade too: A well thought out floor-plan made the trek from the Sunday School Grove Tent (packed with acts like Luciano, Gui Boratto, Carl Cox and Richie Hawtin) to the Mainstage (Tiesto, Armin Van Buuren and David Guetta) surprisingly do-able. And with over 100 DJs participating, the well-thought-out plan made set hopping an unusually fun part of the gig.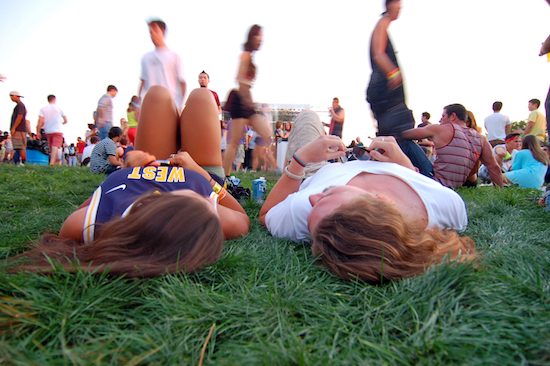 Despite the record number of attendees — over 85,000 fans showed up — Electric Zoo didn't lose its sense of ease and comfort. Thanks to an increased number of restrooms, a variety of food vendors and the use of RFID wristband technology, which minimized entrance time, there were no lines to be found. And when you wanted to dance deep inside the tent, there was an actual dance floor and ample space to do so. When you're talking about music marathons, these are small details that many festival producers overlook, the small details that can turn a great event into an exceptional one.

Zoo-goers wasted no time arriving on Friday for Josh Wink and High Contrast. The Dutch duo, Sunnery James & Ryan Marciano, came with a serious set full of hard beats and high energy. The post-work crowd came in time to catch Gareth Emery, Europe's favorite dance party producer, and Feed Me, a new dub-stepper on the Mau5trap label. Carl Cox and his infectious smile brought some Miami techno to the Sunday School Grove tent, while Max Vangeli and Antoine brought the Size Matter's sound to the Mainstage. But it was Moby who caused the most mayhem during his show at sundown, and Tiesto ended Day 1 with a flood of confetti into the dark night sky.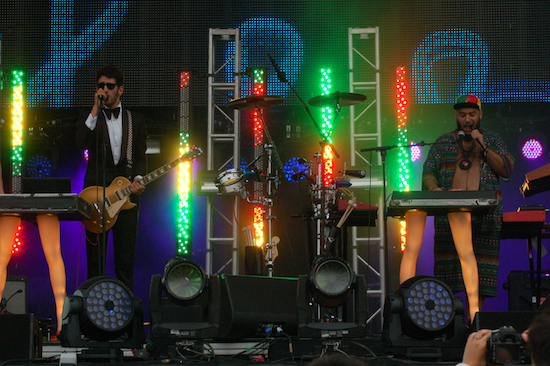 Saturday was all about the tents: SBTRKT, Guti Live, and 19-year-old wonder Porter Robinson proved why they're three of the hottest new acts on the scene. Beardyman (real name Darren Foreman) beat-boxed some Bob Marley, and played one of the weekend's most innovative sets. Sander Van Doorn set the mood with his impeccable, technical trance followed by a night of big-room sound with back-to-back Dirty South (who covered for Martin Solveig on Friday), ATB and Ferry Corsten.

The heavy bass from 12th Planet, Skrillex and Bloody Beetroots could be felt from the FDR. 12th Planet stood backstage as Skrillex, who describes his sound "a mix of dubstep, electro and glitch all thrown together," took over the minds and bodies of thousands of fans who turned the tent into a nineties mosh pit. 12th Planet's set followed suit, with screeching sounds and screeching fans as dove head first into the crowd. Bloody Beetroots Death Crew 77, the Italian trio of Sir Bob Cornelius Rifo, Tommy Tea and drummer Battle, mixed the madness of their most famous track "Warped," with the surprise of live guitar, drums and punk-rock vocals. While the masks may have scared some fans away, it was easily one of the most electric shows in Zoo history.

On Sunday, Gramatik, Alesso and EDX rocked out to a packed house, despite their early time slots on Day 3. Calvin Harris, Afrojack and Armin Van Buuren took over the Mainstage and while the sounds were a bit all over the place — let's not forget the adorable yet odd open-format performance by Snoop Dog, and the out-of-place yet delightful performance by Chromeo — the A-listers pulled it off, and kept the massive crowd in one place for most of the day. Those who wandered off hit up Diplo, Boyz Noize, Infected Mushroom, Fake Blood and Richie Hawtin, but the cult-chords of Armin Van Buuren brought the festival to a final close.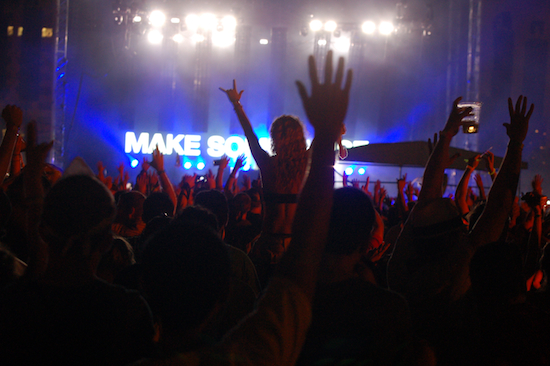 There's a stigma that comes with electronic music — and in some cases, it may be appropriate — but there are also many reasons why thousands are flocking to bass boot camps like Electric Zoo. It's not the first or the largest electronic dance event in the United States, but it's certainly one of the most exhilarating. Standing in the middle of Bloody Beetroots during "Warped" was an adrenaline rush on par with my first skydive in South Africa.
The duality of exhaustion and energy, and the challenge of fighting through the fatigue and heat for something you love is part of the appeal. And in the end, the fans who stand are the ones who believe in the escape of electronic dance music, the power of letting go and the chance to dance it all away. Screaming, jumping, fighting to catch that one, last drop with 30,000 like-minded people? Well that's what Electric Zoo is all about.
PHOTO GALLERY
Electric Zoo Music Festival 2011
Calling all HuffPost superfans!
Sign up for membership to become a founding member and help shape HuffPost's next chapter