Most days, 86-year-old Clara Parish sits at home and watches TV. Because of a leg injury -- and her low income -- she isn't able to do much.
This Friday night, however, she's going on a party cruise.
"Miss Clara has a heart of gold," said her nominator and social worker, Mary Ann McFeely. "I saw the application for Twilight Wish while working at the Salvation Army, and I knew she would be perfect. Clara doesn't have many resources, but she would give you the shirt off her back."
Twilight Wish, a nonprofit focused on the needs -- and desires -- of low-income senior citizens, is the first national wish granting organization specifically aimed at the elderly.
Clara, who lives in the East Liberty section of Pittsburgh, says she was always a party girl who used to sneak out of her bedroom window to go dancing. She was supposed to go on a special trip with her girlfriends when she was young, but her husband wouldn't let her -- he thought she was too cute and some other man might flirt with her. That's why Mary Ann thought this would be the perfect wish.
"I don't get to leave the house much, so I'm very excited," said Clara. "And if a man wants to dance with me, I'll try to dance with him!"
Clara has decided to wear a tasteful skirt set, which she'll borrow from a friend for the "Oldies Dinner" cruise on the Gateway Clipper in Pittsburgh.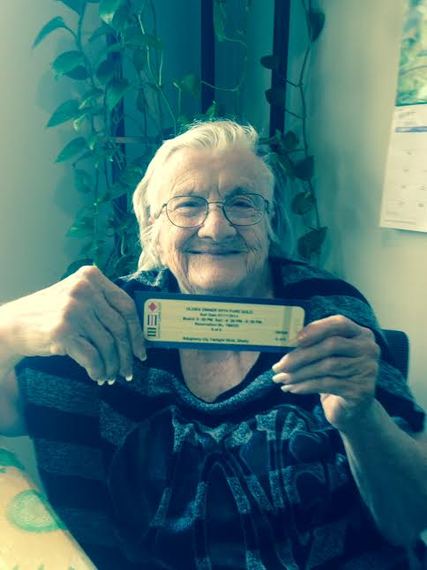 Twilight Wishes range from simple basic needs, like for lift chairs or hearing aids, to more elaborate lifelong wishes, like riding in a fighter jet.
One of those wishes, made by 88-year-old Charlie Bywater, was for a trip to a Phillies game with seven other residents of Neshaminy Manor in Warrington, Pennsylvania. Charlie and his friends are all huge Phillies fans, and watching the game in the main dining room of their nursing facility is the highlight of their day.
Because they are all wheelchair bound, leaving the facility was difficult, but they still managed to get amazing seats, hot dogs, cheese steaks, and even a beer.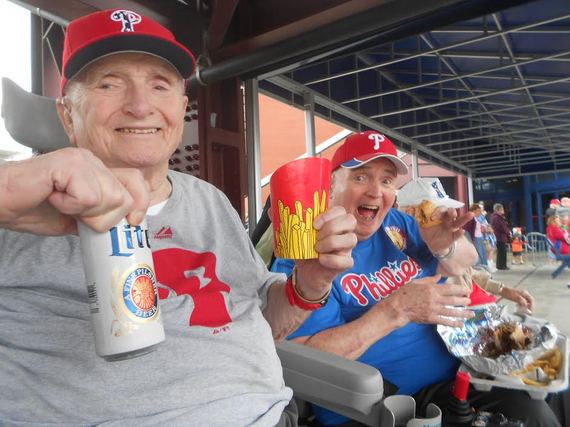 "I told everyone that it was the second greatest day of my life. The first was my wedding day in Hawaii," said Charlie. "I can't believe I got to have a beer. It was the first time I'd been to a ball game in God knows how long. I've never had such a great seats."
The organization also granted a special with for 69-year-old George Fania, who lives at the Summit Ridge Center in West Orange, New Jersey, a long-term care facility. He spent 40 years of his life working as an electrician, mostly with Amusements of America working on carnival rides, and was forced to retire because of health issues. His nominator said he was depressed and lonely, so Twilight Wish arranged for him to spend a day at an Amusements of America carnival, where he surprised former co-workers, who thought that he had passed away.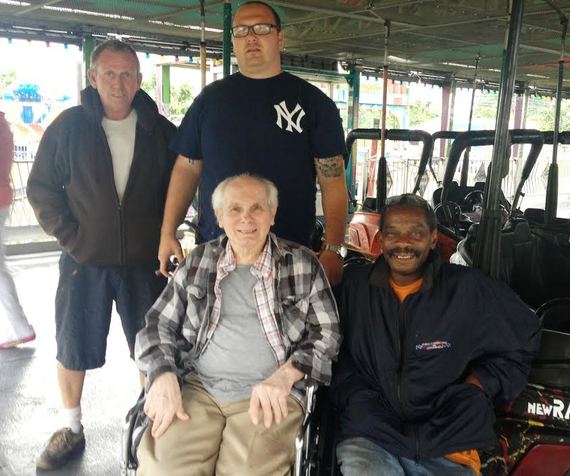 "I didn't know such an organization existed," he said. "They made it possible for me to see everyone again, which is nice because I don't have family that comes to visit me. Most of my days are spent sitting and watching TV."
George was a changed man after his visit -- his depression lifted and he began getting dressed every day.
Twilight Wish was founded in 2003 by former finance and healthcare executive Cass Forkin, who noticed a group of elderly ladies in a diner counting their change to pay their bill. She decided to anonymously pay it for them, and, soon after, quit her six-figure job to create the organization that has since made over 2,000 wishes possible.
"We're asking everyone to help make our world become a nicer place to age, one wish at a time, and help those who cannot make their own wishes come true in the twilight of their lives," said Forkin.
Anyone can get involved in making a wish possible by fundraising, organizing, or becoming part of committees in their local chapters. Open wishes are posted on Facebook and at TwilightWish.org, so anyone who's interested can utilize a crowd funding site like Gofundme or Crowdrise to fundraise.
Related
Popular in the Community