 WASHINGTON, D.C. -- It's been 11 years since terrorists destroyed the World Trade Center towers, and more than a year-and-a-half since President Barack Obama signed into law a bill meant to compensate responders and survivors sickened from exposure to the hazardous debris and toxins of Ground Zero.
"It's going to be a process, and I think it's going to take a year or two until that process really gets moving," said Sheila Birnbaum, the special master of the $2.775 billion 9/11 Victims Compensation Fund. "People have to get medical records, they have to do all kinds of things, and they're going to have to get certified that they meet the criteria."
The compensation fund was supposed to start work in July of 2011, and many believed that money would start to flow a year later. It hasn't, and although there are explanations for why, people whose lives were shattered by the terrorists' attacks of Sept. 11, 2001, are starting to get frustrated.
"These people need the the money. I talk to a lot of them, they're all struggling along and they're not getting anything," said Joe Zadroga, the father of the late police officer after whom the Zadroga Act is named.
"These people are really down," Zadroga added. "I just get upset about it because we fought so hard to get that bill passed, and now they're dragging their feet on it."
"We still haven't gotten 10 cents," said TJ Gilmartin, a construction worker from Brooklyn who rushed to Ground Zero with a truck after the attacks, and has seen his ability to work deteriorate, along with the health of his lungs.
"I've had people turn around and say, 'You can go get food stamps,'" Gilmartin said, noting that he believed they meant well. "I'm so lucky, I got a fiancee that's been taking care of me," he said. "My Corvette is gone, my Rolex is gone. Everything that I worked 30 years for in construction, worked hard for, I had to sell to live."
While people like Gilmartin and Zadroga are frustrated, they aren't necessarily ready to start handing out blame.
That's because a large part of the delay stemmed from the debate over whether or not cancer would be covered under the Zadroga Act. The causes of cancer are complicated, and there was relatively scant data to analyze because the Bush administration hadn't set up the original 9/11 health program to collect it or study it.
But the question was finally answered Monday, when the National Institute of Occupational Safety and Health issued a rule declaring that some 50 varieties of cancer would be covered for peopled deemed to have suffered sufficient exposure. That rule will be published Wednesday and go into effect after 30 days.
Responders are relieved cancer will be covered, but it also creates problems because covering cancer is much more expensive, and potentially opens up the compensation fund to more people, including many who don't yet know if they are sick. At the same time, the money to pay for it is fixed at $2.775 billion, unlike the first compensation fund authorized soon after the attacks, which was unlimited.
Simply starting to make payments before the cancer question was answered could have exhausted the money too quickly -- even if responders like Gilmartin are in dire need of assistance now.
"Could they have given awards out?" said Michael Barasch, a lawyer who represents thousands of responders and survivors, including Gilmartin and Zadroga. "Sure, but they have to hold money back to make sure that those people in the future who come down with cancer, that there's some money available for them."
The special master, Birnbaum, who spoke to The Huffington Post Friday, before Monday's decision, predicted that she could start to work on claims in earnest once the 30-day clock expired. But she warned it would be complicated.
First, of the money authorized, Congress specified that only $875 million could be spent in the first round of payouts, with the remainder being held until the sixth year of the program.
"It's prorated, based on the amount of claimants and the amount of awards that they're going to get, that we estimate are going to happen," Birnbaum said. "Until the regulations are finalized by NIOSH, we can't estimate how much money we will need to prorate."
Estimating the number of potential claimants is another problem. In addition to people who are part of the separate World Trade Center health program -- which got $1.5 billion from the Zadroga bill -- the compensation fund could cover thousands of other people who lived or worked near Ground Zero. Estimates of how many people could wind up eligible vary widely, ranging anywhere from 17,000 to 80,000.
And Birnbaum said even among those who are likely to qualify, she has only received a few hundred fully completed applications.
"It's nobody's fault. It's not our fault, it's not the lawyers' fault," Birnbaum said, noting that people have to prove they were at the site, that they were significantly exposed, that they suffered covered injuries and what those injuries have cost them.
"People are gathering up the documentation they need to prove their claim," she said. "We have very few [completed] forms that even get to the compensation piece yet, so we're not in a position to be giving money yet."
There have been bureaucratic complications, as well. The fund was supposed to be up and running in July 2011, though it was not funded until October. Aside from waiting for the rulings on cancer, Birnbaum had to get a complicated computer system up and running. And, in line with one of the more controversial stipulations Congress included, Birnbaum also had to work with the Department of Justice to run the names of 9/11 responders against the terrorism watch list.
Birnbaum said none of the few hundred applications that have been run have turned up any terrorist suspects. The lawmaker who included that provision, Rep. Cliff Stearns (R-Fla.), recently lost his primary election.
Ailing responders are aware of many of the details and remain somewhat forgiving. But they point out that, for some of them, there is little time left.
"There's guys dropping dead every week," Gilmartin said. "There must be another 50 dead since this bill's been signed."
"It's our responsibility to make sure everybody is treated fairly," said Birnbaum. "We can only do the best we can."
Michael McAuliff covers Congress and politics for The Huffington Post, and has written extensively about 9/11. Talk to him on Facebook.
Before You Go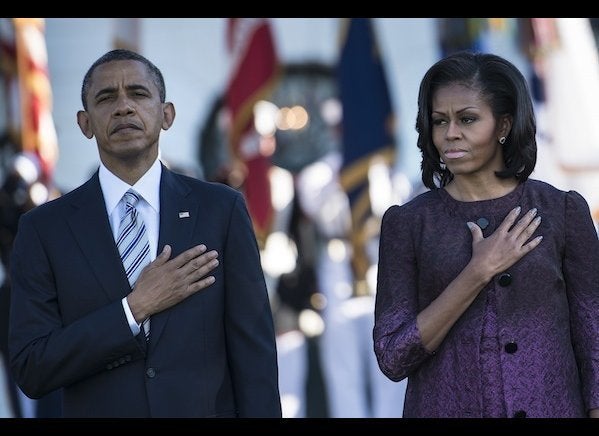 9/11 Statements From Politicians
Popular in the Community