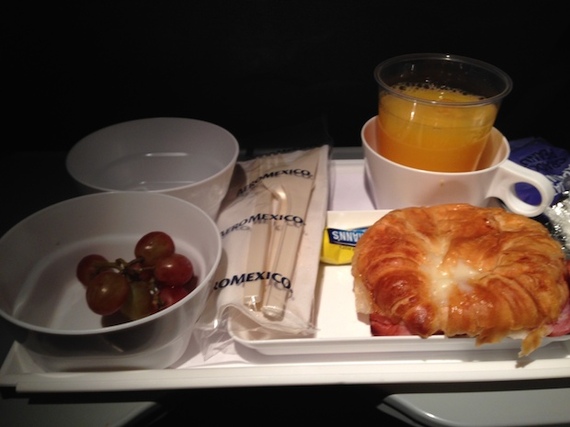 Food, glorious airline food: Some airlines -- like Aeromexico, pictured here -- still serve free food in economy class.
Last week, I conjured up a scathing review of international air travel with my post, "The 7 Most Annoying Things That Airlines and Airports Do in Latin America." I got a surprising amount of feedback from frustrated frequent flyers, who seem to be as annoyed as I am with some of the things that we have to go through just to get on a plane and jet across Latin America.
But in general, I'm an optimist, and I'm a travel addict (as you may guess from the many airline and flight reviews I publish on my travel blog, LatinFlyer.com). So I can't stay negative for too long. Traveling makes me too happy to stay on the negative track (although I do hope that some of my complaints from last week can be taken as constructive criticism by open-minded airport and airline administrators.)
In the interest of staying positive and optimistic about air travel, therefore, I've put together a list of the nine best things about flying economy class. Yes, economy class. Occasionally I do get to fly in first or business class (I do manage the annual "Best of Travel" roundup for Latin Trade Magazine, after all), but for the most part, I'm stuck in the back of the cabin. So most of my insight is about what's good and what's bad in economy class. All this time in the air -- flying around the United States, to Mexico and Central and South America, as well as the Caribbean -- has helped me to appreciate when I find something truly good about a flight. And yes, believe it or not, there are still some things that are pleasant about air travel, even in the back of the plane.
So here's my list. Stick with airlines that can offer you these benefits and you'll fly better, even in economy class.
1. The price. Obviously, economy-class air fares are cheaper than business class and first class. So from a strictly economic standpoint, you're better off sitting toward the rear. And if you have elite status, you still may end up in one of the better seats anyway. Few people pay to sit in the front of the cabin, so stay loyal to one or two carriers, if you can, and build up elite status when possible -- or consider using frequent flyer miles to upgrade, if you want more space and amenities.
2. Free checked bags. Some airlines flying internationally still offer free checked bags within certain weight limits. For many U.S. carriers, you may need to pay -- or you may get at least one bag checked free if you sign up for one of their affinity credit cards (even at $95 a year, these cards can pay for themselves after just a couple flights).
3. Premium economy seating. These seats, which are toward the front of the economy cabin on some flights, offer extra legroom and priority boarding. Depending on the length of the flight, they might be worth a splurge, and if you have any kind of elite status with the airline, you might be able to get the seat for no extra charge.
4. Headrests with wings. I just love these things (and that's why I always point out when a flight has them, when I write my airline flight reviews). It may seem like such a little amenity, but I've spent way too many flights trying to sleep when my head is bobbing back and forth, up and down, like a helpless doll (I've never been able to make very good use of travel pillows, whether inflatable or normal. Perhaps my enormous moon head just wasn't built for those tiny cushions). Find an airline and plane that has wings, and your head will have a lovely little place to rest.
5. Seats with AC outlets. Outlets can be a lifesaver when you're spending all day rushing through airport terminals and trying to stay in touch, as your cell phone slowly dies. Check ahead of time and see if the aircraft you'll be flying has them, and you'll spend less time sitting on the floor in the airport terminal.
6. Free food. Even a little bit can help. Delta Air Lines recently served me a tasty little sandwich during a flight from Mexico City to New York City, as well as some follow-up snacks later on, and my stomach was extremely appreciative. Surprisingly, Panama-based Copa Airlines even serves free, hot food on short flights between Cancun and Panama City, and between Panama City and San Jose, Costa Rica. I also enjoyed a decent hot breakfast sandwich on an Aeromexico flight between New York City and Mexico City.
7. Pillows and blankets. Yes, some airlines even still provide passengers with pillows and blankets, at least on some international flights to and from Latin America.
8. Personal entertainment systems. Airlines that offer free seatback screens with lots of options can help keep you entertained for longer. (But the cost of access can vary. United Airlines, for example, charged $7.99 to watch on a recent flight from San Jose, Costa Rica to Newark, while it was free on a similar flight on Copa Airlines.)
9. Frequent hydration. On long flights, cabin crews that serve water often -- or leave water bottles and cups somewhere in the cabin -- help passengers stay hydrated and happy (especially on flights where they don't let you bring water on board). On a recent United Airlines flight between San Jose and Newark, flight attendants distributed water at least twice, and left cups in the back of the plane during most of the flight -- which is especially important, since the airport security team doesn't allow anyone to bring water on board the plane (one of my pet peeves listed in the "7 Most Annoying Things That Airports and Airlines Do in Latin America" -- but oh yes, we were supposed to keep this post positive).