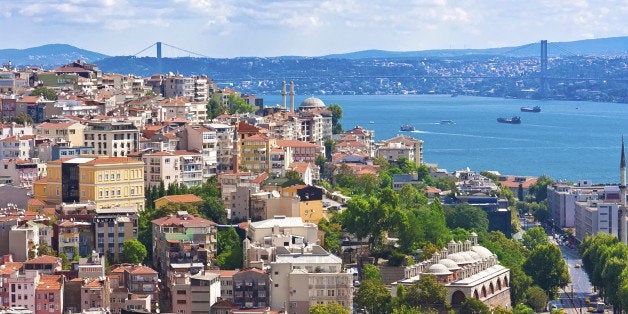 Istanbul is the setting that literary dreams are made of. The storied city straddles Europe and Asia across the Bosporus and has long been a cultural melting pot and political hotbed, shedding its 600-year identity under the Ottoman Empire and becoming a part of Turkey in 1922.
Such a complicated history lends itself well to nuanced, emotional literature, and these nine books will be expert companions as you traverse through the ancient city. Since no one wants to lug around a bunch of heavy tomes, we partnered with the all-new Kindle Paperwhite to bring you a list of novels, guides and more that you can download for your journey.
Dive deep into the cultural mores of Istanbul with this autobiographical novel by the man widely considered the city's foremost author. Pamuk casts a portrait of a place that is haunted by hüzün, the duality of sadness and melancholy, through the lens of optimism, that is particular to Istanbul's ethos. His memories of the city and his childhood are interspersed with descriptions of Istanbul from other Turkish writers, all of which speak to the city's unique struggle to find a sense of place amidst the warring of the past and present. For a more intellectual read, it gives the reader points of entry through its graceful and considerate prose.
Add a sense of intrigue to your travels with this slick thriller, told in the first person from the dueling perspectives of Arda, a wealthy 27-year-old whose mother's death has led him to re-examine the murder of his father, and Bedirhan, a killer for hire who's ready to throw in the towel after more than a decade of "service." It's no surprise that their paths ultimately cross; but the journey to that moment, told with the streets of Istanbul as an integral backdrop, is both lyrical and tense.
You can't visit Istanbul without being entranced by its food, and this classic cookbook includes 125 of the best recipes featuring the city's old-world flavors. Flip through the pages pre-trip to pump up your stomach for local favorites such as grape leaves stuffed with mint and herbs, stewed lamb kabob with creamy mashed potatoes, pistachio semolina cake and more. While visiting the city, bookmark dishes similar to those you enjoy while out and about, then cook them at home for a nostalgic taste of your travels.
Chock full of vibrant, fully realized female characters, this tale of two families, one Turkish and one Armenian American, considers how both are connected through the 1915 Armenian genocide. The main character, Asya Kazanci, was raised among three generations of female relatives, and the family is forced to consider the Turkish sense of responsibility for the horrific events when a relative, Armanoush, shows up from America. Armanoush is looking for validation and understanding about the decimation, which greatly affected her own family. The novel ultimately had real-life political consequences: Shafak was charged with "insulting Turkishness" with her depiction of the genocide after publication. The charges were later dropped, but anytime the government gets involved with a work of fiction, you know it's good.
It was originally published more than 40 years ago, but this classic guidebook remains the preeminent reference to the city's most beloved, historical features. The most recent revised edition keeps the original itineraries but is updated with descriptions of museums and monuments for a needed update. Written with love by people with a deep understanding of the city, this is the ideal travel companion for those with a thirst for architecture. Praised by locals, this guide is not for finding Istanbul's best inexpensive hotels -- you've got Lonely Planet for that. It is, rather, intended for gaining a deep appreciation and understanding for the ancient city.
During World War II Istanbul became a hotbed for espionage, being (for better or worse) strategically positioned between Europe and Asia. Such is the setting for this politically charged thriller, in which expat American businessman Leon Bauer finds himself accepting the occasional spy job during the war. As people begin to pull up stakes, Bauer takes the classic "last job" that proves to be anything but. As these things are wont to do, the assignment goes awry, colliding our protagonist with the shifting loyalties and ties that will usher in the Cold War.
Did you skip your history lesson on the collapse of the Ottoman Empire, occurred between the 1890s and the 1920s and spawned the country of Turkey as we now know it? Fear not, you will still be absolutely enveloped in this grand, sweeping tale of love and loss. For decades Turkish Muslims and Greek Christians lived and loved in near harmony, only to have their peace ripped apart by World War I, the Armenian genocide and Turkey's war with Greece. The author of Captain Corelli's Mandolin set this historically accurate, searing love story in a small town in southwestern Turkey, employing Christian, Muslim, Turkish and Greek narrators and beautiful passages such as this:
There comes a point in life where each one of us who survives begins to feel like a ghost that has forgotten to die at the right time, and certainly most of us were more amusing when we were young. It seems that age folds the heart in on itself. Some of us walk detached, dreaming on the past, and some of us realize that we have lost the trick of standing in the sun.
Author Ayşe Kulin has sold over 10 million books, easily making her one of Turkey's most beloved and bestselling authors. It's easy to see why with this fast-paced, romantic novel, which sees Selva -- a wealthy Muslim whose father is one of the last remaining Ottoman pashas (a high political position) -- flee to Paris with her Jewish lover, Raphael, despite their families' wishes. World War II brings with it Raphael's arrest by the Gestapo, followed by a thrilling escape. The two then form a resistance movement with the Turkish government to extract its citizens from France via a single railway car. If you'll be traveling on planes, trains and automobiles during your travels, this page-turner will make travel whiz by.
Get a starkly beautiful look at daily life in Istanbul from the 1940s to the 1980s through the lens of award-winning photographer Ara Güler, nicknamed The Eye of Istanbul. His photographs, which unapologetically depict the gorgeous melancholy seeping out of the city, accompany passages by Orhan Pamuk. The duotone black-and-white photographs perfectly encapsulate a city stuck between the past and progress -- and you'll want to spring for the physical version, a coffee table book and conversation piece in one.
Pack practically and pack the all-new Kindle Paperwhite -- lightweight and portable, you'll be packing a thousand books in one.
Related