Taking landscaping to new heights, and using architecture as the vehicle, is an idea that stretches all the way back to the wondrous Hanging Gardens of Babylon, and shows up most commonly today in the form of rooftop gardens and ivy-covered universities. But modern architects have devised new methods of sending plants skyward, whether its with a series of towering terraces or truly vertical gardens cultivated on the sides of buildings. Not only do these verdant feats of physics add a lush quality to the structures they adorn, they also provide eco-friendly benefits like producing oxygen, absorbing carbon dioxide, and naturally cooling interior spaces. Masterminds like Herzog and de Meuron, Daniel Libeskind, Shigeru Ban, and Bjarke Ingels have all devised buildings that seamlessly blend structure and flora for a more integrative kind of architecture that recognizes our connection to the earth.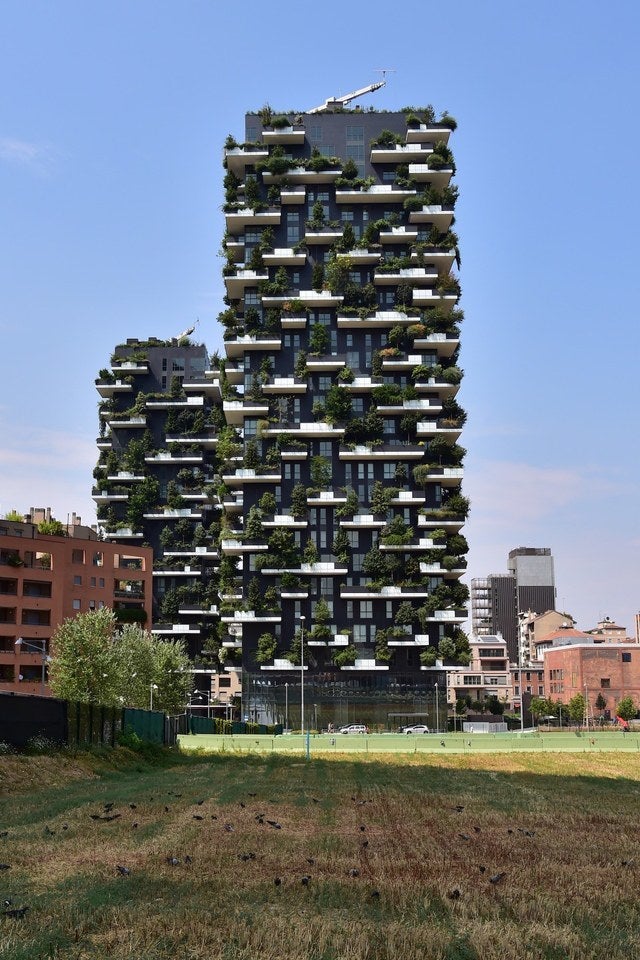 Milan, Italy
Bosco Verticale, also known as Vertical Forest, is a set of two residential towers in Milan whose facades collectively display trees, shrubs, and ground-covering plants. Completed in 2014 by Stefano Boeri Architetti, the buildings have numerous environmental benefits, including reducing carbon dioxide.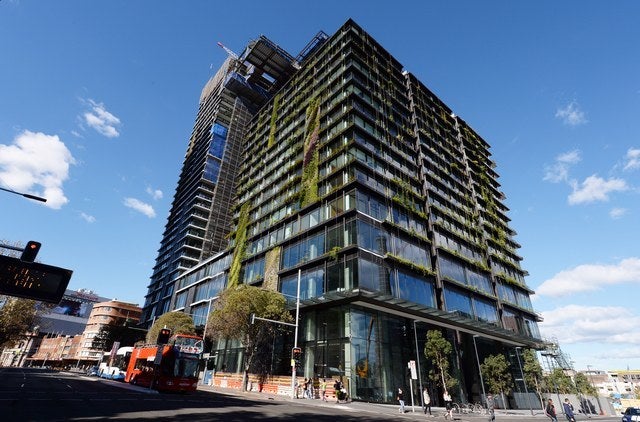 Sydney, Australia
A wall of greenery stretches up the facade of One Central Park, a residential complex in Sydney, Australia, by Ateliers Jean Nouvel. The living art installation is the work of botanist Patrick Blanc, who used a mix of native and exotic plants.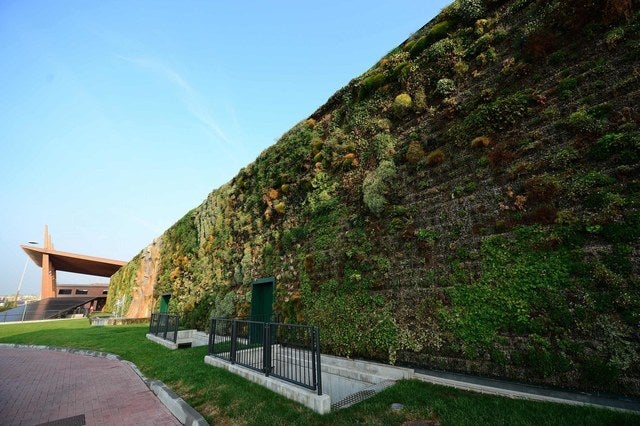 Rozzano, Italy
Approximately 44,000 plants creep up the exterior wall of Centro Commerciale Fiordaliso, a shopping center in Rozzano, Italy, near Milan. Designed by architect Francesco Bollani, the living wall keeps the structure's interior naturally cool.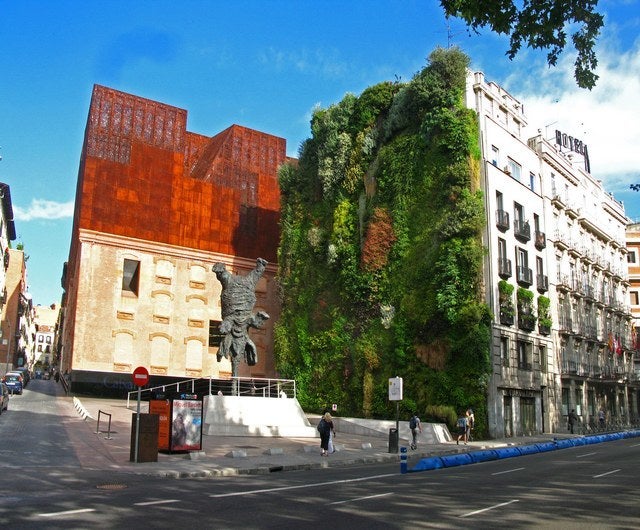 Madrid, Spain
A Patrick Blanc-designed garden sprawls upward at CaixaForum Madrid, a cultural center in Spain by Herzog and de Meuron. One of the site's most recognizable features, the green wall is mean to evoke the nearby Royal Botanical Garden.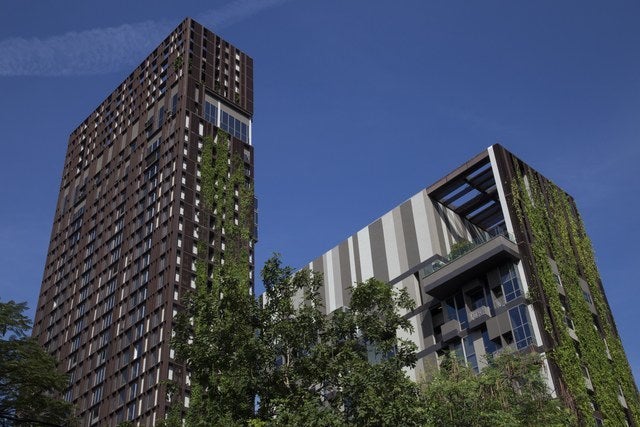 Bangkok, Thailand
Lush foliage climbs up the facades of the two residential towers that make up the Ashton Morph Sukhumvit 38 complex in Bangkok. The greenery seamlessly integrates with the buildings' tree-filled terraces and private garden areas.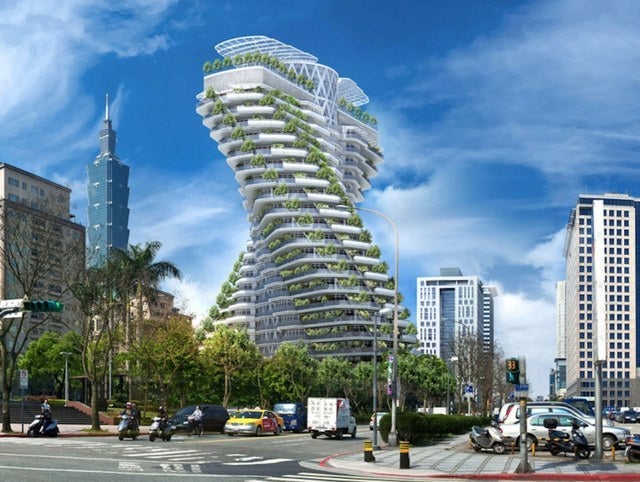 Taipei City, Taiwan
This DNA-inspired structure, a Vincent Callebaut-designed residential building in Taiwan, will boast 23,000 trees along its twisting exterior when it's completed this year. Known as Tao Zhu Yin Yuan, the tower will work to counteract surrounding air pollution.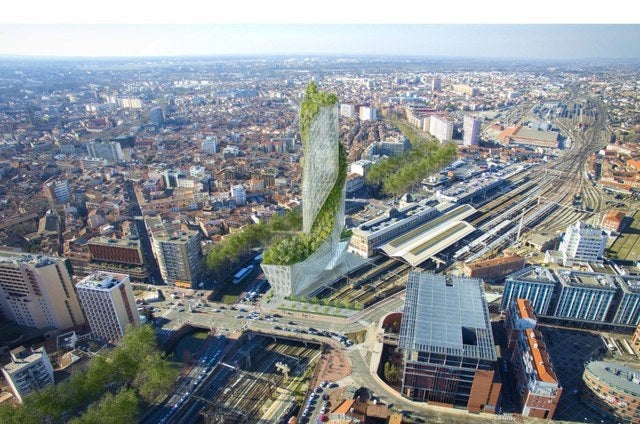 Toulouse, France
With a projected completion date of 2022, the Occitiane Tower by architect Daniel Libeskind will showcase a twisting stripe of vegetation. Designed in collaboration with landscape architect Nicolas Gilsoul, this verdant feature will be a defining hallmark of its location in Toulouse, France.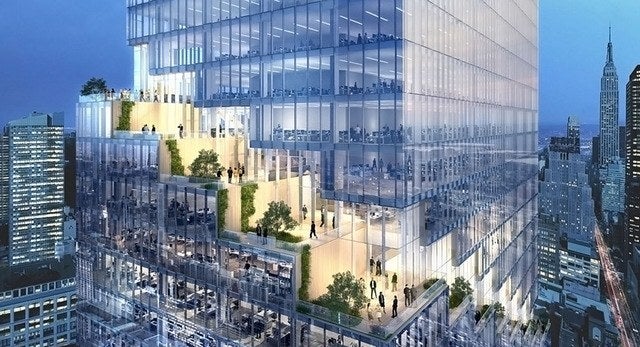 New York City
Part of the Hudson Yards development on New York City's west side, Spiral by Bjarke Ingels Group will send trees soaring skyward along a series of ascending terraces. The ribbon of greenery that wraps around the yet-to-be-built tower will become narrower as it reaches the top.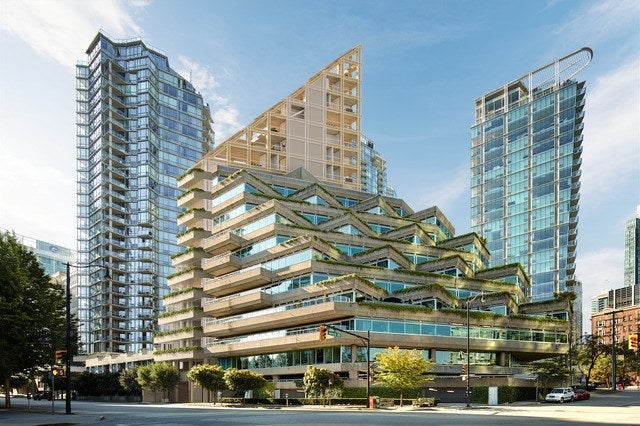 Vancouver, Canada
Designed in tribute to Arthur Erickson's nearby Evergreen building, Terrace House by Shigeru Ban is located in Vancouver, Canada, and will be the architect's first project in the country. Designed with a staircase-like series of gardens, the building will be the world's tallest hybrid timer structure upon completion.
More from Architectural Digest:

Related
Popular in the Community