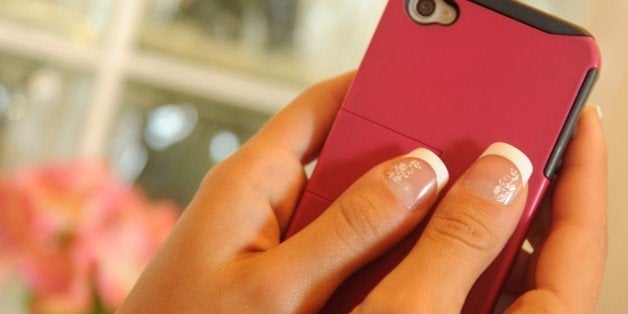 When you introduce a new babysitter to your childcare repertoire or welcome back your family's favorite sitter who is home for summer break, grab the opportunity to refresh and share your house rules, including your policies regarding your sitter's use of cell phones and tablets while with your kids. Sharing ground rules with your sitter isn't always the most comfortable conversation to have, but it's key to defining and understanding each other's expectations and ensuring the best possible care for your kids. Here are nine cell phone rules to add to the conversation:
1. Be selective about the time you spend on your phone. Time on the phone takes your sitter's focus away from the kids. Suggest boundaries that work for you, whether it be only for use in an emergency or limited to your child's nap or quiet time.
2. My children are adorable, but please keep your photos of them private. Determine your policy on your sitter taking photos or videos of your kids and set rules around sharing them on social media. Would you rather no photos be posted ever, or are you comfortable with the posting of appropriate photos without using names, tags or locations? Spell it out.
3. Here's how to reach me. Decide if you want to be called or texted by the sitter with updates and photo. If so, how frequently? If you prefer to be contacted only in the case of an emergency, say so.
4. My children will undoubtedly try to hijack your phone. Decide if it's OK if the sitter wants to play apps or watch videos with your child, then define which ones are appropriate by your family's standards and if there is a limit to the amount of screen time. Encourage the sitter to add a passcode lock on her phone to stave off unknowing misuse.
5. Keep your phone charged and available. Suggest a spot where you sitter can charge his or her phone -- maybe even provide a spare or portable charger -- and ask that he or she remember to always carry the phone in the case of an emergency. Safety first.
6. Consider a Nanny Phone. If you have a part- or full-time nanny or sitter, consider purchasing a nanny phone that can't be used for personal communications.
7. Let's discuss what I'm comfortable with you sharing on social media. It's likely your sitter uses social media -- such as Facebook, Twitter, Instagram or Snapchat -- and may be unaware that posting photos of your kids may not be something you are comfortable with her sharing with the world. Have a candid discussion about what works for you.
8. Add emergency contact numbers to your phone contacts. Your sitter should have contact numbers and clear instructions for whom to call if you're unreachable. Be sure to include all contact numbers for you, your spouse, your kids' pediatrician, a trusty neighbor and other responsible family members or friends (also include your home address, kids' birthdays and insurance information she may need for a 911 call.)
9. Remember, no cell phone use while driving! It seems obvious, but don't assume your sitter knows safety rules that feel like second nature to you as a parent. This one is an important reminder to give anytime your sitter drives your kids.
Sharing these important cell phone rules with your sitter is part of providing the tools needs to succeed in providing the best care for your kids. If you feel that your babysitter or nanny is spending more time on the phone or engaging with social media while he or she should be watching your kids, be sure to voice your concerns and reinforce how important the rules are to you. Most sitters will be understanding of the importance of protecting your family and its privacy.
Related