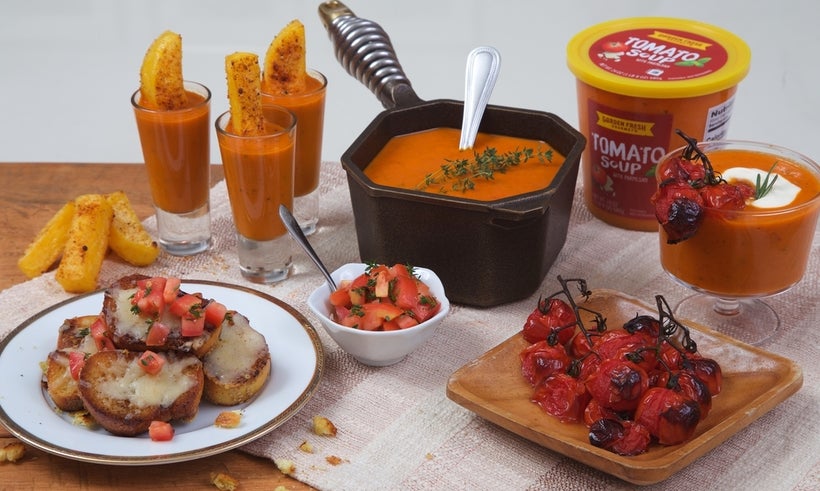 I know what you're probably thinking – "cooking for the holidays stresses me out!" Truth be told, even as a professional cook, I get flustered, too. Thinking through all the details for entertaining, especially during the holidays can be enough to shut you down. From menu planning, to setting the table, to managing multiple dishes on the stove, it's admittedly a lot to take on.
My mentor, famed cookbook author and television chef Nathalie Dupree, is well-known for sharing her secrets and shortcuts for entertaining during the holidays, like filling a large cooler with warm, soapy water to stash away dirty dishes to keep the sink free and clean (yes, it works!).
I have some cooking and entertaining secrets, too...or "permission slips" as I call them. And for the holidays, my biggest secret is always small batch, store-bought soup. Always. I have been known to proudly present butternut squash soup dolloped with delicious creme fraiche and drizzled with golden olive oil in my grandmother's gold-rimmed china terrine. It's a hit every time! The best part is no one knows I didn't make it all from scratch - unless I tell them.
Soup is homey and comforting and says, "I care about you," which is a nice sentiment to share for the holidays. Oftentimes, I don't have have to make soup from scratch and prepare an entire meal...or juggle pressing deadlines with work along with cooking multiple courses. Sometimes something has to give. Going to the grocery store and picking up soup that is well made and uses fresh, modern ingredients eases tension and frees up a good chunk of time. It also affords the opportunity to focus just on the details and embellishments to "whomp up the soup" and make it extra special for the occasion.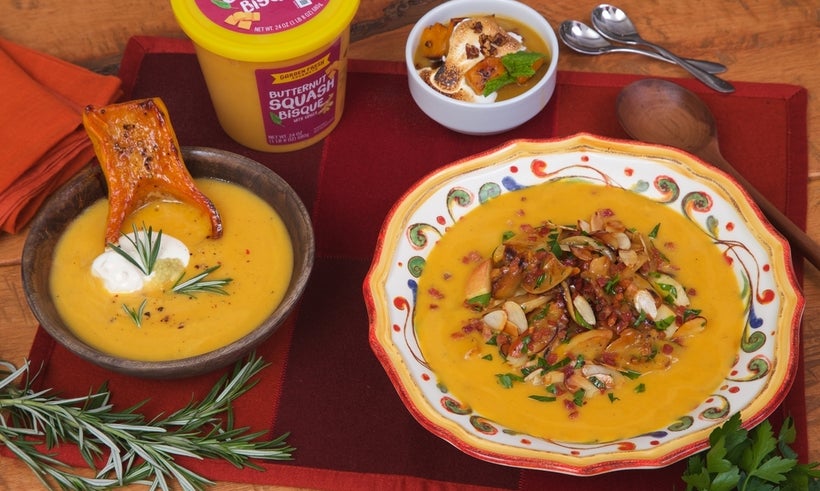 In preparation for the holidays, I got into the kitchen with three of my regular go-to soups, Garden Fresh Gourmet Chicken Noodle with Kale, Tomato with Parmesan and Butternut Squash Bisque with Ginger, and came up with nine easy ways to turn them into showstoppers for Hanukkah, Christmas, New Year's...any holiday gathering this season. The great news is the soup does most of the work. You just add the finishing touches to take them from every day delicious to full-on holiday star - quickly.
To make the holiday soup recipes, you need a few somewhat specialty ingredients, such as champagne vinegar, creme fraiche and a polenta tube. You will need a few different shaped serving pieces, like parfait and shot glasses and a decorative, large soup bowl. The groceries can be easily found on shelves in most mainstream stores, and the serving ware can most likely be spotted tucked away in your home cabinets or purchased inexpensively on Amazon. The cooking part is done with basic kitchen tools - a cast iron skillet, rimmed baking sheets and paper towels to name a few - and a few techniques that the most basic level home cook can feel comfortable doing.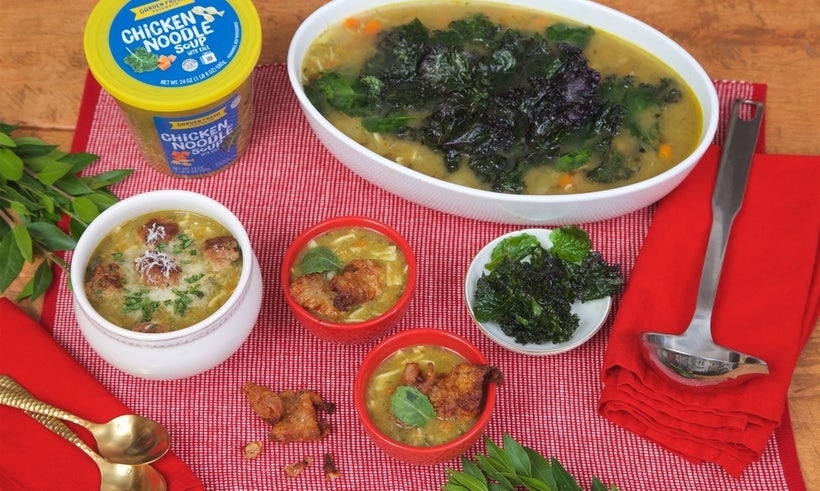 Here are my nine holiday soup recipes with all my secrets included. Created with great quality, store-bought soup with fun, surprising additions and unexpected ways to serve. Don't worry, they intentionally sound fancy, but are simple. Applying my tricks, you will surely feel like a rock star in the kitchen...your family and friends will think so, too.
Chadwick Boyd is a food and lifestyle expert, Better Homes & Gardens contributor, and host of the series, "Reel Food," in movie theaters nationwide. He is the author of "Entertaining with Vegetables," a recipe collection using fresh produce for modern home cooks, and serves as a recipe developer for Garden Fresh Gourmet. Boyd is an ambassador for the United Fresh Produce Association. He is working on a new produce and grocery book slated for release in 2018.
Calling all HuffPost superfans!
Sign up for membership to become a founding member and help shape HuffPost's next chapter
This post was published on the now-closed HuffPost Contributor platform. Contributors control their own work and posted freely to our site. If you need to flag this entry as abusive,
send us an email
.