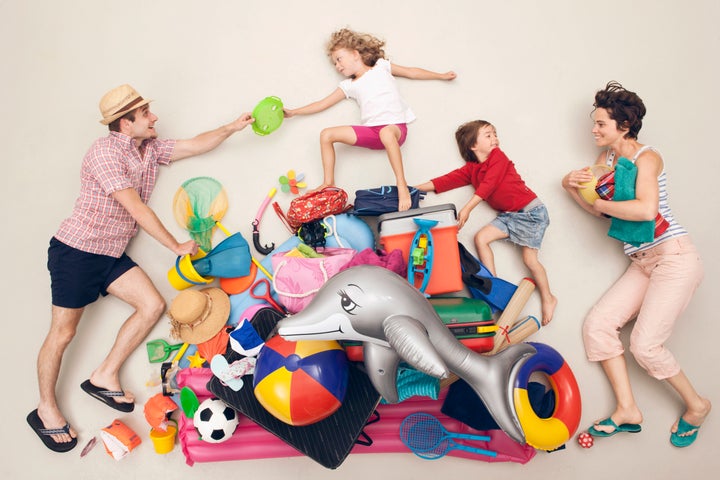 Do you remember what it was like traveling before you had children? You would pack just one small carry-on suitcase, nap on your flight, and spend your vacation leisurely reading magazines by the pool. Well, to say that traveling changes after you have children is an understatement. Traveling with little kids can be tricky. But have no fear — we've got you covered! We worked with Disney Parks and their more than 25 different resorts and asked parenting writers and travel experts from all over the world about their best tips for going on vacation with babies, toddlers, and older kids. Here are our picks for the top nine tricks. And if you have an awesome travel tip, let us know in the comments!
1. Consider a Night Flight
If you're flying internationally and know that you will be in the air for at least six hours, then Kaamna Bhojwani-Dhawan of Momaboard advises parents to take "night flights," especially if the children are preschool age or older. If you fly when your children are normally sound asleep in their beds at home, says Bhojwani-Dhawan, it's likely that their biological clocks will take over and they'll sleep on the plane: "I just did a 14-hour flight in economy with my 5- and 7-year-olds. They slept for seven hours, watched a movie, played a few games, had a meal, and we landed!"
2. Just Say "No" to Pre-Boarding
Families will often board the minute — the second! — that they are allowed to when they're flying with kids. Not so fast, says blogger Kaley Ann, to parents who have toddlers or children (but not infants): "The goal should be to spend the least amount of time stuck on the plane as possible. If you are lucky enough to be traveling with another adult, divide and conquer! The first adult boards early and takes as much gear as possible… The second adult boards as late as possible with the kids. There is absolutely no reason to spend more time than necessary cooped up in your tiny airplane seat!"
3. Don't Forget the Juice
Juice, in this case, doesn't refer to orange, apple, or grape — but, rather, a battery charge. Screen time can be a terrific way to capture kids' attention when you're 36,000 feet up in the air, and you don't want to rely on finicky in-flight outlets to get the job done. "Regardless of your children's ages, make sure you have one of those portable battery devices that can power up mobile phones and tablets," says Don Martelli of DadLife Chronicles.
4. Make Tubs Safer With Towels
Kristin V. Shaw, who blogs at Kristin Shaw, has learned that bathtubs in hotels and resorts can be quite slippery, which is why she invented her own travel hack: "Place a towel on the bottom of the tub and let your child sit or stand on it for washing. It keeps them from slip-sliding onto a hard tile surface."
5. Sleep When the Baby (or Toddler or Kid) Sleeps
While Judith Luck's daughters are now grown, the writer says that when they used to stay in hotels on family vacations, she always made sure to schedule plenty of downtime — for them and for her. "There should be no guilt about making sure you and your children rest, even if it's just lying on a bed in front of the TV. Do-nothing-at-all time will make all of the other activities much more enjoyable for everyone."
6. Turn On White Noise at Bedtime
Whether it's a couple fighting loudly next door, rock stars partying below you, or you're just trying to watch TV while your son or daughter sleeps, our experts have two words for you: white noise. "Even children who are heavy sleepers at home tend to wake more easily when you're on vacation… which is really the last thing you need," says Melissa Sher, who blogs at Mammalingo. "To counter unwanted noise, we always pack a white-noise machine when we travel, but you can also download a free app on your smartphone."
7. Re-create Nighttime Rituals From Home
While we're on the subject of bedtime, Nate Smith of Improvising Fatherhood has two pieces of advice: "Try to re-create your bedtime routine as much as possible by bringing books, pillows, blankets, and special stuffed animals. And if kids aren't used to sleeping together, have the older one out of the room while the younger one falls asleep; then have the older one go to bed."
On-the-Go and Fun Activities…
8. B.Y.O.W. (Bring Your Own Water)
Pack sippy cups or bottles of water and take them with you wherever you go, because when you find that you really need some H2O, it might not be readily available. As Julie Tower-Pierce from the blog Wanderschool explains: "Water is always handy with kids. You never know when they'll be thirsty, not feel well, need a drink, or spill something that you would rather use water to clean up than Mom Spit."
9. Pack a Change of Clothes
When traveling anywhere with very young children — whether it's for a day trip to the beach or a visit to a shopping mall — our experts say it's essential to have a complete change of clothes within reach. "If you don't pack a change of clothes for your baby or toddler, there's a 100 percent chance that he or she will have an epic blowout or create some other disastrous mess that will only become funny years from now… if ever," says Sher. "Of course, if you do pack those clothes, nothing will probably happen. But do you really want to take that risk?!"
One more suggestion when traveling with kids? Consider a Disney Parks and Resorts property as your destination! With more than 25 different resorts to accommodate a range of budgets, Disney Resorts help guests get the most out of their vacations with transportation made easy. Start the vacation off right with Disney's Magical Express pickup from the airport and enjoy complimentary boats, monorails, shuttles, and ferries on-site. When traveling with kids, we'll take all the perks we can get!