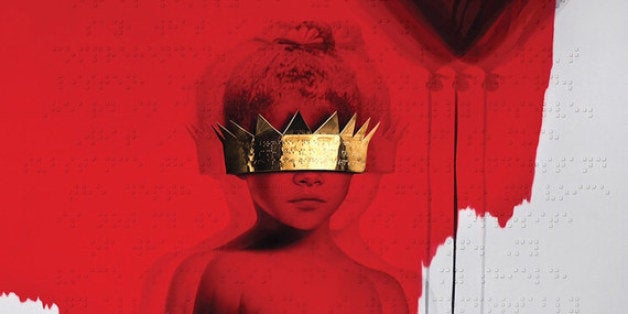 By Noah Berlatsky
This article originally appeared on Playboy.com.
Rihanna's Anti was supposed to be released toward the end of 2014. It's been more than three years now since her last effort, 2012's Unapologetic. She's put out promo singles and the wildly controversial video "BBHMM," but it seems like the new album is intractably mired in development hell. It's unclear whether the delay has been caused by Rihanna's own perfectionism, static with her new label (she switched from Def Jam to Roc Nation in 2014), the interference of Rihanna's boyfriend Travis Scott or some other factor. Whatever the reason, the result is the same: no new Rihanna.
Rihanna's at the point where she can take three years between albums if she wants; broken release dates aren't going to knock her off her throne. That's hardly the case for every artist, though. In fact, Rihanna's security just emphasizes how precarious the pursuit of super-duper-stardom has been for many of her peers. When Rihanna reached Music of the Sun in 2005, there wasn't any way to know that 10 years later she'd be an invulnerable icon.
And to see just how invulnerable she is, you only have to look at other folks who stumbled over the barriers that she can now safely ignore. Here are nine of them.
________________________________________
NICOLE WRAY
Missy Elliott protégé Wray released her first album, Make It Hot in 1998, when she was just 18. Elliott was heavily involved in production and writing, which turned out to be a mixed blessing. Wray's first single "Make It Hot," with Timbaland and Missy producing, went to #5 on the Billboard 100 and was certified Gold. But Wray had trouble establishing an identity of her own and never released another solo album. After bouncing around doing guest vocals for years, she's set aside the chart superstar ambition for a different career path: heading the (excellent) retro-soul band Lady.
________________________________________
TOYA
Toya's self-titled 2001 album was joyfully idiosyncratic, with skittery beats that nodded to Latin rhythms, Abba-worthy hooks, geek-chic videos and liner notes the came complete with glossary so you could understand all the hip lyrical references. (A "hickey" is a pocket full of money. Who knew?) Alas, the package was a little too leftfield for radio, or maybe she just didn't have the right connections. In any case, she never had a real follow-up to her first hit "I Do!" and her career evaporated. The video for "No Matta What (Party All Night)" with its vision of a retro-future teen party utopia, remains a forgotten classic.
________________________________________
AMERIE
If you were betting on which early 2000s pop performer would hit Beyoncé levels of fame, Amerie would have gotten better odds than Rihanna. Her debut, 2001's All I Have, had decent sales, and she had a critical and commercial smash in 2005 with "1 Thing", the go-go inspired uber-funky, Rich Harrison-produced lead single from her sophomore album Touch. But Amerie split with Harrison, and then her third album, Because I Love It, ran into development hell at Columbia -- and she wasn't at a point in her career where she could overcome it. She remains one of the fiercest funk performers around, though and she's got two albums in the works: BILI and Cymatika. Let's hope at least one of them comes out this year.
________________________________________
QUIERRA DAVIS-MARTIN
Davis-Martin was the lead singer for ISYSS, whose debut album, The Way We Do, came out in 2002, well before the name was associated with murderous Syrian militants. Davis-Martin's lovely nasal burr complemented ISYSS' disco-meets-Destiny's-Child sound. The debut didn't catch fire though, and Arista dropped them before they could record a follow-up. Martin's solo career has unfortunately gone nowhere; she doesn't even have her own Wikipedia page.
________________________________________
TWEET
Tweet had one massive hit with the Missy and Timbaland collaboration "Oops (Oh My)", a dance floor ode to masturbation off her debut Southern Hummingbird in 2002. Tweet's heart was always in smooth neo-soul rather than pop, though, and she was never going to be able to maintain that edge of scandalousness that stardom requires. Atlantic fumbled promotion for her follow-up It's Me Again in 2005, and she's been shuffling management and labels ever since. She's supposed to have her third full length, Charlene, out this month. I'm sure it will be great--and also sure it will not get much radio play.
________________________________________
CIARA
You could argue that Ciara shouldn't really be on this list of also-rans; she's released music on major labels steadily since her debut Goodies in 2004, including Jackie from last year. Jackie's sales were underwhelming though -- as all of Ciara's albums have been since her triple-platinum debut. It's not exactly clear why she didn't manage to reach Rihanna-level success. Her singing is iffy, but that didn't stop Britney or any number of other performers. Maybe she just didn't manage the right hit at the right time: there was no "Umbrella" to ignite her career. In any case, she seems doomed to almost-but-not-quite status -- though there is the worry that Jackie did poorly enough that she won't be allowed a follow-up.
________________________________________
BROOKE VALENTINE
Valentine is best known for her 2005 novelty single "Girlfight" off her debut Chain Letter and... not much else. Which is a shame, because Chain Letter is one of the strangest, and in my opinion, greatest R&B albums of the 2000s, filled with wit, humor and funk/rock/everything-else production by Deja the Great. Virgin Records dragged their heels on a follow-up, though, and Valentine was exiled to the world of mixtapes. She's supposedly working on a second full length, but 10 years on I'm afraid I'm not holding my breath.
________________________________________
CASSIE
Cassie's 2006 self-titled debut wasn't just a massive success; it was a foreshadowing of the future. Her fusion of indie electro-pop and R&B has been cited as an influence and inspiration by Solange Knowles, and it echoes in the work of FKA Twigs, Kelela and SZA. But critical and commercial success couldn't sustain Cassie. She split with producer Ryan Leslie, and never recorded a follow-up. She's not out of the game yet, though; the bleak psychedelia of her 2013 mixtape RockaByeBaby sounded absolutely up to the minute, and received deserved critical raves. She's supposedly working on a new album with her boyfriend Diddy, so who knows?
________________________________________
DAWN RICHARD
Of all the performers here, Dawn Richard has had perhaps the most unusual career path. She first gained widespread success as part of Danity Kane, a Diddy-helmed girl group put together on a reality show competition. The band inevitably fractured, disbanding, reuniting and finally splitting for good after Richard slugged another band member in 2014. You'd think that would be the end, but improbably, Richard has managed to put together a career as an idiosyncratic indie genius. Both Goldenheart in 2012 and Blackheart in 2015 received critical hosannahs and showed up on numerous best-of lists. Richard will never be Rihanna --but she did release a great album last year. That's worth something.
________________________________________
PHOTO GALLERY
8 'Work' Songs That Rihanna Has To Live Up To
REAL LIFE. REAL NEWS. REAL VOICES.
Help us tell more of the stories that matter from voices that too often remain unheard.