A goal can only be achieved when a company's parts are all moving in the same direction. So how do you keep track of each of your department's progress?
A. By Setting Easily Measurable Goals


Each department has target KPIs (key performance indicators) based on historical performance and bottom-up projections. They are difficult but achievable. Above all, they are easily measurable. It works if everyone agrees on why the target is set, and that failure to meet the target is both the manager and the employee's responsibility to fix. - Hongwei Liu, mappedin
A. By Doing Fewer Things Better

To keep the teams focused, we set only 2-3 goals per department, and then post the goal, the "owner," and progress in a highly visible area. We incorporate our goals into our everyday conversations and check in with department leads weekly to assist in removing roadblocks and discussing progress. As a group, we celebrate major progress, milestones, and strategic byproducts along the way. - Derek Weber, goBRANDgo!
A. By Using Dry-Erase Boards


My office space has a few dry-erase boards for writing down ideas and brainstorming. At the start of the year, I usually have each department write down goals on paper and then we transfer them to one of the dry-erase boards. Because my office is small, everyone sees the boards on a regular basis. This helps remind each department of their goals and allows them to erase ones they've achieved. - Shalyn Dever, Chatter Buzz
A. By Following the 3-to-1 Rule

It's my belief that everyone on your team should have a basic understanding and ownership of financial success. That's why I teach everyone on my team the 3-to-1 rule, which stresses that any specific department should generate no less than three times the expenses associated with that department. This simple and easy to understand rule has helped me build multiple million-dollar businesses. - Kristopher Jones, LSEO.com
A. By Using Personalized Dashboards


Goals are set at quarterly performance reviews, and then tracked in dashboards on Salesforce. Each employee has a personalized dashboard that visually displays the various KPIs they are working toward each month through gauges and graphs. These personal metrics are then linked to a department dashboard, and then to a company-specific one so that everyone knows the goals and progress at a glance. - David Ciccarelli, Voices.com
A. By a Road-Mapping Process

Every employee does an annual roadmap. Theirs are detailed, but they roll into what major goal each department will hold itself accountable for at the end of every quarter. We then break those goals down into months and weeks. - Christopher Kelly, Convene
A. By Setting Clear goals and Having Weekly Meetings


We discuss where we want to be next year, and think about how each department can contribute to those overarching goals. Then we choose performance indicators to keep track of how we're doing, and hold weekly check-ins to see how it's going. We're flexible and pro-actively adjust our expectations and goals depending on the situation on the ground. - Justin Blanchard, ServerMania Inc.
A. By Encouraging Collaboration


We used to have annual goals. Now we have quarterly goals for each department and individual. First, we ask the team for help with developing 2-3 goals per person: how they would like to grow professionally, where they feel the department needs improvement, etc. Once decided, we break down or "chuck" each goal into various smaller steps to make the goal seem less daunting and more achievable. - Steve Gentile, Pinpoint Promotions
A. By Aligning Department Goals With Company Goals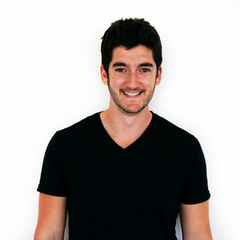 As a company grows, each department can almost become its own, stand-alone business with its own goals. If we set many smaller, departmental goals that support our overarching 2017 goal, we are much more likely to achieve the greater objective. - Erik Huberman, Hawke Media
These answers are provided by the Young Entrepreneur Council (YEC), an invite-only organization comprised of the world's most promising young entrepreneurs. In partnership with Citi, YEC recently launched BusinessCollective, a free virtual mentorship program that helps millions of entrepreneurs start and grow businesses.
REAL LIFE. REAL NEWS. REAL VOICES.
Help us tell more of the stories that matter from voices that too often remain unheard.