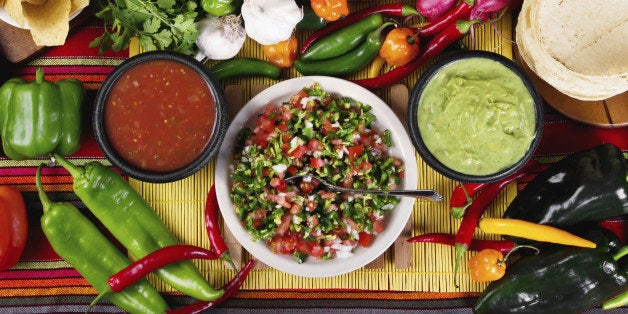 Cinco de Mayo is right around the corner! The annual holiday falls on May 5th and commemorates the Mexican army's unlikely victory over French forces at the Battle of Puebla in 1862. To us, that means even more reason to dive into fiesta-time foods like tacos, margaritas and two of our favorite dips, guacamole and salsa.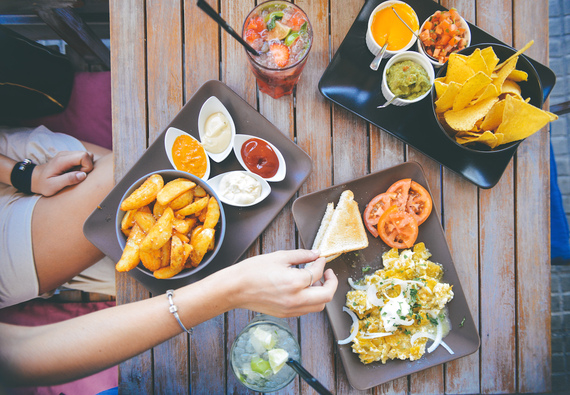 Salsa, a refreshing Mexican condiment that goes great with anything from tortilla chips and tacos to breakfast burritos and enchiladas, typically includes a mix of chopped tomatoes, onions, chilies, herbs and spices. Offered in both cooked and raw forms, a salsa's heat can range from mild to extremely hot depending on which peppers are used -- jalapeño (hot), serrano (hotter) or habanero (hottest).
Guacamole, another Mexican staple, is a creamy avocado spread. Like many salsas, which are filled with vitamin C-rich tomatoes, guacamole is a nutritious, delicious choice that's rich in heart-healthy "good fats" (omega-3s). The rich, vibrant green dip is traditionally made with mashed avocado, onion, chilies, lime and salt, and is right at home next to a big basket of crunchy tortilla chips.
Simple salsas and guacamoles are awesome, but there are also plenty of add-ins -- fruits, veggies, spices and even proteins -- that can turn even the most straightforward versions into culinary adventures. Here are 9 spots adding a little something extra to their guacs and salsas.
At Dia De Campo in Los Angeles, fresh guacamole can be prepared with marinated Dungeness crab for some extra flair and scooped up with house-made chips.
Whether you're in the mood for something sweet or something savory, Loco Taqueria & Oyster Bar in Boston offers a guacamole sure to fit the bill. Proving no two guacamoles are the same, the restaurant prepares one version with bacon and roasted poblano, another with smoked fish and a third with charred pineapple.
A great taco topper, guacamole from Oyamel Cocina Mexicana in Washington D.C. is made tableside, prepared with tomatillo (a green Mexican tomato related to the gooseberry), serrano chile and crumbled queso fresco ("fresh cheese" in Spanish).
Spice lovers rejoice over the guacamole selection at de cero ¡HELLOTACOS! in Chicago, which includes a house guacamole with jalapeño, radish and red pepper flakes, a basil and olive oil guacamole with fresh basil, jalapeño and olive oil drizzle, and a black bean and corn guacamole with garlic black beans, red pepper flakes, corn and jalapeño.
El Toro Blanco in New York highlights the many variations of salsa, offering a trio that includes mild, verde (green) and spicy dips. The salsa verde is tomatillo-based and more tart, whereas the spicy salsa ups the heat with additional jalapeño, serrano or habanero peppers.
In addition to its classic guacamole made with chunky avocado, tomatoes and onions, Red O in Los Angeles pushes the envelope with its Edamame and Yuzu Guacamole with edamame, yuzu (an Asian citrus fruit) juice, cherry tomato, white onion and cilantro.
The classic homemade guacamole at Pepita Cantina in Arlington, VA makes a splash on the Mexican street food menu, perfect alongside a burrito or enchilada.
Combining flavors of the earth and sea in one creamy dish, Petty Cash Taqueria in Los Angeles dishes out a unique guacamole starter that delivers on its name -- BOMB.COM -- topped with Santa Barbara sea urchin and chicharrones.
In addition to its festive fruit guacamole with jalapeño, mango, pineapple, grapes and pomegranate seeds, Olé in Boston also delivers a variety of salsas to pair with different dishes, including an avocado tomatillo salsa and fruit pico de gallo over lobster empanadas and a fiery salsa verde over a Mexican quesadilla.