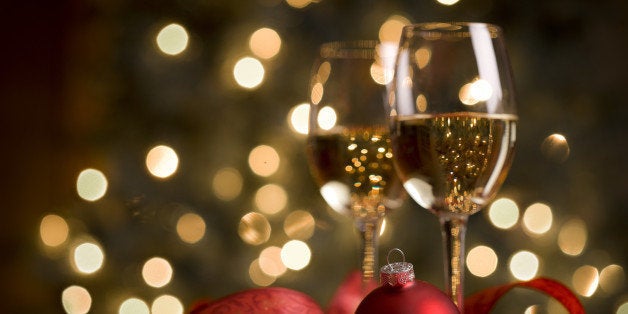 The holiday season is upon us. For some, it's been a year of gathering the perfect gifts and wrapping them at their leisure. However, if you are anything like me, I need resources that tap into my "Love Bank" and enable me to click and buy, sending fabulous finds to the destinations of those I love.
This year I've created a list for the wine lovers in your life, things that will enchant, create memories or inspire.
1) Brain Food: Wine Folly - The Essential Guide to Wine by Madeline Puckette and Justin Hammack. For a new wine drinker or a savvy experienced sipper who wants to learn more about what they put in their glasses and where it comes from, this book is a fabulous way to learn more in depth facts about wine,the areas it originates and is grown, tasting profiles and oh so much more. The graphics make it an easy read and it is fun with a refreshing perspective. There is no wine snobbery here, just good solid information.
2) Decadence Will Delight: ROE Caviar - For those with a luxe palette, this is one of the few items only available for the months of November and December. This caviar comes packaged suitable for a King or Queen, the only thing missing are the crown jewels. It is elegant, delicious, smooth and perfect for the discerning connoisseur of all things magnificent. The caviar is sustainably harvested using eggs from the same individual sturgeon for each tin. It pairs perfectly with bubbly, sparkling or champagne. Exquisitely fresh, caviar just doesn't get any better than this.
3) Forever Champs: Chandon Wine Club Membership - It's the American version of champagne grown majestically in Napa. Sparkling wine! Along with being a delightful creator of all things bubbles, Chandon also three types of club membership and you can choose one with still wine only. A wine club gift is a gift of exclusivity and gives your holiday beneficiary a periodic reminder of just how amazing you are. There are a myriad of perks that come with this wine club and the value outweighs the expense. Always good to remember, membership has it's benefits.
4) Save the Nectar: Whether you're wine tasting at home with friends or have a 1965 Chateau Margaux you need to last close to forever, the Coravin Model Two System allows you to pour and subsequently preserve so you can pour judiciously and enjoy wine at your leisure. It's easy to use and doesn't require multiple devices to do the job. Perfect for those who have invest heavily in great wines or those who want a just a glass now and the ability to savor a week or a few days, weeks or months, later.
5) Decanting by Design: Menu Design Shop's Breathable Decanter is touted to help your wine breathe 10 times more oxygen in under two minutes making traditional decanting obsolete. Leave it to a design shop to not only come up with an exquisite design, but to also make it functional. I'd buy one for you and one for a friend who loves decanting but hates the wait.
6) For the Truffle Lover: Make it a destination! One of the biggest celebrations of truffles for foodies happens at the The Napa Valley Truffle Festival. You can enjoy Truffle Expert Chef dishes, incredible pairings and learn about the many types of truffles. Truffles, quite simply are one fabulous flavor standing out in all the dishes it adorns. Hosting wineries for the event include, Merryvale Vineyards and Jamieson Ranch Vineyards. There are wine dinners, sessions on education, demos and so much more. Perfect surprise for you and your very special truffle lover.
7) Gaming the Wine. Read Between the Wines! This game is touted as a party game of wit that packages tasting, learning and the game-ification of wine, in a box. What could be more fun than having a group of wine lovers together with a bottle or two of their favorites playing word associations of wine themes and the wild card of humans on wine. It's an easy game, highly interactive and there's wine. Perfect for your wine loving friends & fam.
8) Chocolate for Pairings: Get perfectly paired chocolates for your wine tasting! Brix Chocolates offers a thoroughly yummy guide, tastefully packaged, for pairing wines with their exquisite chocolate. Sure to put a unique spin on any host's gathering simply add wine.
9) Be original. Like really original. The Volt from Faraday Inc. Out to change the way the world experiences wines. Touted to age wine through high frequency electrical fields. It's goal? To alter the makeup of wine and enhance the taste thereby reducing the aging process. You can get on board through Kickstarter. This is a true start up and it sounds like it has promise.
Related