From easy DIYs to incredible backyard upgrades, keep the fun rolling well past dark with your own fire pit. You won't believe all the different types of fire pits there are to choose from, and just how easy it is to build one yourself! Whether you're looking to add a little pizazz to your suburban backyard or aiming to do something fun with the back of your "property"- every backyard can (and should) have a fire pit!
1. Stonehenge Fire Pit
You can create your own magical getaway right in your own backyard with this twist on the traditional fire pit. Instead of only clearing the area immediately under your future fire pit, excavate the surround seating area as well. Lay down some flat pavers, and then just sprinkle grass seeds in between the stones.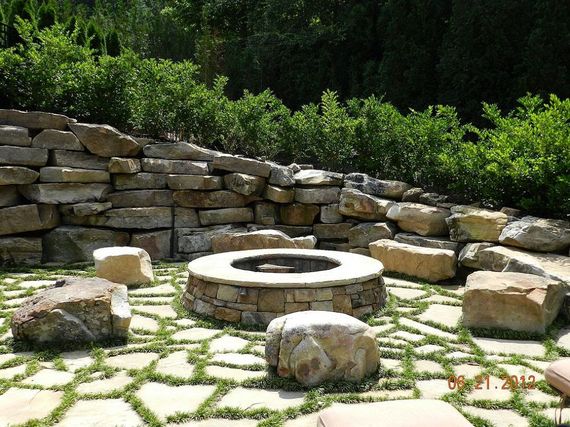 Source: Stone Fire Pit via Personal Touch Lawn Care Inc
2. Fire Pit Table
This easy addition will take your fire pit from seasonal to sensational in no time at all. Any fire pit built with even pavers (not river rocks) can be turned into a rustic table for just $85. Simply secure the 2x4s together on the underside of the tabletop with some brackets and stabilizing wood pieces. For the grand finish, make your new fire pit cover look Pottery-Barn-alicious with a few coats of wood stain.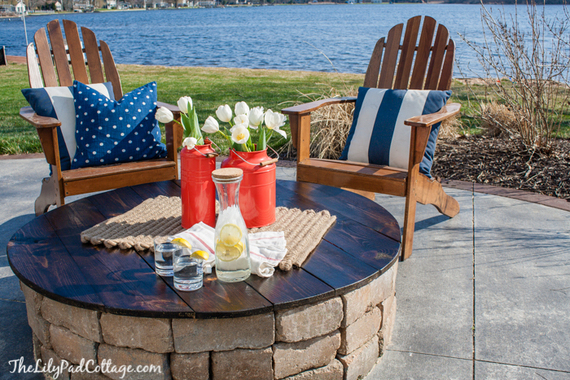 Source: DIY Fire Pit Table via The Lily Pad Cottage
3. A Secret Hideaway Fire Pit
This might be the absolute best thing you could do with your extra yard space. With a little digging, you can create this charming campsite scene absolutely anywhere on your property. Don't panic, Wendy shared all the steps for this DIY fire pit on Hometalk.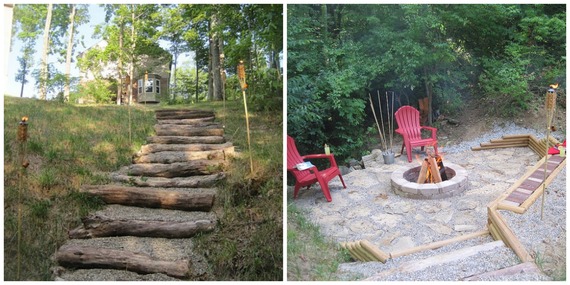 Source: Creek Stone Fire Pit via Designed To Dwell
4. From Fence to Fire Pit
Don't have the ground cover for a traditional fire pit? Opt for this wooden, free-standing model instead. It can be used on decks or patios, and all you need to build it are fence boards and screws! Just be sure to only use with eco logs or gel burners, instead of with firewood.

Source: Adirondack Fire Bowl Table via The Interior Frugalista
5. Cityscape Fire Pit
City dwellers love fire too! This impressive looking fire pit can be added to any deck or patio thanks to the availability of crossfire burners. Just build up your base with pavers, drop in the gas burner system and cover with some decorative rocks. Many gas fire pits come as kits, so installing it couldn't be easier.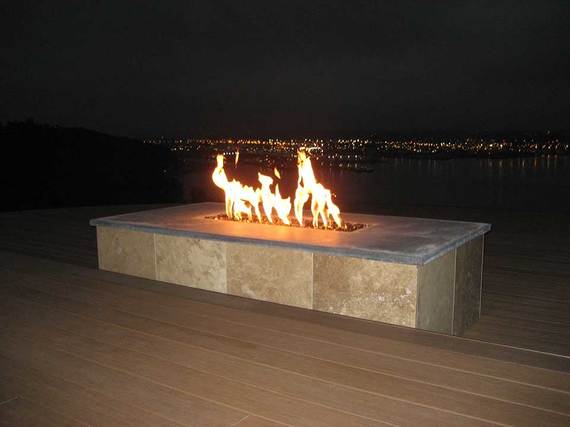 Source: Gas Fire Pit via Warming Trends
6. Ultra Modern Fire Pit
Fire pits can be modern too! Gather the gang around a beauty like this and pump the Avicii and Tiesto all summer long. It's easy to create custom shapes with fire pits, and gas burners can be used anywhere you'd like.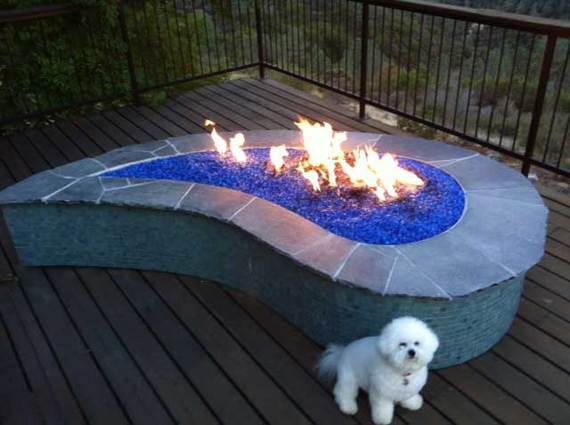 Source: Custom Fire Pit via Warming Trends
7. Real Rugged Fire Pit
If the soundtrack to your summer gathering sounds more like a Honky Tonk than a club, than this rugged river rock fire pit design will surely warrant a hearty "Ye-Haw"! Just pile together some heavy stones then line the bottom of the pit with gravel and you'll be all set to prop up your boots and break out the guitar.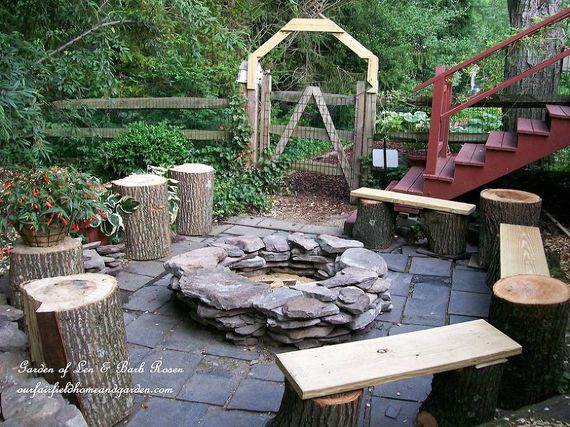 Source: Bluestone Fire Pit via Our Fairfield Home & Garden
8. Olympian Fire Pit
For a more dramatic, carpe diem effect, you can use a fire bowl for your outdoor fire pit. They're easy to maintain, and you don't need to spend any time or effort building them! Get the party started in record time with an impressive looking fire bow like this one.

Source: Grand Fire Bowl via Poseidon Ponds & Landscaping
9. In-Ground Fire Pit
This fire pit design is a good looking throwback to cavemen days- just dig a hole in the ground and line it with bricks. Finish just by topping off your fire hole with some good looking stones- and viola! This whole fire pit set up can be accomplished in just a few hours, for under $100. You officially have no more excuses for not having a fire pit.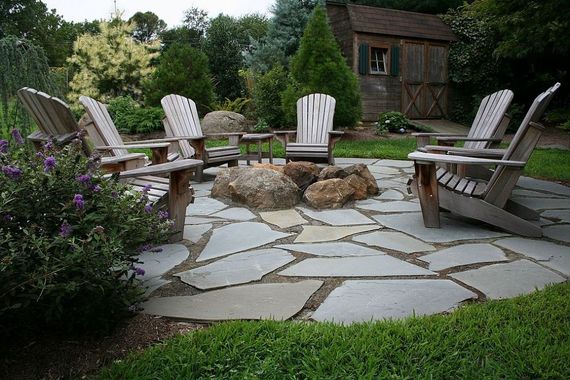 Source: In-Ground Fire Pit via Willow Gates Landscaping
Get all the step by step instructions for building your own fire pit and other great backyard upgrades from Hometalk's experts in DIY projects and outdoor living.
Related