When it comes to holiday makeup, you need to take a couple of things into consideration. First, you'll probably be partying into the wee hours, so you should choose long-lasting and waterproof makeup. Secondly, it's okay to experiment with a new statement look for the occasion. And lastly, you'll need to carry a couple of products with you to the party for quick fixes. With that being said, here are 9 makeup hacks to help you look fabulous on Christmas Day and New Year's Eve.
1. Sweat-proof your foundation
You'll need a high-coverage foundation to create a perfect a and long-lasting canvas for your party look. Choose a long-lasting foundation such as the NARS All Day Luminous foundation. This foundation works great on all skin types and is pretty light-weight despite being a full-coverage foundation. Top the foundation with a light dusting of translucent powder and you are good to go.
2. Try red lips
The best makeup tips for Christmas party almost always include red lipstick to go with the occasion. I suggest going for bold red lips because Christmas is all about the reds. French makeup artist Violette says she loves using Sephora Cream Lip Stain because it's a long-wear lipstick and you don't have to think about it smearing all over your face. Violette also recommends going natural on the rest of your face since the focus should be on your lips. Try going for a simple winged eyeliner and nude eyeshadow to create a balanced look for your Christmas celebration.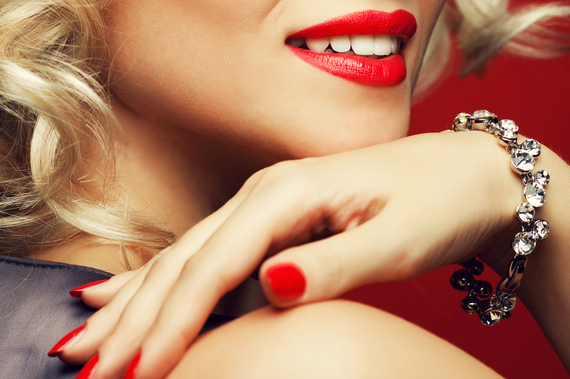 3. Don't forget fake eyelashes
Sure, waterproof mascara won't fail you on your night's out, but there's no doubt that fake lashes would work even better. Fake eyelashes make for feminine and dreamy eyes. I suggest feathery and natural-looking lashes such as the Esqido Flawless Lashes. However, if your goal is looking great in your New Year's photos, you can go for the full-lash look says Laura Gummerman for A Beautiful Mess. Full lashes stand out, and they look great in photos.
4. Avoid under-eye creasing
The worst thing about most concealers is that they tend to crease under the eyes, especially if you have fine lines and wrinkles. To prevent this from happening to you while you're out celebrating and having fun, makeup artist Amy Nadine suggest applying a thin coat of concealer underneath your eyes and press with a tissue. Remove remaining excess with a concealer brush and set with powder and that's it! I suggest the Maybelline Master Prime for best results. The product is formulated to prevent unsightly creases while extending the life of foundation and preventing makeup from flaking.
5. Go for smokey eye instead of cat eye
Winged-eyeliner looks great on everyone, but it's a high-maintenance look, and since you'll be dancing all night, the chances are that your eyeliner will disappear as the night goes on. Instead, opt for a glittery smokey eye look like this one by Lina Ekh. Lina created this look by first making a classic gray smokey eye and then applied glitter all over her eyelid. The look is suitable for a New Year's Eve or Christmas celebration and, what is most important - it's low maintenance. However, make sure to use an eye primer, so your eye makeup stays put.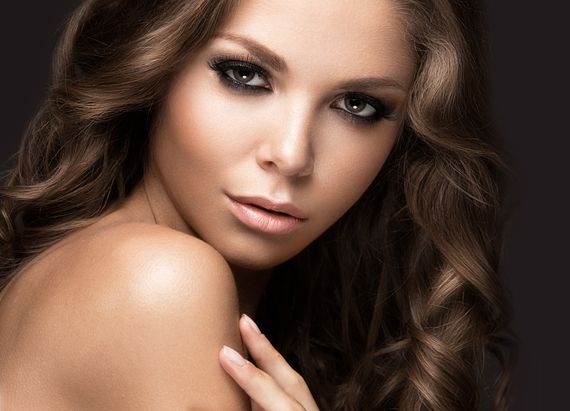 6. More glitter!
Glitter is all the rage when it comes to holiday makeup looks. However, glitter makeup is sometimes considered a bit risqué and even cheesy, but don't let that deter you from having fun with your makeup this New Year's Eve and Christmas. It's the season of sparkles after all. Metro.co.uk offers 10 striking eye glitter looks that you could try this year to celebrate the holiday season. But keep in mind, that if you are going to wear glitter on your eyes, choose a neutral colored lipstick and skip the contouring for now. The whole focus needs to be on your glittery eyes to avoid tackiness.
7. Eyebrows on fleek
Of course, all makeup ideas are pointless if you can't complete your look with beautiful face-framing brows. Whatever you choose to do with your brows, just avoid using a too dark of a shade of eyebrow pencil or powder, otherwise, you'll end up looking perpetually angry. A good product that helps create fuller brows that stay in their place is tinted eyebrow gel such as Anastasia Beverly Hills Brow Gel. The botanical formula in this brow gel is non-greasy but easy to remove once the night is over. It also has rave reviews so that you won't go wrong with this one.

8. Carry the essentials
You'll probably need to touch up your makeup during the night, so it's a good idea to carry a couple of makeup essentials with you. All you need is blotting paper, pressed powder, and lipstick. Make sure to use long-lasting makeup to avoid spending the night fixing any creasing, smudging, or raccoon eyes. In that case, you'll only need to remove some of the excess oiliness and retouch your lips after drinking a few glasses of champagne.
9. Prep your face
You need to make sure that your skin is in prime condition before the big celebration is due. Exfoliate your face up to two times a week to prevent skin flakiness and breakouts. Studies show that salicylic acid is a gentle but effective peeling agent for oily skin types. Salicylic acid also brightens the skin and removes dark spots which are another plus. If you have dry skin, then choose exfoliants with glycolic acid. Studies show that it was effective in reducing the appearance of fine lines and that it was perfect for fair skin types.
Conclusion
With Christmas and New Year's Eve just around the corner, you've probably already created mental pictures of what your makeup should look like. But you still need to take into consideration that your makeup will need to take lots of hugging, kissing, dancing, and maybe even crying. So, make sure to follow out tips for a flawless makeup look for your holiday celebrations.